Adam Peaty On His Watershed Moment, His First Defeat In Four Years And His Ultimate Goal
At just 23, Adam Peaty is already making a case for being the greatest British swimmer of all time but he's only just getting started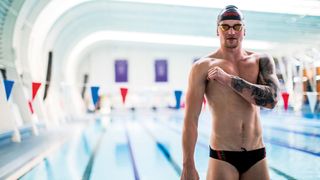 (Image credit: Unknown )
He's the man who can swim the length of a pool and back faster than any other human on the planet. So surely, surely, it can't be true that Adam Peaty used to be scared of water… can it?
"That's something that got played up by the newspapers but the reality is that I was scared of taking baths and showers when I was little, up to the age of six or so," Peaty, the current world record holder in the 100m breaststroke, tells Men's Fitness. "That's quite old to be scared of water, isn't it?"
What's not in doubt is that, since he started swimming competitively aged 11, Peaty has torn up the record books and fundamentally changed the perception of what's possible in the pool.
Aged just 21, Peaty became the first swimmer to hold all four major gold medals – Olympic, world, European and Commonwealth – in the same event at the same time when he won gold at the Rio Olympics. Now, at 23, he has broken the 100m breaststroke world record three times, won 18 major gold medals and is on a four-year undefeated streak in the 100m. He finishes some races a second or more ahead of the runner-up, which considering the distance is an achievement far more astonishing than the mere words and numbers could ever make it sound. His 100m winning margin of 1.32sec at the 2017 world championships, for example, was the biggest in the event's history.
We sat down with Peaty to chat about how he trains, how he stays motivated, and how he's bounced back from his first competitive defeat in four years with a renewed focus to write his name into the history books.
I think I speak on behalf of the nation that we are very glad you got over that fear of water...
Ha! Thank you. I soon got over it when I started swimming! I start racing competitively around the age of ten or 11, doing about two hours of training a week. Then I moved to Derby Swimming Club when I was 14 – that's where I met my coach [Melanie Marshall, the British former Olympic swimmer] and started swimming up to 15 hours a week. It's now closer to 30 hours a week!
When did you realise that you could have major success in this sport?
My coach always said she believed in my ability. That helped me build a huge amount of confidence in my own ability and helped me visualise success. I was 19 when I had my first shot at qualifying for the world championships but I missed out on a place by 0.03sec. It was obviously disappointing but also hugely encouraging that I was so close to beating these guys who were 24 or 25, and had years more training and experience than me. It made me really believe that I could make it.
At that point were the Olympic title and world records in your thoughts?
I dreamt about becoming the Olympic champion and breaking world records, but it's never yours until you touch that wall before everyone else. As you get older, and the more championships you go to and do well, it's weird – the success sort of creeps up on you. I went to the national championships aged 18 and by 21 I was the Olympic champion.
Was there one moment when you really knew you could take the sport to a new level?
My watershed moment was watching the 2012 Olympics [the 100m breaststroke final was won by South Africa's Cameron van der Burgh in a new world record time of 58.46sec] and I knew that time could be beaten. I did it in 2015, and then again in the heats in Rio [at the 2016 Olympics] before beating it again in the final [Peaty took gold in a time of 57.13sec, a huge 1.56sec ahead of Van der Burgh].
What was it like to race – and beat – your idol?
As I was growing up I watched all the guys on TV and really looked up to Cameron, so to beat him in Rio was an amazing and surreal experience. Everyone wants to come first, so it was a fantastic feeling winning the gold and setting a new world record, but I think you adjust to the new reality very quickly. My immediate focus was on how I could get even faster – that's what drives me.
How have you improved as an athlete since you first arrived on the scene?
Experience is crucial and you build up your expertise over time by finding out what works and what doesn't work – there's a lot of trial and error. It's why having a great coach who has been there and has lots of experience helps so much.
How does it feel to swim so much faster than your nearest rivals? Is it all pure pleasure or does it come with a lot of pressure?
I was swimming almost two seconds faster than anyone else in the world – it's a big margin and we were in uncharted waters, and to keep getting faster was a challenge to navigate. But I love the pressure, it gives me huge confidence and the belief that I can pull it out of the bag when I need to. And I like knowing that my rivals are going to be thinking about me – it plays on their minds.
I've heard you say you swim best when "angry" – what did you mean by that?
I perform best when I perform angry, but it's essential that my anger is always controlled and channelled into my technique. The best advice I've ever been given was my coach telling me to always maintain composure. I need to let that anger out but to do so without letting it negatively affect my performance. If I can channel it right I know I will be the fastest on the day.
You've won Olympic gold as well as five world championship titles, eight European titles, three Commonwealth Games titles and set the 14 fastest times of all time in the 100m. How do you stay motivated and hungry to get better?
I have always been highly motivated and competitive, and you can quickly get into a rhythm of competition and winning. And you need to stay in that rhythm because as soon as you slip out of your regime and rituals it's downhill from there. Remember, no-one wins an Olympic gold medal in one day; you win it four, eight or even 12 years before you get in the water for the final. Ultimately, I want to be remembered as the greatest breaststroke swimmer of all time, and maybe even the greatest and fastest British or European swimmer ever.
Do you not think that you have achieved that already?
I am on my way there, but I will never close the book on that goal until the day I stop swimming. I think I have another ten years in me, and I've not peaked yet! I am always looking forward and thinking about Tokyo [the 2020 Olympics] and going under 57sec. Of course, everyone wants to achieve that but I think it's there for me.
In April's Commonwealth Games in Australia, you suffered your first defeat in four years when you lost to your great rival Van der Burgh by 0.04sec in the 50m breaststroke. How do you look back on that defeat now?
It was a very close race and I'd had a few niggles, but ultimately losing that race has given me more than winning it would have done. Athletes are always going to lose at some point, but we get to choose how we come back and how quickly and how successfully. I believe I am a better swimmer for losing that race and I'm certainly a lot happier. When you have a long winning run it can be easy to start thinking about what happens when you eventually lose, and you can convince yourself it's going to be the end of the world. But of course it's not, it's just sport. So you shake hands, say well done and move on.
What's a typical day of training like?
I do two hours in the pool in the morning, two hours in the gym later on, then another two hours in the pool after that. The type of training depends on where I am in the season: in winter I work on endurance; then January to April is endurance with some anaerobic work; then April onwards is aerobic as the season approaches. In the gym I focus on the big lifts, so squats and bench presses as well as pull-ups, leg extensions and weighted prowlers. A lot of the gym work is supersets, say five squats followed by five jump squats, to work my muscles harder. Every second of training time has to be accounted for.
What's the worst thing you have to do in the gym?
The rowing machine. I hate it – it's all pain and no rest. Remember, the longest time I race for is around 57 to 58 seconds, so long rows are horrific! My heart rate goes so high but I have to just keep going. I do a lot of rowing, treadmill runs and the Wattbike in the off-season to build my endurance. I am a big guy for a swimmer and the bigger you are the more drag there is, so I need to find the right balance between being big and strong while still having the endurance to go the distance.
And what about your diet? How important it is to your success?
Nutrition is such a huge and important factor for me because it has such a huge influence on how I perform. Breakfast is at around 10am of granola with yogurt and a banana, and if I'm feeling a little tired before getting into the water I'll have a Science In Sport Go Caffeine shot. Lunch is usually chicken with veg or a salad, but will change quite a lot depending which training period I am in. I'll have my evening meal before 6pm – that will be lean protein and veg too – then I won't eat again until the following morning. So I am fasting for around 16 hours a day. It was hard at first but your body soon adapts and gets used to it. Once the season is over I will have a blow-out – flapjacks are my favourite, but there'll be some chocolate and doughnuts and a few bottles of Corona too!
Adam Peaty is an ambassador for leading sports nutrition company Science In Sport. Find out more about its range of endurance products at scienceinsport.com (opens in new tab)
Peaty's Pool Fuel
Pre-workout: Get a buzz
Peaty's advice: Some people prefer a double espresso ahead of a long session but Peaty prefers a portable option. "If I'm a bit tired I'll have an SiS GO Caffeine shot. It's got 150mg of caffeine, plus magnesium and B vitamins."
Mid-workout: Fuel the engine
Peaty's advice: Keeping your muscle cells topped up with energy and avoiding dehydration is key to a successfully session. "In the gym I might have some SiS BCAA Perform, which has 6g of essential amino acids to keep me fuelled up."
Mid-workout: Fuel the engine
Peaty's advice: Whatever your sport, taking on board protein after training helps your muscles recover faster. "I use SiS Whey20, which is 20g of protein in a single-serve tube. It's easy to carry a couple around in my bag for when I need it."
Sign up for workout ideas, training advice, reviews of the latest gear and more.
Former editor of Men's Fitness UK
Joe Warner is a highly experienced journalist and editor who began working in fitness media in 2008. He has featured on the cover of Men's Fitness UK twice and has co-authored Amazon best-sellers including 12-Week Body Plan. He was the editor of Men's Fitness UK magazine between 2016 and 2019, when that title shared a website with Coach.