Doing the 300 workout with Gym Jones
One MF writer does the infamous 300 workout alongside its creators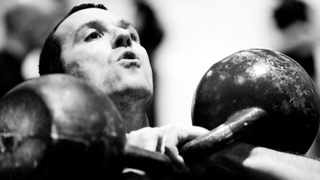 (Image credit: Unknown)
'This is the first time we've run the 300 workout in a seminar since 2005,' says Rob MacDonald, general manager of Gym Jones. 'It was originally created by Gym Jones founder Mark Twight as a one-time thing, a test for the cast and stunt team of the movie to go through. The people that did it were sworn to secrecy about what it was actually like, so you would go back and go, "It's the hardest thing I've ever done, it took me nearly 30 minutes, I nearly died". They'd lie to people, basically, so that they'd be psychologically on edge if they ever did it.'
It couldn't stay a secret, though. 'It came out in some magazine that said, "This is how the Spartans got in shape" and guys started doing it day after day after day, five or six days a week. It became everything we hate – a workout that allowed you could throw all your weights away and do nothing but that and look like a Spartan, which it isn't.
'We'd get emails from guys in karate outfits, wearing fucking headbands, doing what they called "the 300 workout". So for the sequel, Rise Of An Empire, we were very careful not to do anything that could be picked on as THE workout. I actually still think the first one is a great workout. It just became symbolic of everything we dislike.'
But it's back, for one day only. I'm at the second-ever Gym Jones UK seminar, run by MacDonald and Pieter Vodden, the first official UK 'disciple' of GJ. I'm surrounded by a crowd of trainers, coaches and athletes, alongside a handful of people who just want to understand the Gym Jones philosophy better. I'll be going in the first wave, with four other men lined up alongside me at the pull-up bar. They all look fit.
The workout – in case you missed it in Men's Fitness or need a quick refresher – isn't too difficult to remember. It's 300 reps, done straight through for time, made up of the following:
25 pull-ups
50 deadlifts (with 60kg)
50 press-ups
50 box jumps (onto a 60cm box)
50 floor wipers (with a 60kg bar)
50 two-handed clean-and-presses (with a 24kg kettlebell)
25 pull-ups
The pull-ups are supremely strict – straight arms at the bottom, chest to the bar at the top, and absolutely no swinging or kicking. The press-ups are chest-to-the-floor – or to the flat of MacDonald's hand as he stalks around the room. You step down, rather than bouncing, between box jump reps to avoid blown achilles tendons. The floor wipers should be done with perfectly straight legs, touching the floor between reps. And no, you can't do them on a Smith machine.
The countdown stops. The buzzer beeps. We go. I've planned to break the pull-ups into manageable sets – chest-to-bar is a killer – but that goes out of the window as the men either side of me break into double digits with no signs of slowing. I fall off the bar at 12, then get through the rest in twos and threes, shaking my arms out as I go.
Obviously, this fries your arms nicely ahead of the deadlifts. If you train seriously, 60kg is light – my one-rep max hovers around 200kg – but 50 reps non-stop is no joke. I get through in sets of ten, then fives. The press-ups are my secret weapon – I've been cranking out a hundred a day, so I'm confident of getting through in one – but MacDonald makes sure every rep is legit, and it takes me a couple of breaks before I get through the set. The box jumps would be easy if I hadn't already done the deadlifts. As it is, my glutes are blasted and my cardio is letting me down. Getting into a rhythm helps, but not much.
The floor wipers are an oddity. I never practise these alone – doing them without a spotter seems risky – but I'm pretty strong from relentless abs wheel rollouts, and so I get them done in five sets of ten, with only a couple of wobbles. The clean-and-presses are all about ignoring the horrible burning in my lungs, legs and arms and just powering through.
And then there are the pull-ups. The final, godawful set of pullups. At this point, the timer's on 19 minutes – nearly a minute slower than 300's formerly out-of-shape Andrew Pleavin did the entire workout, but still vaguely respectable. But the pull-ups are my undoing. By the end it's all I can do to scrape together one rep at a time, falling off the bar in between. My final time? A borderline-embarrassing 24 minutes.
But this is the point of the 300 workout. It's not a quick fix or a magic pill, or the only thing you need to look like King Leonidas. It's a final challenge, designed to reward progress or expose weakness, depending on the work you've already put in. Even while I'm sitting on a box (lying down is not approved of) afterwards, I'm already thinking about how I'm going to fix this in my own training, how I can shore up these gaps, get past these failings. I might never do 300 again, but I want to know that I could.
'What do you need to work on?' asks MacDonald, when I've got my breath back. I don't even have to think about it: 'Pull-ups. And cardio.'
'That's right,' nods MacDonald, without a huge amount of sympathy. I get the feeling the Spartans would approve.
Sign up for workout ideas, training advice, reviews of the latest gear and more.
From 2008 to 2018, Joel worked for Men's Fitness, which predated, and then shared a website with, Coach. Though he spent years running the hills of Bath, he's since ditched his trainers for a succession of Converse high-tops, since they're better suited to his love of pulling vans, lifting cars, and hefting logs in a succession of strongman competitions.