Chris Pratt Workout Tips
Get in superhero shape with advice from celebrity trainer Duffy Gaver, who helped Chris Pratt transform his body for Guardians Of The Galaxy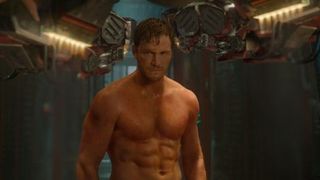 (Image credit: Unknown)
How long did you spend training Pratt?
We worked together for six months before he began shooting Guardians Of The Galaxy.
What did his workout regime look like?
He'd lift weights four or five times a week for an hour at a time. For the first few months it was mainly traditional bodybuilding sessions to add size, targeting specific muscle groups on separate days (the actual splits changed from month to month). Towards the end we started mixing things up and adding in circuit training and P90X workouts to help get him lean.
Did he do anything else outside of the gym?
Yeah, he was really active. He did a lot of mountain biking, running, swimming and kickboxing. Adding these kinds of sports helped to keep things varied and enjoyable.
What was the secret to his success?
Hard work, dedication and making the right choices, which is all you can ask for as a trainer. If I could do the training for my clients I would, but I can't. The discipline and drive has to come from them, and Pratt was excellent in this regard.
Did he have a specific nutrition plan to follow?
Absolutely. He worked with a nutritionist called Phil Goglia, who structured his diet to complement his training regime.
The physical transformation from his previous role in Delivery Man is impressive. How much weight did he lose?
He lost around 60lb [27kg] in total. But as well as burning fat he added a lot of muscle.
You also worked with Chris Hemsworth on Thor. How did his starting point compare to Pratt's?
Hemsworth looks great and stays in shape all the time. Then he gets in even better shape to play Thor and he looks marvelous. Pratt's starting point was significantly worse – he was pretty much completely out of shape.
RECOMMENDED: The Workout Plan Chris Hemsworth Used to Play Thor
Does that make Pratt's transformation even more impressive?
You could say that – obviously it's easier to get in that kind of shape if you've got a good physique to start with – but Hemsworth is also incredibly hard-working and disciplined, and a great guy to work with.
Has Pratt kept in shape since?
Definitely. He likes the feeling he gets from being fit again.
Guardians Of The Galaxy is in cinemas now
This interview was first published 13th August 2014
Sign up for workout ideas, training advice, reviews of the latest gear and more.
Coach is a health and fitness title. This byline is used for posting sponsored content, book extracts and the like. It is also used as a placeholder for articles published a long time ago when the original author is unclear. You can find out more about this publication and find the contact details of the editorial team on the About Us page.