Barbara Currie's Diet And Yoga Secrets
How do you look amazing at 71? Start stretching your body today, says The Godmother of Yoga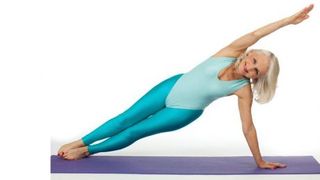 (Image credit: Unknown)
For almost 40 years, leading UK yoga guru, Barbara Currie, has been spreading the yoga word with her yoga books, videos, classes and TV appearances. Now the incredibly youthful Currie is launching a new You Tube yoga channel – Barbara Currie Yoga, to help as many people as possible reap the incredible benefits of yoga. We caught up with her to find out more.
Is yoga your secret to staying healthy and youthful?
"I teach yoga everyday, five times a day. I don't do any other exercise apart from swimming occasionally and walking. I'm energetic and everything is working well health-wise, so I'd have to say yoga is my secret."
What are you other anti-ageing secrets?
"I don't have any really. I have a healthy diet, excluding additives by eating a stone age diet of only chicken, fish, veg, fruit and salads."
Why is yoga a good complement to a regular fitness regime?
"It keeps you flexible because it helps the spine. You'll increase your level of focus and, most importantly, sleep better."
What are the best yoga postures for building fitness?
"All yoga helps. It really depends on what you consider as fitness. Overall it will improve your energy and ability without strain."
What should readers look for in a yoga class if they're just starting out?
"You know you've found the right class when you feel good afterwards. You should feel no strain during or after. If you didn't enjoy it, find another class."
Tell us about your new Youtube channel – what will it offer?
"I started my YouTube channel in response to many of my students asking for yoga which they could do a little bit of everyday. The YouTube videos are three to five minutes long and allow you to gradually learn yoga at your own pace, with short and manageable sections each day. This means you can gradually tone and firm your muscles and joints and keep them flexible, focusing on different sections each day to make sure the whole body is covered. You can take it at an individual speed and learn to practise yoga everyday, in your own home, whenever you have the chance or would like to do a short, weekly YouTube-led session."
youtube.com/BarbaraCurrieYoga (opens in new tab)
This article first appeared in Women's Fitness
Sign up for workout ideas, training advice, reviews of the latest gear and more.