Try This Halloween 10K Run in Central London
Rather than sitting at home eating the sweets you bought for trick-or-treaters, try this spooky 10km run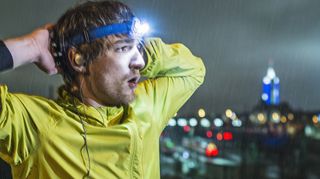 (Image credit: Unknown)
The Data: (This Will Vary From Runner To Runner)
Time it takes to walk: 2h 10 min
Time it takes to run: 45 min
Calories burned: 800
Steps: 12,500
The Route
Click to open the route on Strava
1: 50 Berkeley Square: W1J 5BA
This is regarded as "the most haunted house in London" so it's the only place to start. One story is the tale of a maid who, in 1879, was heard shrieking from a room, only to be discovered lying on the ground, pleading: "Don't let it touch me." What was "it" exactly? We'll never know: she died in an asylum the next day. Perhaps that shiver down your spine will keep you cool for the next 10km.
2: The Langham Hotel: W1B 1JA
Best-known as the voice of the BBC's Final Score, the late James Alexander-Gordon revealed that he'd had a ghostly experience at the Langham. Alexander-Gordon claimed that, in 1973, he woke one morning to see a ball of light, which transformed into a man with no legs. With this in mind, just jog past the Langham and avoid checking into Room 333, where Alexander-Gordon slept. And if you hear screaming, it's just someone in reception finding out that a night costs £300.
3: Red Lion Square: WC1R
This square in Holborn is said to be haunted by Oliver Cromwell, John Bradshaw and Henry Ireton, who did for Charles I. In 1661, King Charles II had their bodies exhumed and stored at Red Lion Square, before their corpses were beheaded. Their ghosts apparently roam the square.
4: The Old Bailey: EC4M 7HS
If you hear a barking sound as you hurtle past the Old Bailey, you might want to increase your pace a touch. That's because it could be the Black Dog of Newgate – a former prisoner who took the form of a sinister canine after his death. In 1596, afflicted by famine, the prisoner's cell-mates apparently ate him alive, which is why he took vengeance… by turning into a dog. Yeah, take that, murderers. "Woof! Woof!"
5: The Viaduct Tavern: EC1A 7AA
This pub opposite the Old Bailey looks fairly typical, but its cellar once held prisoners awaiting trial. In 1999, two electricians were rolling up a carpet in an upstairs room when one got a tap on the shoulder. He turned, but his colleague was on the other side of the room. Later, the rolled carpet floated, then crashed to the floor. It's a great excuse for noisy workmen everywhere.
6: Charterhouse Square: EC1M
You may think that including the whole of Charterhouse Square is a bit vague, but this is with good reason. That's because the entire area was a dumping ground for victims of the Plague, who now haunt the square. Yes, in 1348, around 35,000 bodies were buried here. Puts your slight cramp in perspective.
7: The Ten Bells: E1 6LY
Jack the Ripper is sometimes portrayed as a historical novelty. But let's be clear: he was a horrific psychopath. He would stalk doorways, waiting for his victims, including Annie Chapman. It's Chapman's ghost that's said to haunt the Ten Bells, with staff and customers claiming to have seen paranormal activity. "Hey – did you finish my pint?" "Erm… must have been Annie Chapman."
8: The Tower of London: EC3N 4AB
The most famous Tower ghost is James I's cousin, Arabella Stuart. According to legend, her ghost has been spotted in the Queen's House. There's also the White Lady, who stands at windows, and Anne Boleyn, who's said to roam the corridors (headless, obviously). The infamous two young princes, Edward and Richard, whose skeletons were found under the staircase in the White Tower have been seen in the castle rooms. What a fittingly horrifying way to end any run.
Sign up for workout ideas, training advice, reviews of the latest gear and more.