12 Winter Holidays Above and Beyond Your Average Ski Break
Expand your snow sports portfolio with a new type of winter trip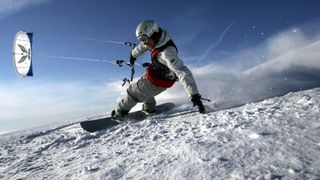 (Image credit: Unknown)
Skiing – fantastic. But don't pretend there haven't been moments of meditation on the cable car or when gazing from your chalet when you've wondered, "but isn't there more?" Well, yes, there is! The ski industry now delivers thrills for every budget, but other entrepreneurs are gradually meeting the demand for new winter sports and activities. Some are vacation-length, others add variety within a winter holiday. Here Coach presents a dozen of the best.
1. Snow kiting in Italy
This is a perfect break for the snowboarder who's looking for that fresh challenge, but anyone expecting to pull off effortless leaps in the style of James Bond on the first morning – prepare to encounter a little frustration, as this is going to take some work. Snow kiting isn't too dissimilar to windsurfing: you stand on a board, hold on for dear life and effectively hope Mother Nature gives you a guiding gust of wind. But even if she does, just don't anticipate too much air-time straight away. The Snowkiting Centre is based in Vetan, near Aosta, and a five-day stay with them includes a three-day training programme so, by the end, you'll be relatively proficient and that bit closer to being the next Bond. As Q used to say, "Do be patient, 007."
You could drive from London in less than 12 hours. Flight: London to Milan from £86 (British Airways). The three-day course costs £220; uk.snowkitingcentre.com
2. Long-distance skating in Sweden
The main downside to long-distance skating – especially somewhere as picturesque and tranquil as Sweden – is that it's highly unlikely you'll ever return to your local rink. It's a bit like when your friend wangles you both a VIP pass to a music festival, free bar and all, and then the following year you attempt to slum it again. The magic's gone. Swedish firm ICEguide does tours on natural ice around Stockholm and caters to all levels. Skating isn't too tricky (so long as you're not attempting a triple Salchow); you are, effectively, brushing your feet forwards, one after the other. And, unlike your local rink, there aren't hundreds of other people to consider.
Tours vary from around five hours to three days, with hotel stop-offs along the way. It's a chance for groups of friends to skate across natural ice against the backdrop of hauntingly beautiful Stockholm. And, after three days on the ice, you'll sleep better than you would at any festival.
From £750 for three days. Flights from £120 with British Airways; iceguide.se
3. Running of the Reindeer in Alaska
What will you be doing on Saturday 4 March? A trip to Ikea? Possibly watching TV? Knock those options into a cocked hat with a trip to Alaska for the annual Running Of The Reindeer. The onus here is strictly on fun, not fitness. However, if you do want to take part, racers are assigned one of four teams – and you need to outrun the reindeer around the streets of Anchorage. And it's snowy. This is akin to taking on Usain Bolt on a running track: even if you win, no one will believe you.
Entry is £22.50 and includes a T-shirt. Flights from £685 with WestJet, London to Anchorage. bit.ly/runningreindeeralaska
4. Fat biking the Grand Canyon in America
Also in the category of "something to do if you happen to be there", sadly, this doesn't entail wearing Eddie Murphy-style fat-suits while enjoying a spot of cycling. The only thing that's chunky are the tires on a bike – specially designed for low ground pressure. The iconic US landmark looks very different covered in snow and as long as you're in reasonably decent shape (tours last around three hours), it's a good way to see one of the most stunning sights on the planet.
Fat Bike Winter Tours are £38. Flights are around £630 (from London Heathrow to Las Vegas with British Airways); bit.ly/fatbikinggrandcanyon
RECOMMENDED: Coach Tries Fat Biking In Switzerland
5. Biathlon in Austria
This Winter Olympic sport, which combines cross-country skiing with firing a rifle at a target, has long been a head-scratcher for many, including the great Jerry Seinfeld. "How many alpine snipers are into this?" the comedian asks. "To me, it's like combining swimming and… strangle a guy, why don't we have that? That makes absolutely as much sense to me."
This is aimed at those in decent condition who fancy a new outdoor activity. After all, the thought of taking aim with a rifle while prostrate might sound like a good excuse to lie down following a gruelling ski, but the concentration levels required would make a chess grand master blush.
St Michael im Lungau is home to Marc Meyer – 2002 Olympian and three-time Austrian champion – and his team; they'll guide you across an Alpine course and cater to all levels, meaning beginners are welcome, before gradually getting good enough to rile Mr Seinfeld.
You could drive from London in less than 15 hours. Flight: London to Salzburg, from £40 with RyanAir. £25 for biathlon camp (includes instruction, hire and competition); bit.ly/biathlonaustria
6. Ice climbing in Switzerland
Ice climbing is pretty much as it sounds – you climb up ice, which may be a frozen waterfall or sub-zero precipitation on icy mountainsides. "If Sylvester Stallone made this look difficult in Cliffhanger," you might be thinking, "then what chance have I got?" While this can be one of the more hazardous winter pursuits [there are moments where you are, effectively, dragging your own body weight up ice], there is an entry-level option featuring less-challenging climbs. But unlike, say, dog-sledding, this isn't for armchair amateurs and requires indoor climbing experience, core strength and stamina in calf muscles, wrists and shoulders. Swiss Alpine Guides offers courses in Interlaken that are suitable for beginners.
Swiss Alpine Guides' courses cost from £157 per day (transfers to/from hotel included). Flights start at around £175 from London to Zurich with Swissair; bit.ly/iceclimbingswitzerland
7. Dog-sledding in Finland
If you've ever questioned your sanity while picking up your dog's mess or wondered who's really in charge once you've reupholstered your favourite armchair because the pet took another shine to it, then dog-sledding really is payback time.
Good luck trying not to fall in love after spending a day with these utterly remarkable huskies, who appear to enjoy nothing more than dragging your backside across the snow. Be warned: if you're the sort who doesn't like bumps and bruises, you'd best avoid it. But, really, it's all part of the enjoyment. Sorry, kids: Santa Claus is now the second-best thing to come from Lapland.
From £1,208 per person for a three-, four- or seven-night stay in December to March, including flights and other activities; bit.ly/dogssleddingfinland
8. Sledging in Germany
Is there anything in life that's more fun and exhilarating than sledging? No. So rather than wait for the one day in five years that Primrose Hill is open for business, take all the fun of sledging and build an entire holiday around it. Feldberger Hof in the Black Forest hosts an array of different sledge and toboggan runs to bring out the big kid in you (or, indeed, enjoy with your actual kids).
Remember back in the day when, if you stayed on your sledge for more than, say, 30 metres and you thought you might be able to turn pro? The Rodelbahn am Seebuck run is a cool 2km – long enough to dream of Olympic medals and superhero recognition.
Flights from London to Zurich start at around £175 (Swissair) with transfers from £45; bit.ly/sledginggermany
RECOMMENDED: Ice Diving In France – "Unlike Anything I've Ever Experienced"
9. Bobsleigh in Canada
Sure, Cool Runnings is a great movie. And, yes, John Candy and the Jamaican team ensured you were dabbing your eyes as the credits rolled. But now you can actually do the real thing and ride a bobsleigh.
Wait for it: at 75mph. On ice. If you're now close to crying for a different reason, you should be: this sounds utterly terrifying. However, adrenaline junkies, prepare to salivate: at the Whistler Sliding Centre you can ride a bobsleigh – with a trained pilot at the helm – on a section of the 2010 Winter Olympics track to make for an experience you'll talk about for the rest of your life.
If you consider yourself athletic, the Whistler Centre also boasts recruiting camps so, you know, Cool Runnings 2 isn't going to write itself.
From £130 (plus tax) for a bobsleigh ride with pilot. Flights are around £706 with Air Canada (London to Vancouver); whistlersportlegacies.com
RECOMMENDED: More Places to Bobsleigh
10. Snow tubing in Japan
The word "Tube" has certain connotations if you've lived in, or indeed merely visited, London. In fact, even thinking about the Tube might make a little part of you feel rather blue right now, and who wants that? Cheer yourself up with a trip to the joyously named Hanazono Adventure Park. The people of Hanazono have created a park solely for the purpose of hurtling across snow on a specially built tube. Snow tube sessions last for one hour, with a "magic carpet" installed to take you back to the top to cut out the hassle of walking. Hanazono is also notable for allowing you to hire an entire mountain (Mt. Weisshorn) for you and 11 pals to ski on.
A 60-minute session costs £19. Flights start at £621 from London to Sapporo (Lufthansa); bit.ly/snowtubingjapan
11. Skijoring in France
This sounds like someone was just making up a sport off the top of their head: "Er, cross-country skiing while being, erm, dragged by a dog or a horse?" But skijoring actually is a thing. What's more, all you really need is decent balance and some thick clothes. At Samoëns in France you can go skijoring, where they prefer horses ("Didn't Robert Falcon Scott?" Yes, but that was in the brutal Antarctic, rather than the refined French Alps), with trips lasting one hour. Perhaps one for a couple to enjoy as part of a weekend break.
£32 for an hour of skijoring. Flights from £84 (London to Geneva with British Airways); bit.ly/skijoringfrance
12. Winter walking/Snowshoeing in Romania
In vintage Disney cartoons, snowshoes were nothing more than a couple of tennis rackets strapped to Goofy's feet. Times have changed, but the idea is the same: the snowshoe evenly distributes the weight, thereby making snow-walking possible. Exodus hosts various winter and snowshoe walks, ideal for any hikers or ramblers seeking a change of scene, with a trip to Transylvania a wintry twist on the Gothic hotspot. Is the thought of seeing Bran Castle – the home of Dracula – enough to send a shiver down your spine? Imagine doing it during the bleak midwinter. Once your nerves have been shredded from that, you can also follow bear and wolf tracks. Sleep well.
Eight days including flights from £999; bit.ly/snowshoeingromania
Sign up for workout ideas, training advice, reviews of the latest gear and more.