Fat Biking: Cycling On Snow In Switzerland
Coach hits the mountains on a fat bike to try the latest two-wheeled craze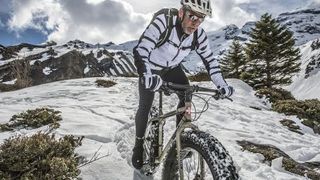 (Image credit: Unknown)
There's a thing called "mountain biking", in which you jump on a bike and cycle about on a mountain – it's all very self-explanatory. But what does one do when said mountain is covered in snow? A normal mountain bike won't cut it – what you need is a fat bike.
To the untrained eye (and from a distance), a fat bike may bear an extremely close resemblance to your common or garden variety off-road bike, but upon closer inspection the main difference becomes clear. The wheels and tyres on a fat bike are huge. Wide and thick like the very best of doughnuts. You're looking at rims about 2.6in larger and tyres around 4in wider, also with a much lower pressure, sometimes at three or four psi. This enables the rider to cycle on difficult terrain like sand, mud and bogs – or in Coach's case, snow.
Gstaad in southwest Switzerland is the resort of choice to experience fat biking, what with it being home to some absolutely stunning vistas, but also being the host of the Snow Bike Festival for the past three years.
The lovely hotels, restaurants and bars don't hurt either – a stiff drink, a vat of fondue and a comfy bed are all essential after a hard day's fat biking. Because it's hard. Really hard.
RECOMMENDED: 12 Winter Holidays Beyond Your Average Ski Break
At first pedal, everything seems ultra-smooth and very easy – bumps, roots and uneven terrain are all pillows and feathers under your wheels. Unfortunately, as things progress, you notice how much more effort you have to put in to cover the same amount of distance that would require a lot less spent energy on a standard mountain bike.
Coach started its trail already at the top of the mountain, which was a godsend seeing as even a slight incline means absolute hell on the quads – you put all your power into propelling the bike forward, yet it seems to be going nowhere. Once you're on the flat though, it's a different story – you can build up quite a lick and enjoy the stunning landscape around you.
There's nothing quite like riding a bike through the snow, particularly if you're lucky enough to have the sunny weather that greeted Coach on the trip – it was hoodies and T-shirts all round.
Now, to the downhill section, or as it's more commonly known, the "fun" part. Fun is in inverted commas because it could also be swapped out for "terrifying". Essentially, the reason for this is that all the control of which you had previously declared yourself overlord, decides to stage an uprising and bring you swiftly to your knees.
Carefully feathering the brakes is a must because locking them turns you into a duck on ice, and steering is an art – downhill in a straight line is far easier. Keeping both feet on the pedals requires great skill at first, but once you get the hang of it, it's a thrill.
Fat biking is a perfect excursion to take in the middle of a snowsports holiday, and can be either experienced as a white-knuckle adrenaline activity, or a calming sightseeing cruise through the mountains.
RECOMMENDED: Ice Diving In France – "Unlike Anything I've Ever Experienced"
As it happened, Coach combined the day on the bikes with an alternative method of transport back down the mountain: sledges. Which in case you didn't know, is hands-down one of the funniest and exhilarating activities you can experience anywhere there's snow.
The fat bikes were rented from Berghotel Sparenmoos above the lovely village of Zweisimmen. It also has hiking trails, cross-country skiing tracks and a number of huge sledging slopes, but perhaps most importantly, a selection of supremely mouth-watering local cheese, meat and beer to sample mid-way through your day. Best to overdo it only on the food though (the beer was pretty strong), and besides, you'll burn it all off once you find yourself lugging yourself up a slope on two huge tyres. Means you can eat even more cheese at dinner time, too.
Benefits Of Fat Biking
You'll work almost all the same muscles as you would on a normal mountain bike, just harder; so your quads, hamstrings and calves, as well as your core. It seemed to Coach to be about 1.5 times as hard as mountain biking, so sweat will introduce itself rather quickly. This is not desirable as it'll end up making you colder on the downhills, so even if it's not sunny, it's still probably not the best idea to pack on the layers – you'll be wanting to remove them pretty sharpish. Supposedly, it's possible to burn 1,500 calories per hour, and although that sounds ridiculous, once you've had a go, it doesn't seem so far-fetched after all…
Coach flew with SWISS. Fares start from £55 one way (swiss.com). For more info on Switzerland, visit myswitzerland.com or email info.uk@myswitzerland.com; for packages, trains and air tickets email sales@stc.co.uk. Visit Gstaad Tourism at gstaad.ch/en.
Sign up for workout ideas, training advice, reviews of the latest gear and more.
Gary Ogden wrote for the print edition of Coach between 2015 and 2016, writing features, interviewing celebrities and covering entertainment. He has also written for ShortList.