Do Look Down: Spending A Night On A Mountain In A Portaledge
Coach editor Ed Needham accepts an invitation to spend a night in the mountains – on a Portaledge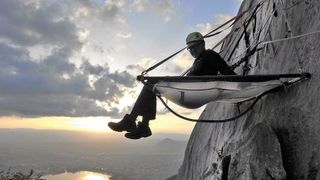 (Image credit: Unknown)
Annecy, an hour's drive south from Geneva in the French Alps, is a spot to which Mother Nature has taken a massive fancy. Sizzling in the summer and snowy in the winter, it sits beside a splendid lake surrounded by epic mountains whose limestone cliffs loom more than a kilometre above the town's delightful medieval centre.
At some point, in search of more intense sensations than the languid one-hour lake cruise offers, some intrepid individual decided those towering cliffs needed climbing. More recently, even more daring folk reckoned a better thing to do would be to lower themselves from the clifftop, clip a "Portaledge" sleeping platform to the mountainside and, after fortifying themselves with a pan of fondue, spend the night perched high above the town enjoying a view previously only available to wildlife.
Words of encouragement from Batoux eventually persuade Ed to release his grip from the rock
RECOMMENDED: The Best Adventure Holidays in the UK
Now that this remarkable sensation is available to the paying public, Coach thought it appropriate to test the integrity of such unique accommodation, and so on a sunny afternoon in August I found myself quivering like a leaf a few feet from the cliff edge, being gently urged by a charming French mountaineer, Philippe Batoux, to join him in abseiling down from the lip.
To say I was frightened would be an understatement – it was the stuff of nightmares. All roped up but still unable to force myself near enough the precipice to look over – the drop could have been anywhere between two and 1,100 metres for all I knew – Philippe patiently encouraged me to stand on a basketball-sized rock on the edge, where I discovered that beside the natural fight or flight response to fear, some of us have a third gear – cling. Celebrities leaving their handprint in wet cement on the Hollywood Walk of Fame may have made less impression than I did on the boulder into which I attempted to press my body.
Time and again I inched a foot out to the basketball, only to scuttle back to safety. It seemed I would be spending the night in a car park. Our heroic photographer, Alf, volunteered to go first, and lowered himself over the drop. "What's it like?" I squeaked. "I won't lie…" was not the answer I was hoping for. The abseil turned out to be of perhaps 15 metres to a small rock ledge on the cliff face – not the bottomless chasm of my imagination.
When Philippe reappeared at the top, this time he convinced me to join him and we would abseil as one. Roped together on the edge, though, he had another surprise for me. "Let go of the rope," he said. "And lean back." Somehow we did it. On the ledge, my panic subsiding, Philippe calmly unpacked his fondue pan, gas stove, cheese and wine, but before preparing one of the most magnificent meals man has ever experienced – relief and gratitude are extraordinary ingredients – we tested the Portaledge, where I would be spending the night.
Ed enjoys a bird's-eye view of Lake Annecy from the reassuringly secure vantage point of the Portaledge
Philippe and his partner had the idea for their business after showing various audiences a film of some of their most spectacular and difficult ascents. "All they wanted to know about was the bloody Portaledge," he grumbled. Suspended from a single point, a little like a flower basket, the Portaledge is a sturdy device, reassuringly comforting after the horror at the top of the abseil, even if there are 500 metres of fresh air beneath it before, say, a dropped phone would reestablish contact with anything solid. From here the view is spine-tingling, with the little town going about its microscopic business a kilometre below, the lake in all its glassy serenity and the mountains darkening opposite.
The following morning I would take an electric "velo" bike around the far side of the "lac" and enjoy a spectacular hike, feeling that all was well with the world. Indeed, if you are grappling with unsettling and hard-to-ignore suspicions that you might be "outdoorsy", this is an excellent spot to test the extent of your denial. Likewise, Annecy is also a superb location in which to break such potentially weekend-altering news gently to your partner.
But what of the night on the Portaledge? Dangling in the dark above the great nothing? Waking to the sort of daybreak Cat Stevens loved to trill about? Sadly the threat of thunderstorms brought our night to a premature end. "Being on the mountain in the rain is not funny," said Philippe. "But being on the mountain with lightning is terrifying." Having earlier compared our respective definitions of "terrifying" I was prepared to believe him, and so at 11pm, disappointed not to have attempted to sleep in the world's scariest bed, we came down. Which means that when they open again for business next spring, the first Coach reader to complete the challenge and report back wins a prize: a fondue set.
Spend A Night On The Ledge
The night on a Portaledge is organised by inax-aventure.com
Prices start at €255, including all equipment and guide + €35 for dinner and breakfast
For more information on activities in the area, see savoie-mont-blanc.com/en and en.lac-annecy.com
Coach stayed at hotel L'Atipik Alexandra, hotelannecy-alexandra.fr
Philippe Batoux's book Mont Blanc: The Finest Routes, £35, is published in English by Vertebrate Publishing
Sign up for workout ideas, training advice, reviews of the latest gear and more.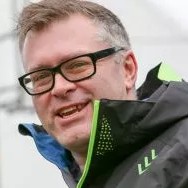 Ed Needham was the founder and editor-in-chief of Coach magazine, a free health and fitness magazine published between 2015 and 2016. He now edits the magazine Strong Words.