Naturalist Steve Backshall On Going To Extremes
Lifelong adventurer Steve Backshall on giving up meat, rolling back the years with yoga and his biggest challenge yet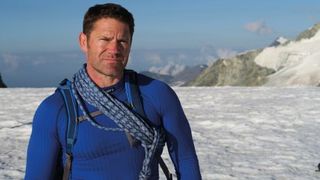 (Image credit: unknown)
You're just back from an abortive attempt to climb the North Face of the Eiger. What happened?
The Beast From The East happened! The plan was to attempt the North Face, but the weather absolutely hammered us. It was minus 35°C on the face itself with 50km/h winds, which took it to about minus 70°. We gave it a crack but had to move to some mountains further south and west, which weren't being battered quite as much – but it was still pretty full on!
Do you think you'll try again?
Yeah. There are few other places in Europe where you can feel so utterly dominated as when standing in front of the North Face of the Eiger. It's a mile of steep or over-hanging rock, ice and snow, and remains one of the great mountaineering challenges. To be at the base and look up – well, any climber imagines what it must be like to climb. I've had that desire ever since I was a kid, and I'll be back.
Age brings experience, but does that compensate for the loss of strength and fitness you had as a younger man?
It's definitely getting harder! When I hit 40 [Steve is now 45] I really noticed my metabolism slow down and for the first time in my life I had to start watching what I eat. I've become vegetarian.
Did you find giving up meat difficult?
I had started cutting back on my protein intake before becoming vegetarian because I wanted to lose some muscle mass. Before, half of my calories came from protein sources but for the expeditions I have planned, I don't need all that muscle. I need to be strong, but it's more about power-to-weight ratio.
What do you do differently now that you didn't do when younger that has helped you most?
My Eureka moment happened when I was training for the Marathon des Sables [in 2005]. I was struggling with joint problems and pain – until I discovered yoga. My mileage doubled and I've had no problems since. There are many types of yoga out there, so try out a few varieties and see what works for you.
What is the closest you've come to death?
Diving with crocodiles in Botswana. A big 5m male croc swam straight towards me through the swamp – it was like seeing a dinosaur come at you. It doesn't matter how big and strong you are: if that croc strikes, it's over. It's true what they say – time slows down and your life flashes before your eyes. It was over very quickly – I think the croc was confused – but in that time thousands of thoughts go through your mind. I pushed it too far and I've not swum with crocs since.
You had a serious fall in 2008. How did that incident change your attitude or outlook?
I broke two bones in my back and shattered my ankle. I had 11 operations and it took me a long time to walk again. I think many young men have a tendency to feel invincible, but that was my moment when I realised I was mortal. It made me more thoughtful, and the risks I now take are always fully calculated.
What's next on your challenge to-do list?
I have six different expeditions this year, including mountaineering, climbing, white-water rafting and cave diving, as well as two books to write, my Masters – and we [Steve is married to Olympic champion rower Helen Glover] are having twins. That's going to be the biggest adventure yet!
How do you train for such a wide range of challenges?
I get my base level of cardio from cycling and kayaking, and I do a bodyweight exercises, which are critical for power, strength and balance. I work hard to maintain this baseline, then specialise in particular skills based on the next challenge.
See related
How do you unwind after a tough expedition?
I am terrible at relaxing! Instead I love going on long bike rides or treks where the only thing I think about is what I am doing in that moment. I find it cleansing – like meditation.
How do you stay so motivated?
People are passionate about things they love, and if I can play just a small part in making them love our planet and the animals with which we share it, then that's all the motivation I need.
Steve Backshall Takes On The Ogre, which sees Backshall set out to climb the North Face of the Eiger, is available on BBC iPlayer
Sign up for workout ideas, training advice, reviews of the latest gear and more.
Coach is a health and fitness title. This byline is used for posting sponsored content, book extracts and the like. It is also used as a placeholder for articles published a long time ago when the original author is unclear. You can find out more about this publication and find the contact details of the editorial team on the About Us page.