Olympic Gold Medallist Helen Glover's Training Regime
The work the rower put in to clinch her second Olympic gold medal with coxless partner Heather Stanning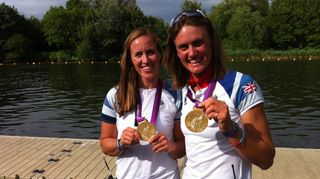 (Image credit: Unknown)
In This Series
Helen Glover (left) and Heather Stanning with their London 2012 Olympic Gold Medals
Congratulations to Helen Glover and Heather Stanning who racked up their second title in the Olympic's women's coxless pairs with a storming time of 7:05.05, beating the second place New Zealand team by more than a second. Perhaps the experience won out, as Glover told us back in March, "I think having competed in an Olympic Games before will be an advantage. Many athletes say your first Games is about the experience, but the second is about competing." Read on to find how the work that went into a successful defence of their title.
"Training for Rio began straight after London, but on 1st January 2016 it all started to feel very close. Around five to six months out from the Games is when training starts to get more focused."
Coming into the last couple of days of camp now. No time to wind down with some tough sessions coming up #mileage pic.twitter.com/SpJt5dTGFGMarch 5, 2015
"I train seven days a week, two to three times a day. I'll train once or twice on the water every day and the other sessions are in the gym or on the rowing machine."
"Strong legs are really important for rowing so I do a lot of work on my glutes and quads in the gym, and train the core to protect the back. I really like gym work because you can see your improvement and measure yourself getting stronger. I get a real sense of achievement when I can lift more than the week before."
"I'll do a couple of rowing machine sessions a week for around an hour and 15 minutes. These are usually an 18km row, although two or three times a year we test ourselves over a 2km distance. I have a love/hate relationship with the rowing machine but it's good for training because there are no variables."
"Sessions on the water are my favourite – they're what we need to be good at. This is where we work on technique, fitness and drills for up to two hours at a time. One drill could be for balance, where we row to a point, stop, make sure our oars aren't touching the water and see if we can balance. Balance is very important to ensure you can keep the boat stable and use your power for rowing."
#1YearToGo #RoadToRio churning out some morning mileage on training camp 🚣 pic.twitter.com/lD6CJYS1EzAugust 5, 2015
"As Rio approaches we'll start to work more on speed and practising race starts. It's good to get the feel for what it's like to be racing."
"I think having competed in an Olympic Games before will be an advantage. Many athletes say your first Games is about the experience, but the second is about competing."
"Nutrition wise I'm quite lucky – we don't have a specific diet to follow. Rowing burns so many calories we can eat pretty much what we want. I need to have around 4,000 calories a day – ­ double that of an average woman. I mainly eat healthily and always have my five fruit and veg portions a day, but sometimes it's a struggle to eat enough so I can get away with having high-calorie foods like chocolate and crisps."
"Some rowers drink alcohol but I rarely feel up for a night out. I need my eight hours' sleep because I'm up at 6.30am and training by 7.30am every day."
"If I get time in Rio I'd love to watch some rugby, gymnastics, hockey and beach volleyball. Although I imagine it'll be hard to get tickets for beach volleyball. There are athlete tickets but they're not easy to get."
RECOMMENDED: Olympic Gold Medallist Helen Glover's Tips for The Great Row
Sign up for workout ideas, training advice, reviews of the latest gear and more.
Charlotte Thomas is a freelance journalist and health and fitness blogger at Lunges & Lycra.