Track Cyclist Joanna Rowsell Shand's Olympic Training Regime
Training ten times a week and 30g of protein every three hours have paved Rowsell Shand's road to Rio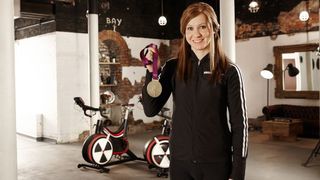 (Image credit: unknown)
In This Series
Track Cyclist Joanna Rowsell Shand
Along with Laura Trott and Dani King, Joanna Rowsell Shand won gold in the team pursuit in London 2012. Also a Commonwealth gold medallist and former world champion, the track cyclist tells us how she's been preparing for Rio.
I was talent-spotted in 2004, when British Cycling came to my school and ran fitness tests on the playing fields. There were tests on the turbo trainer too, measuring power output and peak cadence. I was told my power outputs were some of the best for a girl my age, so I was put on a talent team for the South East region. I tried out mountain biking, road biking and other disciplines to see which I was best at and that's how I got into track.
I was a competitive swimmer and runner when I was younger so I was always very sporty but I hadn't really cycled before. If I could do one other sport it would be triathlon. I'm not allowed to while I'm training, but after Rio I have at least a month off the bike and I'm dying to do one for fun.
Training for Rio started about six weeks after the London Olympics. The Commonwealth Games in 2014 were a big goal too but since then it's all been about Rio.
I train six days a week, normally twice a day for four days and once a day for two days. We do a combination of road riding, track training, gym training and indoor training on a Wattbike.
Most road sessions are between two and three hours and focus on specific training zones. It's more about intensity than endurance, although we do try to keep endurance in there as it's still important for track cycling. Mind you, I use the term "endurance" loosely as our event's only four minutes long.
My main aim in the gym is to build bigger leg muscles to increase my power output so I spend a lot of time on the leg press. There's quite a bit of core and upper-body work as well but the legs are the main focus.
I enjoy trying to build muscle mass. As a track cyclist I want to see my weight go up without my body fat increasing. I have to eat really healthily and include a lot of protein in my diet for building muscle. I have 30g of protein every three hours.
Breakfast is porridge with fruit and honey for slow-release carbs and an omelette or high-protein yogurt. During training I eat a banana or energy bar and have a recovery shake containing protein and carbs after. I eat a good balanced lunch – something like pasta, chicken and veg – and have another protein shake after the second training session of the day. Dinner is plenty of protein and carbs, something like spaghetti bolognese.
RECOMMENDED: Eat Like an Olympian
I have a big appetite and I'm always hungry. I make my own energy balls with oats and banana, and sugar-free butter-free flapjacks full of honey, seeds and raisins. My main problem is not overeating on a rest day or weekend. You've reduced the training volume so you need to keep the protein coming in but cut back on the carbs.
Most people think track cycling is a pretty cool thing to do and it's really easy to give it a go. There are five indoor velodromes in the UK and they all offer taster sessions, so you can just hire a bike and helmet and see if you like it.
Wattbike ambassador Joanna Rowsell Shand was speaking at a Champions Breakfast event hosted by Wattbike
Sign up for workout ideas, training advice, reviews of the latest gear and more.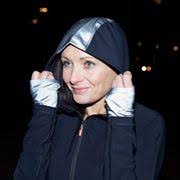 Charlotte Thomas is a freelance journalist and health and fitness blogger at Lunges & Lycra.