Triple Jumper Nathan Fox's Olympic Training Regime
Team GB hopeful Nathan Fox gives Coach a glimpse into how he's preparing for Olympic selection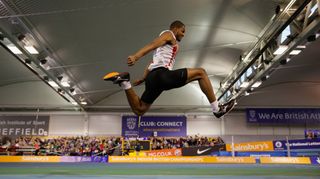 (Image credit: Unknown )
In This Series
British indoor triple jump champion Nathan Fox has represented Great Britain at the European Youth Olympics and Commonwealth Games – and he's hoping to be selected for Rio 2016. Coach spoke to him at training camp in Florida to find out how he covers 16m or more just by jumping.
I almost fell into triple jump. At secondary school I was trying out all the different athletic events and realised I was quite talented at jumping. I started out doing long jump and high jump and developed into triple jump as I got older.
Triple jump is a speed and a power event. As long as your technique is solid, the faster and more powerful you are, the further you can jump.
I train six days a week for about four hours each session. Most days it's one session a day, occasionally two.
The three main building blocks that allow us to jump far and stay injury-free are speed, power and technical training. We do a lot of running, a lot of jumping and a lot of work in the gym.
In the gym I do Olympic lifting, so lots of cleans and squats. I also do general conditioning for the smaller muscles. They're something people tend to forget about but they keep the big muscles in check. I also do lots of running drills to work on biomechanics because it's hard to work on your mechanics when you're in full flight.
Triple jump is probably one of the most technical athletic events because it's all about maintaining speed throughout all the phases of a jump. Keeping the momentum in the three phases is the most difficult part.
I started training in October last year with a lot of conditioning work to get ready for the season ahead, then I moved more on to heavy loading.
The training camp I'm at now in Florida is essential to my Olympic preparation because it's allowed me to train in an environment where there's minimal distraction from everyday life. And the season here starts earlier than in Europe so there's a chance to compete and assess where I am.
Diet is down to the individual athlete because we all have different body types. I need to be as light as possible without losing too much power. At the moment I'm coming into a competition phase, so I'm eliminating carbohydrates like bread, rice and potatoes from my diet. I eat a lot of protein, and a lot of vegetables and sweet potatoes.
I'm not too big on supplements because there's so much out there and it's hard to keep track – just one slip-up could be costly. I'm a firm believer that you can get everything you need from the correct diet.
I think it's very important to talk to people who have been there and done what you're trying to achieve. My former coach, Larry Achike, was an Olympic triple jumper and he taught me the mental technique of visualisation. From the start of the runway to the end of the jump, I have it all visualised in my head before I actually do it.
Before an event I listen to music and picture myself jumping to it. I usually listen to house music because it's bubbly and dancey so it gets me in the right frame of mind.
Olympic selection is on 25th June at the British Championships in Birmingham. In 2014 I competed at the Commonwealth Games and I feel in much better shape than I did that year. I've already had a promising indoor season [Fox was British indoor champion in 2015 and 2016] so I'm on the right track. If I continue to do the right thing I should see the right numbers on the board.
If I wasn't a triple jumper I'd like to do the 100m as it's the show-stopping highlight of the Olympic Games – everyone would like to be part of that. The 110m hurdles as well, that's a really cool event – one mistake and you've lost the whole race.
Nathan Fox works with the Dame Kelly Holmes Trust mentoring disadvantaged young people. He was speaking as part of an event organised in partnership with Lucozade Sport.
Sign up for workout ideas, training advice, reviews of the latest gear and more.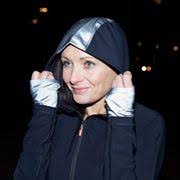 Charlotte Thomas is a freelance journalist and health and fitness blogger at Lunges & Lycra.