The Benefits of Indoor Climbing
Mountaineer Leo Houlding on the benefits of heading indoors to climb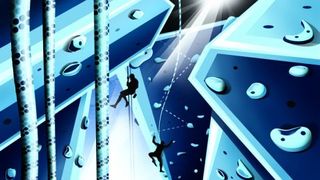 (Image credit: Unknown)
I started climbing outdoors in the Lake District, but the introduction of indoor walls has really revolutionised the sport – and made it possible for me to train whatever the weather. Indoor climbing is a fantastic way for beginners to learn the fundamentals and it's a great way to boost your fitness too.
Learn the ropes
The best way to get started is to go to your nearest indoor climbing wall. These days I don't imagine there's anyone in the UK who lives so far from a wall that they can't get to one, and most indoor centres usually offer introductory days so you can learn the basics of climbing.
When some people start climbing they cling to that cliché that you shouldn't look down, but it's quite important to glance down to decide where to put your feet. It's also essential to communicate with your belayer to let them know if the rope is too tight or too loose, or if you're about to fall.
Reach the summit
Climbing is a brilliant strength workout. Over longer climbs you can work on your stamina, while shorter climbs are all about power. You need to concentrate on manoeuvres while you climb, which will help you build problem-solving skills. It's also incredibly therapeutic, even relaxing, because you don't have time to think about anything except your next move.
The element of risk makes for a rewarding experience and I find it a lot more fun than lifting weights. It's social, especially in the big cities. There's a lot of downtime when you're the belayer, so – like the gym – it's a great place to meet people. And it might even inspire you to take on the thrill and adventure of outdoor climbing.
Bouldering Tips
Technique is all: It's not just about strength but how well you move. Tension in your arms will fatigue you quickly – use your legs and let your arms dead hang until your next move.
Bodyweight rules: No one cares about what you can bench or squat on a rock wall. You should spend more time on bodyweight exercises such as pull-ups to aid your climbing strength.
Limber up: Devote time to stretching before and after your climb. There's nothing worse than cramping up mid-movement and coming off the wall to swing around like a fool.
Plan your route: Pick your route difficulty (indicated by grip colour) and assess the best way up. Just going for it can leave you in an awkward position with no choice but to fall.:
UK Indoor Climbing Walls
EICA: Ratho, Edinburgh Max height 30m
EICA: Ratho (the Edinburgh International Climbing Arena) is the largest in Europe, one of the biggest in the world and the venue for the British Championship Finals. But don't let all that (or the 30m-high aerial assault course) intimidate you – there are grades of difficulty to suit all abilities. eica-ratho.co.uk
The Castle Climbing centre, London Max height 13m
The Castle Climbing Centre is the most popular climbing venue in the UK and one of the biggest an impressive converted Victorian building, it has four floors of climbing walls. There's even a gym, so you can combine technique and strength sessions in one venue. castle-climbing.co.uk
RECOMMENDED: The Best Places to Go Rock Climbing in London
The Lock Climbing Wall, Essex Max height 14m
With some of the highest indoor climbing walls in southeast England, The Lock Climbing Wall's 100 top-roped lines cater to everyone from complete novices to experts. You can even give 'dry tooling' (simulated ice climbing) a try. thelockclimbing.co.uk
Manchester Climbing Centre Max height 20m
Located in a converted church, Manchester Climbing Centre's walls offer 75 lines – which means 75 people can climb at once, so queues are unlikely. The routes are always being updated for a new challenge every time you visit. manchesterclimbingcentre.com
Sign up for workout ideas, training advice, reviews of the latest gear and more.
Coach is a health and fitness title. This byline is used for posting sponsored content, book extracts and the like. It is also used as a placeholder for articles published a long time ago when the original author is unclear. You can find out more about this publication and find the contact details of the editorial team on the About Us page.