The Best Bike Masks To Protect Against Pollution
Worried about breathing in polluted air during the cycle to the office? These protective masks can help to filter out the worst bits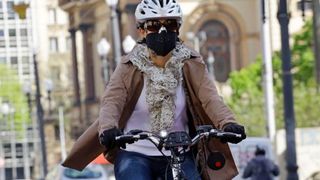 (Image credit: Unknown)
Cycling to work has a whole host of benefits. Not only can it save you money on travel costs in the long run, but it's a great way to add some incidental exercise to your day too, improving your fitness and helping you maintain a healthy weight – in fact, you could even bin that expensive gym membership you've got. What's more, riding your bike provides a big boost in endorphins, improving your mood even on those chilly winter mornings.
Understandably, air pollution is a concern, though. Even some of the UK's smaller towns can fall foul of high concentrations of harmful particles during rush hour and, as a cyclist, you can sometimes find yourself staring down the barrel of a sputtering exhaust pipe. It's worth noting that, although long-term exposure to polluted air is associated with the likes of asthma, bronchitis and emphysema, scientific research has shown that the health benefits of cycling outweigh any of the downsides of breathing polluted air in major European cities.
There are ways of minimising the amount of pollution you encounter when commuting. Keeping an eye on air pollution in your area and avoiding outdoor exercise altogether if the levels are high is the most extreme option; alternatively you can plan your journey so that it avoids busy roads and congestion hotspots in favour of dedicated cycle lanes, quieter side streets and designated low traffic neighbourhoods, which will help to reduce your exposure to pollution from cars. Perhaps the most basic way is to invest in a mask. But before you go grabbing that disposable one you use in the shops these days, it's worth looking into the science – after all, you want something that's going to filter out air pollution and not just make you hot and bothered on the ride to work.
How Do Bike Masks Work?
Particulate matter air pollution comes in two forms: PM10 particles and PM2.5 particles. The number refers to the particle's diameter in micrometers (μm), and to give you some context, a human hair is 50-70μm. PM10 air pollution varies from the likes of dust and smoke, while PM2.5 includes the harmful pollutants that are emitted from vehicle exhausts. The latter is regarded as the most dangerous because it is the smallest and lightest and can find its way deep into your lungs.
Unlike the three-ply masks that have become synonymous with the pandemic, the best bike masks feature a dedicated filter – some replaceable, some not – that help to remove pollution particles from the air before you inhale it.
The certification to look out for is either FFP2 or FFP3 (N95 or N99 in the US). While both filter out 100% of PM10 particles, the former filters out 95% of PM2.5 particles, and the latter filters out 99% of PM2.5 particles. As it's not possible to filter out 100% of PM2.5 particles, masks with an FFP3 rating are the best around.
It is worth flagging that all of the claimed protection is null and void if the mask doesn't fit you correctly. Too loose and it will let unfiltered air in at the sides; too tight and it will be uncomfortable and could make breathing difficult.
---
The Best Bike Pollution Masks in 2021
Respro is one of the best-known bike mask brands and it claims that its filtering technology is N99-rated. The neoprene shell ensures comfort when riding, while an aluminium nose clip gives you a rock-solid seal against noxious particles. The mask features the brand's Rapid Airflow Valve System, so you'll never be left short of breath, and its replaceable Hepa Sport filter removes particles that are even smaller than PM2.5 pollutants. It's worth noting that Respro recommends replacing the filter once a month, but it's possible to buy replacements in bulk.
Buy from Sigma Sports | £25
---
See related
Cambridge Mask Co Churchill Pro Anti Pollution Mask
While on the surface this looks like your bog-standard mask, it's inside where things get clever. The Churchill Pro features British Military Filtration Technology filters, which give the mask an FFP2 rating (although it meets the FFP3 requirements for solid particles). The mask's material is lightweight and breathable, and a valve helps to ensure you're not left breathing your own stale air. The mask will last for 340 hours of use (roughly three to six months) but will have to be completely replaced at the end of its life.
Buy from Wiggle | £24.95 (currently reduced to £19.99)
---
LifeLine Anti Pollution Mask
It may be the most budget-friendly inclusion in our round-up, but the LifeLine anti-pollution mask shouldn't be dismissed as a cheap imitation. Its Velcro fastening means you should be able to tailor the one-size fit to your requirements, and a pinch tab on the bridge of the nose helps keep it securely fitted. Its filter has only 95% efficiency, but this is still 95% better than not wearing one at all. The filters are also replaceable, making it an environmentally friendly alternative to products where the whole mask has to go to landfill.
Buy from Wiggle | £19.99 (currently reduced to £9.99)
Sign up for workout ideas, training advice, reviews of the latest gear and more.
Charlie Allenby is a journalist with a passion for pedalling. He contributes features and buying advice about cycling, and is Coach's dedicated turbo trainer reviewer. He is also Coach's chief whey and casein protein powder tester, trying as many brands as possible.
Charlie's first book, Bike London, is out now. He has written for The Guardian, The Independent and BikeRadar, among others.