Cycling Tips from the Pros
Go further and faster on your bike with these cycling tips from Ford EcoBoost women's cycling team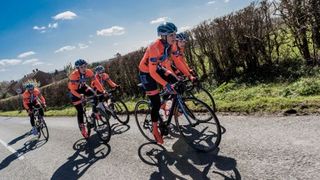 (Image credit: unknown)
The number of Brits cycling is on the up. Over two million of us (that's the equivalent of the entire population of Leeds, Manchester and Liverpool combined) get sweaty on two wheels at least once a week.
But just because you've splashed out on a titanium bike, doesn't necessarily mean you're quite ready to hit the asphalt like a pro. Coach asked Nikki Juniper, and her fellow riders on the newly established Ford EcoBoost women's professional cycling team, for some expert know-how on how to pedal further, faster and smarter.
1. Fuel up
Fuelling properly for any exercise is vital. Elite riders, like Nikki, can cover up to 1,000km on their bikes in a week, and have carefully managed diets to sustain performance. But it still pays to eat right even for more recreational rides. "Have a good breakfast, combining carbs and protein," says Nikki. "Things like porridge, protein pancakes or scrambled eggs on toast are perfect, especially to get you through the first part of any journey."
RECOMMENDED: Healthy Breakfasts Worth Getting Up For
2. Train Together
"You gain a lot from training with others, especially on the road," says team-mate Sophie Fennell. "It allows you to watch and understand how other riders ride, and you can pick up new techniques and skills." Plus, a study by Exploratorium (a US-based public learning laboratory), found cyclists can save 20% in energy expenditure riding in a small group, and up to an incredible 40% in a larger peloton.
RECOMMENDED: How to Cycle in a Group
3. Rest and Recover
More is definitely not more according to British Cycling, the sport's governing body, who warn that overtraining can lead to loss of form or even serious illness. A point backed up by Charline Joiner, the team's expert in sports science: "Rest and recovery should be part of your routine. It's vital after riding – or any strenuous physical activity – to allow the muscles to recover, grow and become stronger."
4. Conquer Hills (and Pain)
What's the best way to get up a huge, towering incline, without admitting defeat and getting off your bike? "Don't start off too hard," advises Nikki. "Keep a good cadence [that's pedalling rate], rather than grinding out the higher gears." And if it really, really hurts? "Just remember, if you're hurting everyone else is as well," says Mel Brand, a senior rider on the team.
5. Beat the Bonk
"The bonk" is a sudden loss of energy caused by depletion of glycogen stores in the liver and muscles. It is one of the pro's worst fears, up there with hitting an actual wall. But don't worry, the bonk can be beaten. "Load up with snacks," says Nikki, the two-time Elite National Road Series champ. "Take energy bars and gels, or bananas. And always have an 'emergency bar' if the dreaded bonk should strike!"
RECOMMENDED: How to Avoid Hitting the Wall
Nikki and Team Ford EcoBoost are supported by Ford UK
Sign up for workout ideas, training advice, reviews of the latest gear and more.
Coach is a health and fitness title. This byline is used for posting sponsored content, book extracts and the like. It is also used as a placeholder for articles published a long time ago when the original author is unclear. You can find out more about this publication and find the contact details of the editorial team on the About Us page.