Sports Reporter Ned Boulting on How Cycling Became so Popular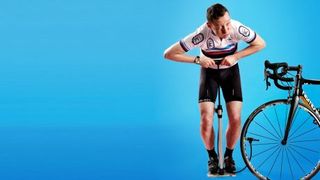 (Image credit: Unknown)
Who is responsible for cycling becoming so popular in the UK?
You're right, there's been this sudden extraordinary growth of people discovering bikes in adulthood. The one man to thank for it all is Chris Boardman. His gold medal at the Barcelona Olympics in 1992 was an exceptional achievement. It was a free-spirited, freelance, underfunded rogue success born of his tremendous mental strength and vision. It lit the fire that Dave Brailsford and his team have taken on to produce a tidal wave of medals and titles.
What is Chris like as a person?
A truly extraordinary man. He's actually in his sixth career – he started off as a carpenter, and now he's become an environmental activist. The "riding a bike very fast" part of his life, for which he's best known, is actually, in his eyes, almost a detail. He's one of those guys who whatever he did in life, he would have succeeded at.
What is the greatest race you've ever seen?
A [Tour de France] stage to La Grande-Motte in 2009. The race was obliterated by vicious crosswinds, which made for some of the hardest, bravest racing I've ever seen. Mark Cavendish read the conditions to perfection and won.
What's the most beautiful stage on the Tour?
France is like a whole continent shrunk into one country. It has as much variation as North America does but, for me, the most captivating would be the stages in the high Pyrenees. Unlike the Alps, which tend to be full of ski resorts built for tourists, the Pyrenees have a wild, rugged, underdeveloped charm, a real identity.
RECOMMENDED: Five Gruelling Tour de France Ascents that You Can Ride
Which other broadcasters do you admire?
My first break in TV was getting a job making the tea for Soccer Saturday on Sky Sports. Unfortunately, I was completely hopeless at the admin part of being a production assistant, so Jeff Stelling said, "If you're that crap, why not try reporting?" He became my mentor, always offering support and advice. He is completely unique as he has credibility among the players, and yet he's also got a great mainstream warmth. People in sports TV tend to be either dry experts or fluffy presenters – he has the appeal of both.
What was your best scoop?
There was a time – about a decade ago – when doping on the Tour was crass, amateur and obvious. A guy called Stefan Schumacher won a stage, and instead of congratulating him, I confronted him on live TV about drug allegations. He had recently crashed a car leaving a nightclub, and the police had given him a blood test that showed he was full of amphetamines. OK, that wasn't strictly performance-enhancing, but it didn't look good on a professional athlete. Subsequent to the interview being broadcast, I received a barrage of complaints about duffing him up on television, but I stood my ground. And then, about two weeks after the Tour finished, test results showed that he had come up positive for EPO on that very day.
Who is your favourite rider?
One of the great things about cycling is that you do get close to the riders. You stay in the same hotels and they will chat with you over breakfast even though they're superstars. If I had to pick, I'd go for the current crop of German riders, guys like Marcel Kittel and Tony Martin, who are so friendly, articulate and engaging.
Who celebrates the hardest once the Tour is over?
Bear in mind that most cyclists only weigh 58kg or something insane, and after three weeks of racing what residual body fat they might have had has been frazzled away by the sun. But believe me, on the Champs-élysées after it all comes to end in Paris, they go on the rattle [sic]. It only takes a few thimbles of alcohol to have the desired effect, and then they are enjoying themselves in quite unexpected ways. Chris Froome is certainly no slouch when it comes to letting his hair down.
Ned Boulting is taking his BIKEOLOGY show, a live spectacular theatrical event about bicycles, on tour throughout October and November this year; bikeology.co.uk
Sign up for workout ideas, training advice, reviews of the latest gear and more.
Grub Smith contributed interviews and features to the print edition of Coach, which ran from 2015 to 2016.