Why Jeff Stelling is Walking 10 Marathons in 10 Days
Soccer Saturday's host is walking 260 miles from Hartlepool to Wembley and help raise awareness of prostate cancer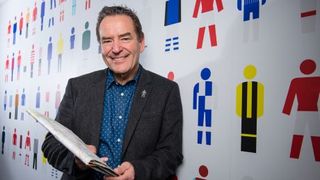 (Image credit: Unknown)
What inspired you to commit the Stelling brand to raising awareness about prostate cancer?
I wasn't initially aware how many men are killed or affected by prostate cancer [one in eight men will get it at some point], and people here [at Prostate Cancer UK] suggested I could do something. Various ideas were suggested – walking the Great Wall of China or the Inca Trail both appealed, but a few years ago I went up Kilimanjaro for a different charity, and I didn't want people thinking, "Oh, he's going on another trip that we would all love to go on". I felt that it had to be something more challenging, and more related to football, and consequently came up with the idea that Hartlepool, my team, had never been to Wembley so if they weren't going to get there, maybe I could. By pure coincidence, the distance is 260 miles and I had a ten-day window, and ten into 260 is 26, the distance of a marathon… so it's ten marathons in ten days.
You're an experienced marathon runner, but who has been tasked with turning you into a walking machine?
That's very straightforward to answer – my dogs, Stan and Meg. Training amounts to lots of long dog walks and the occasional run. Maybe I am over-confident about this whole thing, but I learned during those marathons to stick with what suits you. I'll listen to advice, but then I'll do it my way. People say, "We'll provide you with energy drinks!" and I'm like, "No, thank you!" I'll stick to water, coffee on the way, and so on and so forth. I'm self-trained with a bit of canine assistance.
Can you prepare for walking marathons back to back?
No, I'll just see what comes. It's a mental thing. To hark back to my experience of Kilimanjaro, a lot of it was in the mind. You'd be up at dawn and you wouldn't finish walking until shortly before dusk and that was on much more difficult terrain, hopefully, than it is going to be between Doncaster and Scunthorpe, for example. The big thing there was to get things mentally right and I was with a great group of people, and that took my mind away from any pain I might be suffering, and I think that is going to be the case here as well.
When you were starting out as a journalist, was there anyone who went out of their way to help you?
Des Lynam, who was my absolute total hero. The first time I met him I was working as a cub reporter for BBC Radio covering the Grand National, and Des was there fronting their TV coverage. On the morning of the National most people go up to the gallops at six in the morning, but I wasn't needed for that so I wandered down for breakfast in this very smart hotel and there was absolutely nobody I knew, apart from Des who was sitting with a friend at another table. He saw me wandering around like a lost soul and said, "It's Jeff, isn't it? Come on over and join us." They say you should never meet your heroes, but he was every bit as nice and helpful as I'd hoped he would be, and every time I bumped into him after that he always had some words of encouragement.
Were there any players or managers who were also kind and generous with their time?
As a young reporter working in local radio, my radio station decided to have a charity fundraising day and I was charged with getting some sports memorabilia from every top-flight team to auction off. I'd written to every single Division One manager and apart from Middlesbrough no-one responded. Then one day in the office I got a call, and the secretary said, "It's a Mr Clough for you", and it was the classic, "Young man, what can I do for you?" A couple of days later a massive amount of signed memorabilia arrived, courtesy of the greatest living manager in English football, as he was then.
Who among the current batch of Soccer Saturday pundits would take the prize for the most enthusiastic?
Chris Kamara – he has got such a passion for life, and flings himself into everything that he does with incredible vigour. Whether it's Soccer Saturday, Goals On Sunday, Ninja Warrior UK on a Saturday night on terrestrial TV, or the pet series he did a few weeks ago… he does a whole host of things. There aren't ever enough hours in the day for Kamara. He wants to do everything and he wants to do it now.
You're also a legend for the preparation you put into your work. Who in the Soccer Saturday studio is a demon for preparation?
Matt Le Tissier always likes to try and out-stat me. So he'll come in with a few stats that's he's learnt during the course of the week and just drop those into the conversation and see if I can better them.
Has he ever out-statted you?
Of course not!
Which managers and players today handle the pressures with the most grace?
Claudio Ranieri has always been the height of graciousness. I saw him two days after he lost his job at Chelsea, and he didn't really know me at all, but we had a long chat that day and he was just a joy to be with. I thought Brendan Rodgers handled himself with good grace when he lost his job at Liverpool, maybe a little harshly. And Roberto Martinez is also an absolute delight to talk to at all times. I have never seen him lose his temper with the media, no matter how provoked he might be. A class act.
Which players and managers would we be most surprised to hear go out of their way to help others?
Saido Berahino at West Brom has been criticised a lot in recent times, and I don't know him at all, but I did a little bit of digging into him and he has the Saido Berahino Foundation, supports all sorts of work in Africa for charities, gives up his own time and doesn't create a song and dance about it. James Milner is another. Harry Redknapp supports a lot of charities. Several years ago Steve Cotterill was manager at Portsmouth and I was involved in a charitable event at Southampton. I texted him and said, "Steve, I know this is Southampton, so it's like going into a battle zone for a Portsmouth manager, but is there any chance of you coming?" And he was there that night to support the charity.
As the presenter of Sky's Champions League coverage until last season, which club was always the greatest pleasure to visit?
The clear favourite was Borussia Dortmund. You would have 70,000 people dressed in yellow and black – it seemed to be compulsory. It was just a festival atmosphere before every game and I could never tire of going there. I saw them beat Real Madrid 4-1 one night and that was one of the greatest games of football I've ever seen.
Who's joining you on the walk?
Lots of people. The response from the football community has been fantastic. We're going to 30 different clubs. I asked Russ Green, the chief exec of Hartlepool, "Would you walk the first leg with me?" "First leg?" he said. "I'll do the whole thing!" A lot of the Soccer Saturday people are coming along – Matt Le Tissier, Paul Merson, Charlie Nicholas, Matt Murray, Bianca Westwood…
Who do you expect to be the most competitive? And the biggest moaner?
I'll be the biggest moaner, that's absolutely for sure! I'll probably also be the most competitive in the sense that I've made a big point that I want to keep going. We'll stop where we have to at football clubs to do our duties, but otherwise it's lunch on the hoof. It's not meant to be fun, it's about getting from A to B as efficiently as we possibly can.
Coach is proud to be a charity partner of Prostate Cancer UK and will be joining Jeff for the first leg of his walk on 21st March, walking from Victoria Park, home of Hartlepool FC, to Marske United FC's GER stadium in North Yorkshire.
To support Prostate Cancer UK and its ambassador Jeff on his epic challenge, visit menunitedmarch.org (opens in new tab), or text "Jeff" to 70004 to donate £3.
Sign up for workout ideas, training advice, reviews of the latest gear and more.
Ed Needham was the founder and editor-in-chief of Coach magazine, a free health and fitness magazine published between 2015 and 2016. He now edits the magazine Strong Words.