Tips For Starting To Cycle In London From Someone Who's Been In Your Position
Cycling in London may sound nerve wracking, but the writer of Diary Of A New Cyclist, overcame that feeling and can help you do the same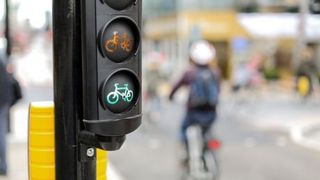 (Image credit: Unknown)
So you want to start cycling in London, but you're not sure how to begin? Don't worry, I've been there too. Even a year ago the idea of cycling in the capital felt like a total fantasy, but I underestimated what I was capable of. I got a lot of encouragement along the way, but the following discoveries and tips are the ones I found most helpful when I got started.
1. Rent Before You Buy
I spent a long time telling myself that I couldn't give cycling in London a go before I had my own bike. I also spent a long time telling myself that buying my own bike would be a waste of money if I didn't know how to use it. I was at an impasse. In the end, I bit the bullet and went out and bought my own bike before I had any idea what I was doing. Looking back, I think that was a mistake.
London has plenty of opportunities to try cycling before you invest in a bike of your own. Between Santander Bikes, Jump Bikes and even foldable electric Bromptons at King's Cross Station, it's possible to try a range of different bikes as you build your confidence. You may be a beginner but you're just as entitled to use them as anyone else.
2. Start With Pleasure Rides
In my first couple of weeks of bike ownership, I made lots of plans. I started riding in the summer of 2020 when lockdown was easing and outdoor picnics were possible. Since I wasn't using public transport, my bike felt like my ticket to a social life, but it didn't work out that way. Often, I would end up cancelling at the last minute, too daunted by the difficulty of the ride ahead. If I did manage to get myself to where I was going, I'd be so on edge that I was terrible company.
The best rides in those first few weeks were always the ones I was doing for the rides' sake – with nowhere to go and nowhere to be. You don't have to have a destination or an occasion to take a ride – and often that can add too much pressure. Instead, just cycle for the sake of it.
3. Join A Cycle Buddy Scheme
One of the best ways of building confidence on a bike quickly is to take part in a cycle buddy scheme. These are free programmes where folks who have been cycling for ages go on a ride with someone who's just getting started. Having someone with you who knows where the quiet roads are and how to fix a puncture can be a great way of taking some of the anxiety out of early rides. We're lucky to have loads of groups like this in London – from JoyRiders Britain, which caters to women, to London Cycle Campaign, which will match you up with someone local to your neighbourhood.
4. Take Short Journeys To Build Your Confidence
I still remember the first time I took my bike out by myself. It was a Sunday morning, and I was in bed listening to my boyfriend singing in the shower and thinking how nice it would be if I could surprise him with fresh croissants from the local bakery when he got out. I was doing the maths: 15 minutes' walk there, 15 minutes' walk back – there was no way I'd have the time. And then I remembered my bike. Without even thinking about the fact that I'd never cycled before, I quickly got dressed and cycled the couple of minutes down the road to the bakery. I was back in bed by the time my boyfriend was out of the shower, laden with baked goods and incredibly proud of myself. Tiny solo journeys like these play a massive role in building confidence on a bike. They might be short-lived, but the sense of accomplishment isn't.
5. Take A Quiet Route
Once I was ready to try longer journeys on my bike, I quickly fell in love with Citymapper's quiet route function. While many cyclists will swear by Google Maps, Komoot or Strava for getting them to their destination as quickly as possible, I swear by Citymapper for getting me where I'm going as pleasantly as possible. Its quiet route will weave you through London's back streets, parks and segregated cycle lanes. You'll discover parts of the city, stop for coffee and snacks at a previously unknown cafe that will soon become your regular, and genuinely come to love your commute. Taking this option will never be the most efficient way of getting you to your destination, but what does ten minutes matter when you're having this much fun?
See related
6. Invest In A Quad Lock
Before I started using a bike to travel, a big question I had for friends when they turned up at my house and asked to store their bikes in my backyard was, "How the hell did you know how to get here?" Navigating London was tricky enough with both hands free to use a map app on my phone.
Then a friend introduced me to the Quad Lock, a little device that attaches to your handlebars and comes with a not-so-stylish phone case. You can attach your phone to your bike and use it the same way you use a GPS while driving. Thanks to mine I've never once got lost while cycling, which is saying something.
7. It's OK To Be Nervous
Last but definitely not least, it's totally fine and normal to feel nervous. Starting to ride a bike in London is overwhelming. I promise you this, though: that feeling won't last very long. Before you know it, you'll be pedalling across the city with the wind in your hair and freedom at your feet, and the only thing you'll feel is joy. All you need to do is get started.
Sign up for workout ideas, training advice, reviews of the latest gear and more.
Sarah is a writer, podcaster and campaigner from south London. After discovering the joy of cycling during lockdown in 2020, Sarah began advocating for safer streets and better cycling infrastructure. She's since been named one of Cycling UK's 100 Women in Cycling, 2021.