5 Things You Need To Know About Taking Your Bike On A Train
And one alternative you may not have considered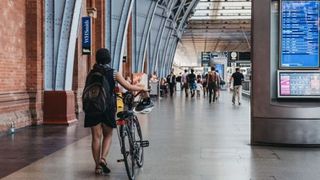 (Image credit: unknown)
Summer is almost over, but with COVID restrictions easing it's shaping up to be an adventure-filled autumn. If you discovered the joy of cycling over lockdown, one excellent option is to take your bike and attempt one of the country's established cycle routes.
There are great cycleways all over the place – Sustrans (opens in new tab) and Cycling UK (opens in new tab) have plenty of suggestions, as does Visit Wales (opens in new tab) – but with driving becoming more of a hassle than ever, not to mention cars making the climate emergency worse, you might resolve to reach your route by train instead. But how do you even do that with your bike in tow?
Spoiler alert: it's not always easy. We've given it a go and made a bunch of mistakes so you don't have to. Here's some tips to make the journey as smooth as possible.
1. Check the stations for step-free access
Despite the fact that more than seven million people in the UK are disabled, many train stations aren't set up to accommodate people travelling with wheels. Before booking, check if your departure and arrival stations have step-free access such as ramps or lifts, and if they don't, find out how many flights of stairs you may have to carry your bike up and down. In some cases, it might make more sense to start or end your journey at different stations that are better equipped to handle bikes.
2. Book through these train companies
The next step to stress-free train travel with your bike is to add a bike reservation to your ticket. Every train company has a different system for making bike reservations and some make it much harder than others. The good news is you don't need to book your ticket through the train company you're actually travelling with. Many people who regularly travel with bikes book their journeys through ScotRail or Great Western Railway, which make it straightforward to add a bike reservation as you're purchasing your ticket. The best news of all: on most train services in the UK, reserving a spot for your bike is free.
Sometimes you may get a message that a bike reservation isn't available for your journey. This can happen for a few different reasons. It could be that all of the bike storage places have already been booked, so try an alternative train. Or it could be that the journey you're making only offers first-come, first-served bike storage. To find out if that applies, check out the website of the train company managing your route.
3. Get to the station early
Even with a bike reservation, it's a good idea to get to the station early. This will give you enough time to ask station staff which carriage has the bike storage area so you can stake out the relevant part of the platform.
See related
4. Practise getting your bike in the right position
For reasons no sensible person understands, most bike storage on UK trains is very difficult to use. Generally, bikes are hung vertically by a wheel, in lockers that can squeeze two small road bikes in. These lockers aren't built for any other type of bike, like upright, electric (opens in new tab), or mountain bikes. That doesn't mean it isn't possible to store them, but it is a challenge and will probably take multiple attempts, require two people, and leave your shins battered and bruised.
Sometimes station staff are willing to help get your bike on the train so don't be shy to ask them. The best way to prepare yourself is to practise getting your bike upright before the day of your journey. On the day itself, you're likely to have only a few minutes to get your bike in and out of the locker, and the train may be moving while you do it.
5. Pack strategically
The upright storage system is not only difficult to use, it also won't accommodate panniers (opens in new tab) or baskets. If yours can't be swiftly removed as you get on the train, consider using a backpack instead.
6. If all else fails, ship your bike
For those who use adapted cycles like trikes or cargo bikes, who can't lift their bikes, or who just don't fancy navigating the hanging lockers, there is another option: getting your bike couriered. Sending your bike to your holiday destination might be more affordable than you'd think – prices start at well under £30. There are multiple companies operating in the UK that will pick up your boxed-up bike one day and deliver it to your accommodation the next. They'll even send you a cardboard box if you don't have one big enough to fit your bike. Easy.
Sign up for workout ideas, training advice, reviews of the latest gear and more.
Sarah is a writer, podcaster and campaigner from south London. After discovering the joy of cycling during lockdown in 2020, Sarah began advocating for safer streets and better cycling infrastructure. She's since been named one of Cycling UK's 100 Women in Cycling, 2021 (opens in new tab).