The Ultimate Rider's Guide To RideLondon 2023
All your burning questions about the RideLondon 100 route, start and finish answered by someone with three finisher's medals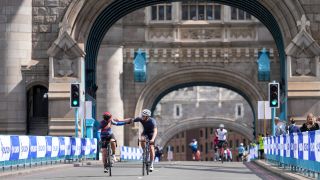 (Image credit: RideLondon / Ian Roman for London Marathon Events)
The UK's biggest sportive returns on Sunday 28th May. RideLondon 100 started as an Olympic legacy event after London 2012, and the mass-participation ride has established itself as cycling's equivalent to the London Marathon. Riders of all ages and abilities from across the UK and abroad saddle up to tick the 100-mile course off their bucket list.
I've ridden three RideLondons, including the new Essex route that debuted in 2022, so I'm well placed to help with your pre-event preparations. Hopefully your training has gone well (and you used the 100-mile cycle training plan I worked on), so all that's left is to go over the on-the-day details. Here are the answers to your burning questions ahead of RideLondon's 10th-anniversary ride.
Is RideLondon a race?
Although it might feel like you're part of the Tour de France peloton as chain gangs of riders whizz past, their bikes's rear hubs making that distinctive whirring noise, it's important to remember that RideLondon isn't a race. The event organizer makes this explicit in its information about the ride, but to hammer it home on the day, there is a Lead Safety Car at the front, which no rider should overtake at any time. Riding 100 miles is enough of a challenge for most, and getting around the course safely and sensibly should be prioritized above racing to the line.
RideLondon Start
Where does RideLondon start?
The start line of RideLondon returns to Embankment for the second year, but it's important to approach the start line from the right direction—there's no access from Tower Hill in the east. There are two start area entry points—Wellington Arch on Constitution Hill and Spur Road off of Birdcage Walk—and these are the only ways to access the start area. From here, you're able to ride and walk your bike to the start line before joining your start wave.
What is the RideLondon start time?
There are 39 different start waves for RideLondon 100, and you should receive all the information regarding your wave in your Rider Pack. If you're unsure, your race number also has a letter and a color that correlates to a wave, arrival area, and start time, which can be cross-referenced with the Ride Guide. The first wave of riders sets off at 6am, with each wave setting off at five-minute intervals until the last at 9.10am.
How can you get to the start?
Getting to the start of a sportive is rarely straightforward when there are road closures in force. Fortunately, London's public transport network means it is possible to get there without pedaling the whole way.
Buses are out of the equation but you are allowed to take a standard, unfolding bike on some of the Tube network, despite the common misconception. Both the Circle and District lines are exempt from restrictions across their lines, meaning you could travel to Westminster, St James' Park or Victoria by Tube before riding the short journey to your designated start area entry point. Arriving in the capital with your bike by overground train is also allowed, although it's best to check on each train operator's website for any restrictions.
If you live in London or are staying at a hotel ahead of the event, though, the easiest way to get to the start is to ride. While it will add to your overall mileage for the day, you can see it as a good opportunity to warm up.
How does the start work?
Previously, participants in RideLondon had to wait in pens before setting off in regular waves. In my experience, this could leave a lot of time between arriving at the start and beginning your ride, and your legs would get cold. It also encouraged "racing" from the start, which could be quite a shock to the system.
The new rolling set-up means that you make your way into a well-organized start funnel where delays are minor, so you aren't left hanging around in the cold for ages and are able to begin whenever you're ready. It also allows you to gradually ease yourself into the ride, although nothing can ever entirely remove the temptation to let adrenaline get the better of you and jump in with a group of faster riders.
RideLondon 2023 Route
RideLondon Map
The RideLondon 2023 course comes in at 102.4 miles in length and features 3,640ft (1,109m) elevation gain. The ride is an out-and-back loop from the capital, and is predominantly spent exploring the Essex countryside, but it's bookended with sections that go past some of London's landmarks including Cleopatra's Needle, the Tate Modern and Tower Bridge.
Is the RideLondon course difficult?
The RideLondon 100 route favors A roads and dual carriageways over the scenic, narrow country lanes that you can encounter in Essex, and while some more experienced riders may find this disappointing, using wide roads means you can safely pull over to the side if you do need a breather. It also helps the event to run safely and cope with incidents without re-routing or cutting the ride short—which happened on the old London-Surrey route.
Is the RideLondon route hilly?
The elevation gain of the course doesn't throw up too many nasty surprises—the worst is a short, sharp climb into Woodford at mile 85. The rest of the ascents are gentle and gradual, allowing you to focus on the challenge of completing the distance.
Are there rest stops on the RideLondon route?
There are four welfare stops on the route where you can refill your water bottles, grab some free energy supplements and food like flapjacks and bananas, use the toilets, get your bike checked over by a mechanic if there are any issues, and just generally have a break from being in the saddle.
The welfare stops can be found on Epping High Street (mile 25), Felsted School (mile 53), Chipping Ongar High Street (mile 73), and James Hawkey Hall, Woodford Green (mile 87).
Also, any time you spend in the first three welfare stops doesn't count towards your finish time, meaning you aren't penalized for taking a break. This allows you to split your ride up into more manageable chunks, where the furthest distance you'll have to tackle in one go is 32 miles.
How is the route different from RideLondon Surrey?
While the course starts and finishes in London as per the original RideLondon-Surrey route that ran between 2013-2019, that's where the similarities end. Instead of heading southwest towards the Surrey Hills on a course inspired by the London 2012 Olympic road race, competitors venture northeast into the scenic lanes of Essex.
After setting off along the Embankment towards Stratford, riders hurtle along the car-free streets of the capital before heading into Epping Forest and then out into Essex's rolling countryside.
From Ongar, the gently undulating lanes of west Essex whizz by as the route heads north through the chocolate-box villages of Fyfield and Leaden Roding and out towards Great Dunmow.
At the halfway mark on the outskirts of Braintree, riders are able to follow in the tire tracks of Chris Froome and Geraint Thomas as the RideLondon-Essex 100 route shadows that of Stage 3 of the 2014 Tour de France for about 16km (10 miles), before changing tack on the outer limits of Chelmsford and taking a more direct path back to the capital.
RideLondon Road Closures
A comprehensive overview of road closures can be found on the RideLondon community info page of the website but there are a few headlines to bear in mind if you live on or near the RideLondon course. A lot of the main roads in central and east London will be subject to road closures until 7.30pm on 28th May at the earliest, with some remaining closed until 6am on Monday 29th May. Other roads that are on the course will have rolling roadblocks in force, and some sections will be reopened to traffic from as early as midday. If you do need to cross the course, there are a number of designated vehicle crossing points where riders will be stopped to allow traffic to pass.
RideLondon Finish
Where does RideLondon finish?
As per the 2022 edition, the ride will again finish on Tower Bridge, creating an amazing backdrop for photographs as you cross the line. Riders are then funneled into the finish area on Tooley Street at the junction with Bermondsey Street, where they are awarded their medals and can pick up some post-ride nutrition.
The finish area can be quite busy with lots of cyclists congregating in one space. If you plan to meet friends and family afterward, then it's best to pre-arrange a meeting point away from the finish area. Head in the direction of London Bridge to find a quieter spot.
It's also important to consider how you're going to get home or back to where you're staying after the ride. You might not feel like riding another mile after clocking 100 during the event, but public transport is likely to be busy, which can make traveling with a bike difficult. My advice would be to ride to your final destination if you can, or at least cycle to a less crowded Tube or train station to avoid being told that bikes aren't allowed.
RideLondon 2024
How to enter RideLondon 2024
Dates are still TBC on when the RideLondon 2024 tickets will go on sale but expect it to be in late September/early October if RideLondon 2023 was anything to go by. The 2023 edition put the first 10,000 places up for grabs on a first-come, first-served basis, with the remaining spots reserved for ballot entries or charity places. The event is always oversubscribed, so if you want to guarantee your place in a peloton of 25,000 other cyclists, then we would recommend securing your space as soon as possible.
RideLondon 2022 Photos
Image 1 of 10
Riders cycle along Embankment at the start of the RideLondon-Essex 100 sportive.

Riders in the RideLondon-Essex 100 sportive line up at the start line on Embankment.
Riders cycle past the Tower of London as they ride out of London at the beginning of the RideLondon-Essex 100.
Riders taking part in the RideLondon-Essex 100 pass through Howe Street.
Cyclists in the RideLondon-Essex sportive riding with the Olympic Velodrome in the background.
Motion blur of a rider as they pass the O2 Arena during the RideLondon-Essex 100.
Cyclists in the RideLondon-Essex sportive head towards the finish on Tower Bridge.
Cyclists in the RideLondon-Essex sportive congratulate each other as they cross Tower Bridge after reaching the finish line.
A close up of the finishers medal as cyclists pass by in the background on Tower Bridge during the RideLondon-Essex sportive.
Rider in the RideLondon-Essex sportive bites his medal in celebration after finishing the route.
Sign up for workout ideas, training advice, reviews of the latest gear and more.
Charlie Allenby is a journalist with a passion for pedalling. He contributes features and buying advice about cycling, and is Coach's dedicated turbo trainer reviewer. He is also Coach's chief whey and casein protein powder tester, trying as many brands as possible.
Charlie's first book, Bike London, is out now. He has written for The Guardian, The Independent and BikeRadar, among others.