A Stylish Man's Guide to Shopping in the North-West
The very best shops in Liverpool and Manchester to blow your cash in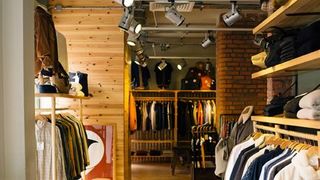 (Image credit: Unknown)
When it comes to wallet-decimating high street shopping, the obvious answer for any time-strapped man on the look out for his fill of music, clothing or a last-minute gift for the other half is to brave the zombie-like crowds of London's Oxford Street. It's not pretty. It's rarely fun. But it gets the job done.
However, there is another way. A better way.
Splashing your cash in the north-west of England has never been better. Now that Manchester and Liverpool are crammed with incredble menswear, craft beer, music stores and deli shops, we're seriously considering jumping on the 09.15 from Euston armed with just a credit card. But which one's right for you? Look at the evidence and judge for yourself...
Where to Buy... Bar-Raising Menswear
Oi Polloi, 63 Thomas Street, Manchester M4 1LQ
The daddy of Manchester menswear since 2002, Oi Polloi manages to stand out even in the boutique-crowded Northern Quarter thanks to its judicious stocking of only the very crispest, coolest labels on the planet: APC, YMC, Barbour White, Nudie, Norse Projects, Lacoste, plus loads of up-and-coming underground imprints for those who like their clobber to be at the absolute bleeding edge.
Weaver's Door, Cavern Walks Shopping Centre, Liverpool L2 6RE
Regardless of what some snooty southerners would have you believe, there's far more to Scouse style than trackie bottoms and gleaming-white trainers. Independent menswear store Weavers Door stocks zeitgeisty gear from the likes of Penfield, YMC, Carhartt and Norse Projects, and is so deathly cool it even publishes its own quarterly journal.
Where to Buy... Booze Fit for a King
Beermoth, 70 Tib Street, Manchester M4 1LG
Even the most jaded craft-beer veteran will find something new and revelatory at this Northern Quarter treasure trove of beer. The obsessive Beermoth staff scour the globe for the most obscure, most amazing craft brews that money can buy. If you can't find something to your taste here, you should probably just give up on beer and become a wine nerd instead.
Whisky Business, The Old Ropery, Fenwick Street, Liverpool L2 7NT
It has a groan-worthy name and it might be a tricky bugger to find (clue: it's underground), but Whisky Business is a must-visit if you're a fan of the strong brown stuff (or hoping to dazzle someone who is). If you can't settle on a single bottle, they offer globe-trotting tasting sets that'll make you an instant expert on what's going down in Whiskytown in 2015. And if you're after something a little less intense, there are fine wines and craft beers on offer too.
Where to Buy... Your New Favourite Record Ever
Piccadilly Records, 53 Oldham Street, Manchester M1 1JR
A Manchester institution since 1977 and one of the most revered independent record shops in the country – if not the world – Piccadilly Records is the kind of place where you go in with the intention of buying one specific item and wind up leaving with armfuls of bounty that you never even knew existed. Paradise for hopeless vinyl addicts.
Dig Vinyl, 80 Bold Street, Liverpool L1 4HR
Riding the current resurgence in vinyl-buying, Dig Vinyl is an independent music shop specialising in carefully curated second-hand tuneage, alongside a smattering of reissues and new releases, covering everything from funk to post-punk. There are listening posts, there are friendly staff, there are thousands of sleeves to idly flick through... It's muso-bloke heaven, basically.
Where to Buy... Outside-of-the-Box Gifts
Fred Aldous Ltd, 37 Lever Street, Manchester M2 1LW
Stocking 25,000 products over three floors and 900 square metres, Fred's is not only Manchester's largest art and craft shop, it's also its most enduring at 130 years old. There's more to it than pens and easels, however: if you've got a hipster to buy a present for, there's a huge range of appropriately pricy gifts, with everything from designer matches (yep, that's a thing) to Lomo cameras and coffee-table art books. (See also: Magma Books, round the corner on Oldham Street.)
69A, 75 Renshaw Street, Liverpool L1 2SJ
Looking for an eccentric object to take pride of place on your mantelpiece and leave visitors gawping? Then get digging into the deep and dusty shelves at 69A, where you're guaranteed to come across at least one object that you simply cannot go home without. Expect space-age 1960s furniture, ghostly African carvings, vast transistor radios, perfectly-preserved mod clothing – even sealed, unsmoked packs of ciggies from the 1950s. All human life is here.
Where to Buy... Head-Turning Streetwear
Black Sheep, 36 Dale Street, Manchester M1 2HN
Rising from the ashes of (in)famous '90s shop Split Skates, the subterranean Black Sheep is as slick and on-point as skate- and street-wear stores come. Stocking everything from Huf hoodies to New Balance trainers, Stussy caps to Dickies trousers, it'll give your wardrobe the right royal makeover it's been thirsting after.
Lost Art, 5 Slater Street, Liverpool L1 4BW
When it comes to skateboarding – from the hardware to the clothing – Liverpool's Lost Art has it locked down. It stocks all the latest gear from the likes of Palace, HUF and Polar, but the real draw is Lost Art's own label and its exclusive collabo pieces with the likes of Nike SB.
Sign up for workout ideas, training advice, reviews of the latest gear and more.