Now's the Time to Book Your Winter Holiday
Whatever you want from your winter holiday, choose the right resort to get the most from it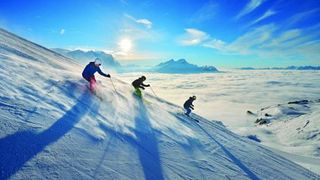 (Image credit: Unknown)
FOR… THE DISCERNING APRES-SKIER
Clank a tankard in Mayrhofen
A typical night in Mayrhofen goes like this: a couple of beers at Hotel Strass and a Jägermeister or two in the Scotland Yard Pub, followed by a dance-off with inebriated locals at the suitably low-lit Brück'n Stadl club. Arts and comedy events are scattered through the season and this traditional Austrian mountain town has one final blow-out every April when it's taken over by dance music festival Snowbombing for a week.
The snowboarding and skiing are equally top-notch. Just make sure you have an alcohol-absorbing breakfast from local celebrity Hans the Butcher before you head off. There are 52 runs, most of them red, and even some of the blues require a decent skill level to navigate their curves.
At the massive snowpark you're likely to clock someone snowboarding in nothing but Y-fronts (a sight we wish we could unsee). It's also home to one of Europe's steepest runs: the aptly named Harakiri has a suicidal 78% gradient, and no, we're not ashamed to say we went down most of the way on our arse.
FOR… THE ADVENTURER
Kip in huts in the central Bernese Oberland
You'll need to grow a beard to fully embrace the mountain-man vibe of this trip. While the Haute Route between Chamonix and Zermatt is legendary, that means it's generally overrun. Switzerland's Bernese Oberland offers a similar tour experience minus the crowds, with views of the Jungfrau, Eiger and Monch peaks that had our cynical selves pondering the beauty of the natural world for longer than we'd like to admit.
Traditional mountain huts are home for the duration of your tour (most last from five to seven days). This means no queuing for the morning cable car and some incredible sunrises if you're lucky. We skied some truly massive summits as well as the Aletschgletscher, which at nearly 23km is the longest glacier in Europe.
You need to be a confident skier to take on the challenges, and you'll be going for four to five hours each day so a high fitness level is essential. Your thighs, glutes, calves and lower back might not love it – but you certainly will.
FOR… THE POWDER JUNKIE
Carve through knee-high white stuff in Cervinia
Skiing or snowboarding through slush is the equivalent of having a barbecue on a rainy day: rubbish, but no-one wants to admit it. You won't worry about that here. As the highest resort in Europe, Cervinia almost always has fresh snow all the way from mid-October to May.
We love the length of the runs, with one particularly memorable stretch that goes on for 11km. These meandering pistes are great for cruising. On the other hand, there's not much of a challenge, and the few black runs don't really warrant the description. But you can have a crack at some blacks that live up to their grading by heading to the Swiss side of the Matterhorn and the neighbouring resort of Zermatt. You do need a combined lift pass to do that, but thankfully it costs a lot less (€41 for a day compared with €92) here than on the Swiss side.
Cervinia's high altitude may create perfect conditions but it does come with one price: it's bloody freezing. Pack a buff if you value your lips and nose.
FOR… THE ALTERNATIVE ACTIVITY LOVER
Fly, climb and sled in Paradiski
We didn't use our skis until our third day in this super-resort, which encompasses the French mountain areas of Les Arcs, Peisey-Vallandry and La Plagne. Instead, we went ice climbing up a tower used for the sport's world cup this year, raced down a 3km toboggan run, and prayed for our lives while hurtling along a speed luge. Speed riding – parachuting combined with skiing – is also available for anyone braver than us to try.
Tobogganing is included with the (fairly pricy) lift pass, which starts from €291 for six days. You'll need to keep your wallet to hand if you want to do everything – each additional activity costs, from €30 for half an hour's ice climbing to €80 for a speed-riding session.
Once we got around to skiing we enjoyed wide, easy-going blue runs followed by mogul-covered blacks that made us question just how extensive our travel insurance was. The après ski is pretty low-key, which makes Paradiski perfect for families or those who prefer to hit the slopes rather than the bar.
FOR… THE WEEKEND WARRIOR
Ski the same day in Krvavec
A lack of time or money needn't hamper your ski or snowboarding aspirations this winter, especially when it couldn't be easier to enjoy a long (or even regular) weekend in one of Slovenia's most stunning resorts.
At just 8km, Krvavec is the closest resort to an international airport in Europe, ensuring you can be on the slopes within an hour of stepping off the plane and avoid having to write off a day at the beginning and end of your trip due to travelling time. And with Wizz Air offering flights from London Luton from £26 one way, jetting out for such a short amount of time can still be cost-effective too.
The resort itself features 30km of slopes, catering to all abilities, with 8km of blue, 15km of red and 7km of black runs. It's also situated just 25km from Slovenia's capital, Ljubljana, which offers fantastic nightlife if you really want to make the most of your weekend.
Sign up for workout ideas, training advice, reviews of the latest gear and more.
Max was the head of digital content for Men's Fitness which worked alongside Coach between 2015 and 2019.