9 Johnny Depp Quotes To Get You Through The Week
Slices of Johnny's wisdom for almost any situation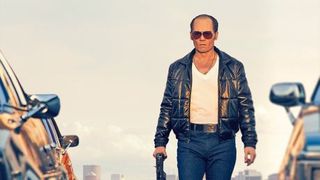 (Image credit: unknown)
From his portrayal of gothic Tim Burton heroes to his current incarnation as mobster Whitey Bulger in Black Mass, Johnny Depp always has a lot to say.
To help you power your way through the week, we've rounded up some of his best quotes for use in almost any situation life could throw at you. Now, repeat after Johnny...
"I'm dishonest. And a dishonest man you can always trust to be dishonest. I mean honestly, it's the honest ones you have to watch out for. Because you can never predict when they're going to do something incredibly... stupid." (Pirates Of The Caribbean: The Curse Of The Black Pearl, 2003)
When to use it Filling in your timesheet, expenses form or anything else where your relationship with the truth might find itself a little – just a little – bit stretched.
"Now, bring me that horizon!" (Pirates Of The Caribbean: The Curse Of The Black Pearl, 2003)
When to use it When embarking on something new, something difficult, something you are, however, determined to kick arse at. Or when discussing Sheffield metal giants Bring Me The Horizon.
"There he goes. One of God's own prototypes. Some kind of high-powered mutant never even considered for mass production. Too weird to live, and too rare to die." (Fear And Loathing In Las Vegas, 1998)
When to use it Signing a leaving card for someone you don't know.
"Why is the rum always gone?" (Pirates Of The Caribbean: Dead Man's Chest, 2006)
When to use it Coffee breaks.
"We had to get fucking tattoos on our dicks, man!" (21 Jump Street, 2012)
When to use it Any time you're talking and someone's listening in – might as well give them something to listen to, right?
"Good morning, starshine. The Earth says hello." (Charlie And The Chocolate Factory, 2005)
When to use it If you really, really don't want to make any friends at work.
"We had two bags of grass, 75 pellets of mescaline, five sheets of high-powered blotter acid, a saltshaker half-full of cocaine, a whole galaxy of multi-coloured uppers, downers, screamers, laughers... Also, a quart of tequila, a quart of rum, a case of beer, a pint of raw ether and two dozen amyls. Not that we needed all that for the trip, but once you get locked into a serious drug collection, the tendency is to push it as far as you can. The only thing that really worried me was the ether. There is nothing in the world more helpless and irresponsible and depraved than a man in the depths of an ether binge, and I knew we'd get into that rotten stuff pretty soon." (Fear And Loathing In Las Vegas, 1998)
When to use it It's a pretty unbeatable answer to "How was your weekend?"
8. "This is the one. This is the one I'll be remembered for." (Ed Wood, 1994)
When to use it Every day, damn it, because you know what? Maybe it is.
9. "I couldn't help but notice you noticing me noticing you. You know the womens find me uncomfortably good-looking. But you seem remarkably at ease." (Rango, 2011)
When to use it Depending on how you feel about sexual harassment tribunals, it's quite the welcome for a new starter.
Sign up for workout ideas, training advice, reviews of the latest gear and more.