8 Christmas Jumpers Ranked In Order Of Ugliness
The ugly sweater is a festive staple. Which of these would you dare to wear?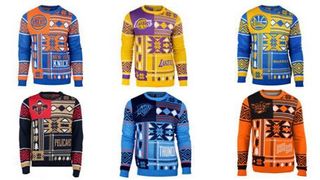 (Image credit: unknown)
The Christmas jumper is the knitwear yardstick for how trendy you are during the festive season. We've ranked a selection of yuletide yarns from tasteful to ridiculous… so which one would you wear?
The Cool Ones
1. Barbour Laundryman Harvey Laundered Crew Neck Jumper
Who'd wear this? Stylish people who don't want to upset their in-laws at dinner
Want to keep things tasteful? Made from soft, welted lamb's wool, this classic Fair Isle Barbour knit is festive enough for those of you who want to get in the season's spirit but aren't prepared to compromise on style.
2. Blue Fair Isle Christmas Jumper
Who'd wear this? Traditionalists and carol-singers
This one takes the festivities a step further with the Christmas trees and reindeer. It's a statement piece, but not one that'll cause sniggers at the dinner table.
The Quirky Ones
3. NFL, MLB, NBA & NHL Ugly Christmas Sweaters
Who'd wear this? Basketball fans
'Tis the season to be merry... and watch NBA games. Join in with the festivities while proudly showing off your team colours, from the Chicago Bulls to the Washington Wizards. There are even sweater dresses for his 'n' hers enthusiasts.
Who'd wear this? Hipsters
According to the description, this is Santa conquering the galaxy and delivering presents to aliens. Well, he's a modern guy. And unicorns are obviously far superior to reindeer.
5. Star Wars AT-AT Fair Isle Jumper
Who'd wear this? Movie fans
The Christmas cheer is strong in this one. A great addition to the Jabba the Hutt impression you'll be doing after dinner with all the trimmings and several tins of Celebrations.
The Goddamn Crazy Ones
6. Toilet T-Rex Attack Christmas Sweater
Who'd wear this? The black sheep of the family
Featuring Father Christmas taking a dump and two dinosaurs, this is a real, erm, eye-catcher. Jurassci Park fans will get the reference to the lawyer getting eaten by a T-Rex while on the loo, but everyone else might think it's a bit weird. But what's Christmas without a bit of toilet humour?
7. Break The Internet Santa Jumper
Who'd wear this? #Lads
Experts say that the success of a Christmas cracker joke is down to its awfulness. Apparently the less funny the joke, the better as it unites its audience – in groans and a loss of the will to live. Following that logic, this Kim Kardashian-inspired jumper is a sure winner.
8. Donald Trump Christmas Sweater
Who'd wear this? We're not sure, but we know we wouldn't want to meet them
The liberal use of pom-poms and fluffy trimmings may give off primary-school-art-class vibes, but this is a jumper for someone who really likes the sound of his own voice. Neither – as his friends will agree – does he need any coaxing to start a discussion about politics. If you know someone like this, do not buy them this sweater. It'll only encourage them.
Sign up for workout ideas, training advice, reviews of the latest gear and more.