6 Inspirational Biographies You Need to Read
If you need a reminder that you can do anything if you put your mind to it, read these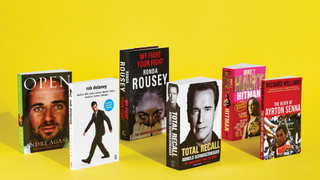 (Image credit: Unknown)
Need a book that'll make you want to grab life by the balls and do something amazing? These should fit the bill. If a small-town Austrian boy can grow up to be Hollywood's biggest action star and an alcoholic can become one of the funniest comedians of our time, then so can you. Well, you can't be Arnie or Rob Delaney because they already exist, but you know what we mean. Here the Men's Fitness team pick the most inspiring real-life stories they've read.
Rousey's autobiography could easily follow the well-worn ground of a rags-to-riches story. Instead, the book focuses squarely on her training as a martial artist, highlighting just how hard she's had to grind to succeed. During one judo match her elbow is dislocated as the result of an illegal move; rather than complain, she uses her damaged arm to throw her opponent and win. Fierce.
Matt Huckle, features writer
One of the most inspirational men in history. From humble beginnings in rural postwar Austria, Arnie proceeds to conquer the worlds of bodybuilding, Hollywood and even American politics, all thanks to his relentless work ethic and unshakeable self-belief. His top tip for getting what you want from life? "There are no shortcuts – everything is reps, reps, reps."
Ben Ince, deputy editor
How do you get to be the first golden slam (four Opens plus the Olympics) winner in history? Hard work – for decades. From his beginnings hitting a thousand balls a day in his family's back yard to his brutal reinvention via lifting heavy iron, Agassi's painfully honest memoir will make you think twice before you begrudge any tennis superstar their next million-dollar endorsement.
Joel Snape, associate editor
The star of sitcom Catastrophe is now a successful comedian and writer often called "the funniest person on Twitter" but, as his memoir illustrates, 15 years ago he was a self-destructive alcoholic who looked more likely to be dead by 25. He demonstrates – hilariously – that no matter how miserable a path your life is on, you can turn it around.
Chris Miller, managing editor
Wrestling is just meatheads play-fighting, right? Kind of, but the story of Canada's biggest WWE superstar reveals a world of back-stabbing where fictional rivalries blur into real life. In this handbook for dealing with horrible bosses, "The Hitman" stands up for what he believes in, doesn't give into intimidation and (most of the time) gets what he wants.
Max Anderton, head of digital content
Don't expect a morbid obituary, despite the title – this is an intimate deconstruction of the mercurial, uncompromising Brazilian F1 driver before his fatal crash in 1994 at the San Marino Grand Prix. Elegantly written by longstanding racing journalist Williams, it reveals the relentless dedication and white-hot desire that burns within exceptional sportsmen.
Sam Rider, fitness editor
Sign up for workout ideas, training advice, reviews of the latest gear and more.
Coach is a health and fitness title. This byline is used for posting sponsored content, book extracts and the like. It is also used as a placeholder for articles published a long time ago when the original author is unclear. You can find out more about this publication and find the contact details of the editorial team on the About Us page.