9 Reasons We Should All Pack up and Move to Portsmouth
It's time you looked at this south-coast city in a new light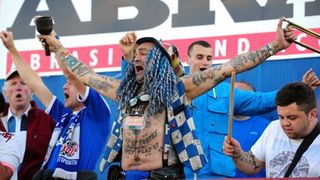 (Image credit: Unknown)
Looking for somewhere new to call home? Unless you fondly remember a family holiday here or have a partner in the Navy, it's unlikely Portsmouth – no stranger to Crap Towns lists – will even make it onto the maybe pile. That's a shame, because Pompey has all the grit, charm and personality of somewhere located way above London on the map – like a northern town somehow stuck on the south coast. This is reflected in its property prices, although that on its own isn't a good reason to move somewhere. Here, however, are nine things that might bring you to Portsmouth.
1. Learn a New Language
The advantages to being bilingual are numerous. An aptitude for puzzles, improved memory, quicker decision-making and better multitasking are just some of the benefits you'll enjoy by learning how to converse with Portsmouth locals. The typical accent mixes throaty farmer or pirate with the faux-cockney bravado of an Essex boy. There's also the slang that can only have been made up by pissed sailors. Almost impenetrable for outsiders, it's especially confusing for Americans just here for the nice old boats. Here's a fairly tame example: "Ahhh Weeeee! The dinlo never meant it, e's just shanted in'e mush? Roight, I'm gaan dain the farkin pub. It'll be cushty, so don't squinny like you always doooes." If you'd like to work out what that meant, then pick up a copy of Jodie Silsby's artistic Portsmouth Vernacular map (£39 from here) and swot up.
2. Finally Nail Those Kickflips
Southsea skatepark claims to be the world's oldest. Built in the 1950s, this huge outdoor collection of ramps, rails and snaking concrete bowls doesn't just let young people and adults master skating, BMXing, scootering or whatever trick-friendly mode of transport the youth are into right now. It's also the hub for a thriving scene extending to roller discos in the rink, hip-hop nights at nearby pubs, impressive graffiti in designated (and not quite so designated) spots around the city, and our favourite: a street hockey league just like in The Mighty Ducks. It's Knuckle-Puck time!
3. Visit the Casual Castle
We're not going to bang on about the historic dockyard that's home to the ship Admiral Lord Nelson fought the Battle of Trafalgar in and died on. We won't mention the permanently soggy wreck of Henry VIII's Mary Rose, or say anything about the HMS Warrior (the one no-one really knows the history of but all agree looks impressive). Southsea Castle, on the other hand – now that's worth shouting about. Casually sitting by the beach since 1544, it's a legitimate flipping castle complete with moats, turrets and a portcullis. As well as educational tours it now lowers its drawbridge for nights of boozing and bad dancing. The Tudors would be proud.
4. Soak Up (Some) Modern Culture
The birthplace of Charles Dickens and home of Sir Arthur Conan Doyle in the 1880s isn't just a wasteland of lads permanently keen on a cheeky Nando's. Portsmouth Library offers Spanish for babies, Southsea Bandstand has an eclectic programme of free performances from May to September, book clubs meet in trendy coffee shops (yep, we've got some of them too), and the No.6 Cinema has film seasons with names like "The Iranian New Wave: Veils, Vampires and the Lack of Male Gaze".
5. It's Got Real Football Fans...
It doesn't matter which league Pompey sink to, they will always have the loudest, most loyal fans in the country – they even part-own the club following the financial mess left by a string of owners. Typified by John Anthony Portsmouth Football Club Westwood – a bookshop owner, above – only Pompey fans would cheer their way through a 5-1 drubbing at the hands of Arsenal back in 2004 and be praised by both Thierry Henry (the fans sang his name for the last 25 minutes of the game that afternoon) and Arsène Wenger for their passion. And despite being by the sea, there's not a prawn sandwich in sight.
6. ...And Proper Pubs
© Copyright Alex McGregor (Creative Commons)
Nowadays beer is all about casks and hop pedigree. The problem with this real ale resurgence? A lack of real boozers to drink it in. Not so here. Old-school watering holes with unpretentious names such as The Wheelbarrow (kind of), The Jolly Sailor and our favourite, The Fawcett Inn (OK, it's on Fawcett Road, but surely someone said that name out loud before painting the sign) outnumber bars and clubs. Each has distinct character, but if you want pubs with outspoken barmaids, every live sporting event courtesy of some illegal Turkish TV channel, regulars that actually talk to each other and pints for less than three quid, you're in the right place.
7. Eat the Best Curry in the South East
Albert Road is the mini-curry mile of Portsmouth. Think Brick Lane without the gaudy neon, fictional awards and aggressive customer acquisition. It's a testament to the quality of its Indian restaurants that everyone has a favourite and no-one can agree which is best. The Akash wins on the tandoori oven front with juicy meat and fluffy bread, Jaipur has insanely good mint sauce, while the Bombay Express is a never-spend-more-than-£20 type of place with staff who'll say right to your mate's face: "A pasanda, sir? Oh, one for the ladies!"
8. So Many Ways to be Active
Source: britmilfit.com
Despite being the UK's second most densely populated city, Portsmouth has something London doesn't: large green spaces void of laughing-gas dealers and people playing deep house on their phones. Take advantage by doing a bootcamp on Southsea Common safe in the knowledge there'll be no passers-by to see your I'm-about-to-die face, run the seafront without weaving through selfie-stick-wielding tourists, or hit an outdoor gym that has never hosted a freestyle calisthenics crew. Indoor offerings include HMS Temeraire's Olympic pool and diving boards, a multi-million pound tennis dome, Portsmouth Gymnastics Centre's giant foam pits for finally crossing "learn backflips" off your man-skills list, and a CrossFit community so dedicated that they put tiny kettlebells on their wedding cakes. Oh yeah, plus the sea. That's always that, and the last sewage leak was way back in 2013.
9. There's an Ocean of Opportunities
The Victorians thought a trip to the seaside could help with everything from polio to the common cold. They weren't quite right, but modern studies have agreed that people who live on the coast are generally happier. In Pompey, it also means you can jump on a ferry to France or Spain without ludicrous parking fees or starting your holiday by getting dirty looks for taking bulky baggage on public transport. It also has HoverTravel. The only scheduled hovercraft operator in the world takes passengers to the Isle of Wight in a few minutes. Even just swing-reversing out on to the water is a thing of beauty, with the power to make most grown men revert to the level of excitable children.
Sign up for workout ideas, training advice, reviews of the latest gear and more.
Max was the head of digital content for Men's Fitness which worked alongside Coach between 2015 and 2019.