Ricky Gervais on Retweeting Idiots on Twitter
"Sometimes I look for them, just to retweet it for the fun of the other 11 million people who are normal"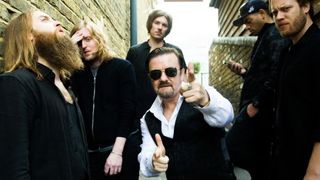 (Image credit: Unknown)
You've worked in US movies and TV quite a bit now – what made you go back to making such an English film?
Everything I've done is out of Britain, I've never pandered. I did The Office and it was set in Slough, and America took it – I think it's in about 98 countries now. Even though it was quintessentially English, the themes were universal – I don't write about things set on Mars or superheroes, I write about ordinary everyday things.
When I'm in a Hollywood movie, I say, "I'm doing my own accent, I'm having my haircut." So much so, that during a junket for Ghost Town, one American journalist said, "I love the gag that you're a dentist but you wear those awful teeth." I said, "What the ones I've got in now?" She went red.
As for going back, it doesn't feel like going back, because Brent never went away. But I'm not bringing The Office back – I always said I wouldn't. It's about realism and it would be mental for the same people to be at the same desk in Slough, but I treat David Brent like he was a real person who'd still be alive and be around being himself. He'd be in a job but he'd still think he was the local Simon Cowell – he's still exuberant and a bit of a prat, and still trying.
You've really gone down the musical route with this film and the accompanying album. Were there any famous musicians who encouraged you to push towards the musical side of it?
Not really, but I knew it had to be real. I didn't want the joke to be that it was awful and the band was awful. I wanted the joke to be that it was OK, but he was wasting his money. So he got great session musicians – the band are genuinely brilliant.
Behind the scenes, I was working with Andy Burrows [the songwriter and former drummer for Razorlight and We Are Scientists], who I bumped into at a Tom Odell gig. I told him the idea, said we should do a few gigs, and he said, "Definitely, man." He got the joke, and had a ready-made band.
Did working with a musician like Doc Brown inspire you to produce better songs?
I didn't treat him like just a musician. I treated him like a comedian who got the gag – he mustn't write really good, evocative raps, he had to write raps around the songs. He's playing a bit of a nice-but-dim guy, trying his best, but it was great that he could really rap, obviously. It would have been a nightmare trying to get an actor who'd never rapped before to look good. I only found that out when he supported me on tour, and I built the part around him.
When we ask who the nicest person anybody has met in the music industry is, a lot of people say…
Chris Martin.
No, actually Brian May.
Oh yeah, he's a lovely man. He made a speech about me at the Animal Hero Awards and it nearly made me cry, it was so lovely and sincere. He's really active in everything to do with animal cruelty – he's a lovely, gentle, smart man who just happens to be in one of the biggest rock bands in the universe.
Chris Martin – same, lovely man. And of course David Bowie, the greatest of all rock gods. I sent him a demo of my song "Slough" and he said, "Perfect. I'd like to hear a whole album of you singing about towns of Great Britain."
Are there any stars that you would turn to for good down-to-earth advice?
Well I don't, but if I did, I've never not heard Noel Gallagher say exactly what's on his mind, and it's usually brilliant and funny. I'd say to anyone, if you want to know a funny, honest opinion on anything, it's Noel Gallagher. He's great, he says it like it is, it's uncompromised and really smart. He's the most honest bloke in rock, I imagine.
He played on the original "Free Love Freeway". He came to one of my gigs and I told him I was recording the next day, for a DVD extra. He said, "Can I be on it?" I said, "Of course." I sent McCartney an album, too, and he sent it back saying about David Brent, "This guy's got a future..."
Is there anyone that stands out as someone who really helped you out at the beginning of your career?
The beginning of my comedy career was probably me popping up on [radio station] Xfm [now Radio X]. Andrew Newman, who was the producer at Channel 4 on The 11 O'Clock Show, was the first person to invite me to an audition – that was the first rung on the ladder. That's where I met Iain Morris, Damon Beesley [creators of The Inbetweeners] and Spencer Millman [producer of Bo' Selecta and The Mighty Boosh], and that sort of gang who worked with me on that. All that time I was already writing The Office.
The other one was Phil Bowker [creator of PhoneShop], who might have given me my very first commissioned, paid work. And then the next person to have a big impact was Jon Plowman, who commissioned The Office for the BBC – I hope I haven't forgotten anyone. You find that so many people claim to be the person who discovered you – I hope I'm remembering it right...
And then what about helping you make the leap to Hollywood?
I don't know if I made "the leap" to Hollywood. The Office went out and it was an industry darling in America, it was on BBC America, and I heard stories that A-listers liked it. Then I won two Golden Globes, it all went crazy. I did my first dramatic role on an American TV Show called Alias, from JJ Abrams, who also offered me a role in Mission: Impossible, which I couldn't do, and a role in Star Trek as Scotty, but I couldn't do that. I was turning down things from the early days because I was busy doing Extras or something else.
The first film I took was Ghost Town. I didn't want to move to America for three months and be living in a Winnebago away from home. But I did Ghost Town because I read the script and it was just perfect. David Koepp said he wrote it with me in mind, which is always flattering – he could have been lying, but it was very me.
I haven't really worked my career by building up parts in movies, I've done them for fun, or a favour – my day job is creating everything myself. Coming up with the idea, writing it, directing it, being in it. That can be television, film or whatever, the important thing is 90% of the time, I write, direct, do two series and a special and then move on to something else. I just like the creative process. I was offered the lead in the American remake of The Office, and I said what's the point of that?
David Brent: Life On The Road is a feature film. How different was it to film than The Office?
It's certainly harder to write, because it has to be a screenplay, which is a much more ambitious project than six half-hour episodes. With a sitcom it's enough to spend a funny 25 minutes with your favourite characters, but that doesn't last in an hour-and-a-half movie, there's got to be a reason to keep watching – more plot, more development, you have to learn more lessons. The character and the audience have to go through more for you to sit there for an hour and a half.
In some ways it's easier because you know you've got more money to spend and there's a much bigger team, so you don't have to cut as many corners as you do on TV. There's more pressure though, because people can tune into a sitcom, say, "It's all right", but if they go and see a film they didn't like, they're angry. They've gone out, spent money and so they'll say, "Aaargh, I've wasted my evening."
I think people find TV sometimes more compelling than a film, because they'll watch it week to week or binge-watch it, and they know the characters so well. I rarely have film experiences likes watching The Sopranos for seven series, or The Bridge, or Gomorrah, or Bloodline. They're like art factories, those great things. An hour every week, an hour of brilliant compelling things – like watching three movies in a row.
Speaking of people not liking a certain film, you've had to deal with negative criticism throughout your career. Have you ever received good advice on how to deal with that?
No, you have to learn. I feared it at first, I feared fame full stop at 39. I didn't want to be lumped in with those people who do anything to become famous. Also, you see terrible pressure and intrusion and I feared that – I never called the press and said, "Make me famous so you can go through my bins."
You think your reputation is everything, so you don't want anyone to say anything mean or untrue about you, and then you realise that they're all saying untrue things about you, and it's not killing you – as long as it's not something terrible or harmful that you'd sue for.
I read stuff about myself everyday and 50% of it is slightly wrong, but who cares? I think that's the important thing, it doesn't matter. If you're worrying about what people say in the press or Twitter, you might as well go around reading every toilet wall in the world and get offended. It can't affect you.
I know some people who've had a really hard time, but I've had a really easy time. The worst thing that happens to me is someone says, "You did an offensive joke." I say, "You think it was, I don't. So what now?" Just because you're offended it doesn't mean you're right. What they mean is they didn't like the joke, and I'm cool with that.
The more famous you get the more people hate you, and the more people love you. You have to assume that for everyone who thinks you're the best comedian in the world and you wrote the best sitcom in the world, there's someone who thinks you're the worst comedian in the world and you wrote the worst sitcom in the world. I wouldn't have it any other way.
It's like mixed reviews – they should be mixed, because if you're doing anything of any worth, some people should hate it and some people should love it. That's exactly how it should be, you should polarise because some people are clever, and some people are fucking stupid.
It's like on Twitter – I've got 11 million followers, I probably get one idiot a week. Someone saying, "You're shit mate," and I look at their life and I go, "This isn't even worth replying." They're living in their mum's basement, and they're masturbating into Jiffy bags and sending it to pop stars. How the fuck can they hurt my feelings? It's weird how people care about things like that, I couldn't give a fuck. In fact sometimes I quite like it, sometimes I look for them, just to retweet it for the fun of the other 11 million people who are normal.
Is there anyone in particular whose opinion you do really care about?
By far the biggest mentor in this industry, from early days to now, and still the person I call, is Christopher Guest. This Is Spinal Tap was a direct influence on The Office, and he called me after saying he loved the show. He's done talking heads for me on things, it's fantastic. He gave me a part in For Your Consideration, and I gave him a little cameo in The Invention Of Lying, just because I wanted to fly him over and play with him for the weekend. We once spent a week where we were meant to write something together – I flew from London to New York, and he flew from LA, and we just spent five days taking stupid selfies of people behind us in restaurants. Complete waste of money, didn't get anything done, but we had a great week.
He actually gave me the guitar from Spinal Tap for my 50th birthday. It's like life imitating art. I don't play it, I tell people, "Don't even look at that one." I also remember on The Invention of Lying, they wanted me to do a focus group. I called him and said, "I don't want to do it." He said, "Why would you? If you're going to let them tell you what to do in the edit, next time write it with them." Which I thought was fantastic. Why do it by committee? That's why films are all the same.
In the early days you fight to get final edit, and I went to the BBC and demanded final edit. I was a nobody and luckily they gave it to me because I was low-risk – they didn't spend a lot on The Office. Once I got that, the next thing they left me alone.
Then you go to Hollywood, and you have to go through it again. But now I've got final edit or I don't take the job, even the Golden Globes – I say, "I'm going to write this, say what I want, or I'm not doing it." No-one gets that, because no-one asks for it enough, or they back down. I don't, I say "OK, fine," and I walk away. If more people did that, more people would get their own way. Now that I've got my own way, I'm sort of happier listening to people. Now on set I turn around and say, "What does everyone think, do another one?"
Once you're in charge, you're not scared of asking for an opinion. I got to the point in the early days when I didn't want any advice. I didn't even want people saying they liked it, it annoyed me. I'd say, "I don't care what you think." Now I'm through that, and I'm chilled, and I know it's all a game. For me, if I've had a good day doing what I love, I've got final edit and it turns out how I want, I'm bulletproof. Why do I care if someone likes it or not? I've just had the best time making it and I've been paid. There's nothing I'd rather be doing. It's all good now – I've come out the other end I think.
What's next for you?
Promoting David Brent: Life On The Road in the UK, Ireland and Australia. Then the album, and DVD – I'm doing this until Christmas. Then I'll do it all again for Netflix, around the world next year. While I'm doing that, I'm trying to do my first stand-up for six years. Hopefully I'll have a tour to put on sale, during or soon after the Brent movie and album dies down. And then I don't know – I've got a backlog of ideas: sitcom ideas, movie ideas. There's not enough hours in the day, particularly as I only work between 11 and 3. When I say there's not enough hours in the day, I mean for me to sleep and drink and sit in front of the telly for half of it. That's what I mean.
No sequel potential?
I don't know, maybe. It might go OK, and I'll go, "Cheers." They'd have to be going fucking crazy for me to think about it, and even then, should I? They've really got to shout for an encore. If not, I'll do something else, there's ten things I could do next. It's beautiful having a choice. So whatever I feel like really…
My last question is…
Why are you so shit?
Haha, of course not. Do you actually know anyone who really could throw a kettle over a pub?
Do you know what my first thought then was? I reckon I could. Although Geoff Capes probably could – cracking reference there for anyone under 50.
David Brent: Life On The Road is in cinemas nationwide from 19th August, and the accompanying album is available the same day. The David Brent Songbook is available on 11th August.
Sign up for workout ideas, training advice, reviews of the latest gear and more.
Gary Ogden wrote for the print edition of Coach between 2015 and 2016, writing features, interviewing celebrities and covering entertainment. He has also written for ShortList.