KSI: "If I Don't Work Out I Just Feel Depressed"
The rapper, actor and vlogger on getting out of his chair and getting in shape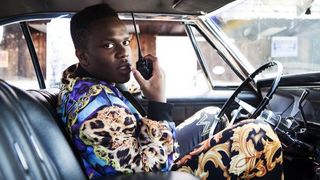 (Image credit: Unknown)
For someone who made their name sitting down playing computer games, KSI certainly doesn't conform to the physical stereotype of a hardcore gamer (see the WOW episode of South Park). So how and why has he hauled himself out of the chair and into the harsh climes of the dreaded gym? And what does he do when he gets there?
How would you rate your fitness on a scale of one to 10?
I'd say six; I mean I'm working out a lot more now, but before I used to be quite hit or miss. I'd work out for months and then something would happen and I'd just not work out again for another few weeks – I'd just slowly get back to where I was before.
How important is health and fitness to you?
Back in the day I didn't really care too much about it, I was just like "Who cares?" But nowadays I pretty much work out every day, and I've finally got a gym in my house. It makes you feel better about life, that's the main thing. If I don't work out I just feel depressed and start looking at my belly...
What do you do, fitness-wise?
I do a bit of everything: I'll go on the rowing machine for about 2,000m, then do weights after – although I don't do legs, even though I should. Then I'll finish off with a bit of skipping, like 300 skips. That's pretty much me.
RECOMMENDED: Rowing Machine Workouts
What do you do to motivate yourself?
I'll be real – women! That's my main motivation, 100%. I'd say before the YouTube stuff I was struggling, but I was a complete dweeb back then. Ever since I've properly started working out, people look at me differently and I just feel better about myself as well.
What will you never do again?
Tough Mudder, oh my God! After that it was just pain – I wasn't expecting it to be that hard, but once I finished I was like "Never again…"
How is your fitness fingerprint unique to you and your career?
I don't really know! I'm always excited to try new things wherever I go, so I went to yoga with a friend of mine the other day and it was pretty tough – she smashed it, but for me it was like a completely different way of working out. I'm not a very flexible guy, so it was a huge change, instead of me just normally running or playing football – it was very slow, but I was still sweating like a motherfucker, it was intense. I thought it was going to be easy – all that "namaste" stuff, a bag of piss. But I did it and was like "Oh my God! This is a workout."
KSI's first movie Laid in America is released on DVD and Blu-ray™ with Ultraviolet, and Digital Download on September 26. Buy the DVD on amazon.co.uk
Sign up for workout ideas, training advice, reviews of the latest gear and more.
Gary Ogden wrote for the print edition of Coach between 2015 and 2016, writing features, interviewing celebrities and covering entertainment. He has also written for ShortList.