A Film So Strange it Needs to be Seen
Swiss Army Man hits the silver screen this weekend. Plus, what else is worth your time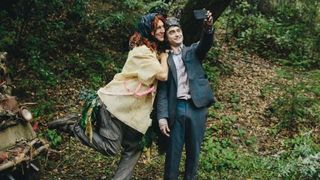 (Image credit: Unknown)
Swiss Army Man
There is an extremely high chance that this will be the weirdest film you've ever seen. Here's a wacky synopsis for you: it's about a bloke (Paul Dano) who's stranded on a desert island and is just about to lose all hope when a corpse (Daniel Radcliffe) washes up on the beach. He befriends the dead body (as you would), and discovers, amongst other things which probably shouldn't be printed here, that he can use it to travel across the water, powered by its flatulence. As the story progresses, the corpse gradually comes back to life, and the two have a big bro-session and become good friends. The greatest thing about this oddity, though, is that – despite it being the work of a clear maniac – it's strangely affecting and really grabs those heartstrings with its cold, dead hands.
It's essentially a buddy movie told through a lens of surreal insanity, and it leaves you to make up your own mind about what it all means. Although if you think you've got it twigged, the end will probably still be enough to throw everything into disarray. Either way, you'll have a good time on the journey there, and really, a film this strange needs to be seen. In cinemas September 30
RECOMMENDED: Daniel Radcliffe Interview
The Girl With All The Gifts
A thinking person's zombie movie? Yes, but don't worry – there's still plenty of gut-munching action to greet you in this latest entry into the UK's zombie movie canon. The story involves a young girl, Melanie, who appears to share both human and "hungry" traits – the "hungries" being flesh-eating zombies, basically. By her side are Paddy Considine, Gemma Arterton and Glenn Close, as they navigate a zombie-ravaged England trying not to become lunch. Scary, tense and thought-provoking, it's not your usual gore-fest, but it'll still please those looking for that kind of thing, which – admit it – is you, sicko. In cinemas now
Deepwater Horizon
Based on the 2010 Gulf of Mexico disaster, Deepwater sends hard-hatted family guy Mark Wahlberg out to the rig to watch grizzled oil veteran Kurt Russell argue safety measures with penny-pinching BP execs whose shortcuts blow the platform sky-high. Bad boss John Malkovich tries to steal the show, but there's no out-acting the real star – the oil rig itself, an industrial monster barely under control even before the bang, but once aflame a truly savage beast. With minimal backstory faffing, this is relentless, press-yourself-hard-into-your-seat thriller magic, with a special effects team on the form of their lives as the oilmen – and woman – flee the flames. In cinemas September 30
Miss Peregrine's Home for Peculiar Children
This latest Tim Burton movie is up there with his most offbeat offerings, as he throws Ransom Riggs' fantasy novel up on the screen. The story concerns an old house run by the curious Miss Peregrine [Eva Green], that's home to a number of interesting children, all possessing certain powers or unnatural characteristics. Up against them are the Hollowgasts, terrifying-looking tentacled monsters, who are out to cause a stir, to put it mildly. This has Burton all over it, which probably lets you know how much you'll like it… In cinemas September 30
Kickboxer: Vengeance
The original Kickboxer is, no matter what you've heard, a near-flawless classic, which aside from some fantastic action scenes, contains the greatest dance sequence the world has ever seen. This remake brings back original star Jean-Claude Van Damme, this time in the "trainer" role, while up-and-coming action star Alain Moussi takes his previous role. The story is the same – man gets involved in underground fighting competition to avenge his brother, but the fight scenes have been given a modern twist. For pure action thrills, some earnest yet dodgy acting, and yet another great dance scene, this is far better than anyone thought it would be. In cinemas and premium VOD September 30
Sign up for workout ideas, training advice, reviews of the latest gear and more.
Gary Ogden wrote for the print edition of Coach between 2015 and 2016, writing features, interviewing celebrities and covering entertainment. He has also written for ShortList.