Chef Marcus Wareing: "If You Want to be Successful, You Have to Make Sacrifices"
The steely-eyed king of the kitchen rustles up some generous praise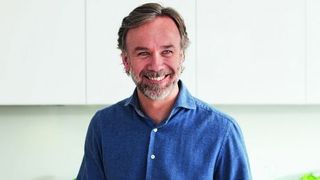 (Image credit: Unknown)
Who first inspired you to be a chef?
In a way, it was my mother's bad cooking. Don't get me wrong, she was a great baker and very capable in the kitchen, but everything she made for us at home was overcooked because that was how my father enjoyed his food. Every vegetable was mushy, and every piece of meat was overdone. Once a year, on our birthdays, they would take us kids to a restaurant of our choice. I always went for a fabulous little restaurant in Southport where they did a great steak and chips with peppercorn sauce. I was a big fan of it, that creamy, meaty taste that gave the steak a bit of heat. It made me realise food could be a pleasure.
RECOMMENDED: How to Cook the Perfect Steak
Who influenced your early attempts to cook?
My dad bought fresh produce and sold it to schools and hotels. Between the ages of 11 and 17, I used to get up early in the holidays to go out on the trucks with him and his workmen. He taught me how to look after veg, how to rotate it to stop it going rotten, all the different techniques to get the best out of it in each season.
Did you do Home Economics at school?
Yes. I was the sort of boy who preferred making things in metalwork and woodwork to writing something down at a desk, so I saw Home Economics as another chance to be creative. I was conscious that it was a "girly" thing to do, but I was also a boxer and quite sporty, so that didn't worry me.
RECOMMENDED: Learn to Cook Online with the 60 Second Chef Patrick Drake
Who gave you your first break?
I went to catering college and entered a local competition. One of the judges, a guy called Jack Neighbour, spotted me and asked, "Would you like to work for Anton Edelmann at the Savoy Hotel in London?" I didn't need to think twice – I just snapped the offer up before he changed his mind. I had dreamed of going to London, but not known how, and Jack opened a barn door to let me in.
What lessons did you learn in a big hotel kitchen?
In the Savoy kitchen there were over 100 chefs, and it was very competitive. It was an aggressive environment, and the testosterone level was heavy. One thing that stood me in good stead was my work ethic. They saw that I was faster, cleaner and more organised than the other commis chefs. And I worked longer than anyone else. When the clock struck time to go home, I carried on working – up to 15 hours a day.
You also learnt your trade in France. Who helped you most over there?
The biggest influence on me in Paris was the guy I was working for, Guy Savoy. He was a class act, an immaculate man. The customers used to swoon all over him, he was so elegant, so professional, every inch the three-star chef. Nobody had much time to guide me, so I just watched and learnt. No one holds your hand in this business.
If you want to be successful, you have to make sacrifices. When I started out, I didn't have an iPhone or a computer, no Google, no distractions. I didn't know or care what was happening on the other side of the world, or even next door. When I left my job every day, I used to go home and go straight into bed, then get up the next day and do it all over again. If I wasn't a chef, I think I'd have been good in the military. I like that sense of respect, pride and discipline that's banged into you.
What's the best dish that you've ever tasted?
There's only one dish I've ever eaten that was perfect. It was my very own egg custard tart that I cooked on the Great British Menu. When the three judges tasted it, they all sat back in their seats and were transported to their childhood. It was time-travel on a plate. The only score possible was a 10.
What makes a great customer?
Someone who knows how to complain properly. If we aren't getting it right, we need you to say so at once, because while you are in the restaurant we can fix it. But if you leave, and then go on social media saying you had a shit meal, and tell the whole world not to go to my place – you've been rude, because you didn't give us the chance to make amends.
Marcus At Home by Marcus Wareing is out now from HarperCollins, £20. Buy on amazon.co.uk
Sign up for workout ideas, training advice, reviews of the latest gear and more.
Grub Smith contributed interviews and features to the print edition of Coach, which ran from 2015 to 2016.