Kirsty Gallacher on How to See Training Results Quickly
The TV presenter and ambassador for a frozen meal plan on the benefits of weight training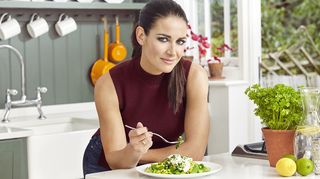 (Image credit: Unknown)
I don't think you should deny yourself things and so I do have days where I don't eat brilliantly, but I like to keep fit and train a lot – you can't undo it all by eating badly. I'm an ambassador for Everdine, which is a frozen meal plan. If you can't be bothered to cook, you can just take it straight from the freezer and put it in the microwave. We associate ready meals with being less healthy, but these are great for you, so it's a nice concept.
RECOMMENDED: The Best Healthy Food Delivery Services
How would you rate your fitness on a scale of one to 10?
I've just come back from a work trip in America working on the Ryder Cup, so I don't feel the fittest right now. Before I went... Maybe seven? You feel like you go backwards when you don't train properly for a while. Once I'm back into all that I can get my fitness back up – I haven't got any big trips for a while so it'll be nice to knuckle down and work.
What's the highlight of your fitness week?
I train with a trainer so I enjoy most sessions. Sometimes I don't really like it but I still put myself through it – he works specifically on things I want to work on, a certain look or the way I want to feel. I enjoy the weight training and the more specific stuff in a gym with someone one-to-one – that makes me feel better and I can see results quicker.
What will you never do again?
I thought I'd hate Zumba but since Strictly I've really enjoyed moving and music. I did a small class in Italy and I really enjoyed it. I don't know about spinning though, I don't think I'd enjoy it – I find it a bit too static. I need variety all the time; I'm never going to be someone who's on a treadmill for 40 minutes, my head just goes.
RECOMMENDED: Chris Hoy's Reasons to Try Spinning
How is your fitness fingerprint unique to you and your career?
I go away a fair amount, and with TV your hours are all over the place. Then you'll go to America where there's a six- hour time difference so you don't feel like training as much – you do lose it slightly, so it's quite difficult to do what you want to do sometimes. You just have to give yourself a break; it's just trying to fit in your life around your schedule. You have to be realistic with it.
Everdine is a meal-box subscription plan with gourmet meals, designed by Michelin-trained chefs, that can be heated from frozen in 10 minutes. To get boxes of 8 or 12 delivered to your door, go to everdine.co.uk
Sign up for workout ideas, training advice, reviews of the latest gear and more.
Gary Ogden wrote for the print edition of Coach between 2015 and 2016, writing features, interviewing celebrities and covering entertainment. He has also written for ShortList.