Arnold Oceng Shares His Secret To Getting Pumped For Topless Scenes
The actor on how his career forced him to skip back into the gym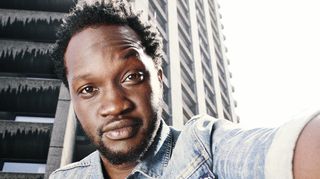 (Image credit: Unknown)
Arnold Oceng is one to watch. The hard-working actor has had a number of stand-out turns in acclaimed movies like A United Kingdom and The Good Lie, as well as stealing every scene he was in in BrOTHERHOOD. But his latest role as real-life boxer Ayub Kalule in The Greatest Man is his toughest yet. How did he step up to the challenge, and how has it affected his overall fitness and health?
How would you rate your fitness on a scale of one to 10?
I'd say I'm an eight/eight and a half – I do feel like I'm in the best shape of my life. I wasn't really into training – I was athletic but I wasn't actively in the gym as much as I wanted to be, and it took a film like The Greatest Man to make me go back to the gym. It made me fall in love with training.
What do you do, fitness-wise?
I can't even lie to you, I'm not actively training right now because I've finished for the film. When I was filming I'd be in the gym with my personal trainer doing boxing drills, working on the pads, getting on the bags, then doing some cardio to keep the blood pumping. After, we'd do about an hour of sparring, working on technique, and that's about it. That was every day. Then, because there's a lot of shirtless scenes, I would oil my chest and do some press-ups or pump some weights just before action so I looked a bit fuller. But I'm having a bit of a well-deserved break at the moment. I've decided to give myself until Christmas to just relax.
RECOMMENDED: Carl Froch's Boxing Workout
What do you do to motivate yourself?
I want to keep the body I've got, before it goes. I worked very hard on it and I'm planning on carrying on with boxing because I do enjoy it. No real matches though. Two reasons: one, I'm a chicken, and two, I don't want to destroy my money-maker, my face…
What will you never do again?
Nothing, to be honest – I've done a lot of different types of training and, as hard as it can be at times, I love that challenge. It's like a drug, being pushed and seeing how far you can go, so I've never shied away from it.
How is your fitness fingerprint unique to you and your career?
I needed a reason to go back into the gym – that push, an incentive to train, and this role was perfect. I did a lot of research on the character and I bought a skipping rope because I thought, "I'm doing a boxing film, so I've got to have that skipping montage. There's got to be at least one scene where I'm going to skip."
A United Kingdom is in cinemas November 25, BrOTHERHOOD is available on DVD December 26 (pre-order on amazon.co.uk) and The Greatest Man will be released next year.
Sign up for workout ideas, training advice, reviews of the latest gear and more.
Gary Ogden wrote for the print edition of Coach between 2015 and 2016, writing features, interviewing celebrities and covering entertainment. He has also written for ShortList.