Carl Froch's Boxing Workout
Here's one of the training routines super middleweight champion Carl Froch used to get into fight-ready shape.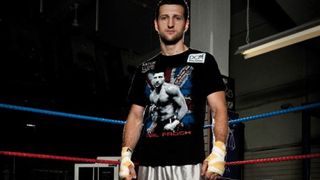 (Image credit: Unknown)
After almost a decade staying in championship shape for boxing's most ferociously competitive weight division, you'd forgive Carl Froch for easing off on the early-morning runs, being less fastidious in the kitchen, maybe even indulging in the odd Double Decker – and yes, Froch has done all those things. But, although the number on the scale might have gone up, this isn't the usual post-career slide into a comfy pundit's seat. Not by a long way.
"I'd like to do an Ironman triathlon," says the former super middleweight world champ, who's been hitting the pool semi-seriously ever since his retirement in July, using earplugs to protect the eardrum he perforated sparring for his 2008 title fight against Jean Pascal. "There are quite a few going on in 2016 and I'm seriously thinking about it. I used to find swimming quite monotonous, but I'm enjoying it more now – there's no impact on my knees, and I get in the zone. It's not good enough to do 2½ miles at a great pace [the Ironman swim is 2.4 miles (3.86km)], but I'd get it done."
The other legs? Already taken care of. "I've got my running up already, I could do a half or a full marathon at a decent pace, and I could do the cycling," Froch says. "Before I'm 40 I'd like to try that. It'd be hard work, but to achieve one, to get that in the bank… as long as I've got something in my head to work towards, that'll keep me in shape." And, of course, there's the aesthetic angle to consider. "If you look at long-distance runners they're quite skinny, but if you look at swimmers, they all look quite well-bulked and well-balanced, decent shoulders, slim waists. I look at what I want to look like and take my cues from that."
If this seems surprising, it probably shouldn't. The athlete known to his many fans as the Cobra has crafted one of British boxing's all-time great careers using hard work and tenacity, coming through in some of his biggest matches by keeping up the pressure while opponents wilt in the later rounds. In title-winning bouts against Andre Dirrell and Mikael Kessler, he grabbed the initiative in the final stages to take a pair of close decisions, while against Jermain Taylor he battered the favourite to a stoppage with 14 seconds left in the fight… and, of course, in both of his bouts against fellow Englishman George Groves, he shut down the younger fighter (11 years his junior) in the dying rounds. He's a man who's used to accelerating over the finish line, and he's not finished yet.
"I'm training because it's something I've always done," he says. "I'm not naming any fighters, but I don't want to be one of these guys who retires from boxing and gets fat and out of shape and old-looking. I want to always look like I've been a world champion. It's for myself and my kids [Froch has a son and two daughters – the youngest only weeks old – with model Rachael Cordingly] because I want to be able to still do stuff with them. And it's not hard to do. I'm never going to be able to fight for 12 three-minute boxing rounds at a high pace unless I'm specifically training for it, but I can always stay in shape."
He's also started hitting the bar. "I've never lifted weights in my whole life," says Froch, who relied on nothing but press-ups, pull-ups, sit-ups and traditional roadwork for almost his entire pro boxing career – all 12 years of it. "But now I'm deadlifting, bench pressing, curling dumbbells, doing some weight-gaining exercises. I'm trying to bulk up a bit. You look better, you feel more confident, you look better in clothes… when I'm wearing my designer stuff or just a shirt with a pair of jeans, it helps." Nottingham born, raised and resident, he's a big fan of local brand Paul Smith.
Froch does his training with an old friend, keeping the reps low and the moves big, mixing in farmer's walks and power cleans – "It gets you breathing, gets you exhausted physically. It's geared to my engine" – and he's still using some of the moves he learned filming BBC gymnastics show Tumble – "handstand press-ups, the planche, all that".
He's getting up to speed fast, with a 160kg deadlift (for reps) and a 120kg bench press already under his belt. But he's in no rush. "I'm still under 10% body fat, but now I'm about 13 and a half stone [86kg], about 8kg over the super middleweight limit," he says, in between posing for the shirt-off shots that prove it. "I'm trying to get to 14 stone [89kg] but keep the body fat down, put on about a pound of quality muscle a month. I don't want to get too big, too fast. I don't want to get big and strong and still, like my stepdad – he's 20 stone. He's a weightlifter, but he wouldn't last 30 seconds in a fight."
"To win a fight, you need to be strong and explosive with good stamina so you can throw hard punches in every round," Froch says. 'Because boxing is weight-governed, it's important to do strengthening exercises that don't add bulk, so I don't use fancy equipment or weights.
RECOMMENDED: Punching-Bag Workouts
"When I fought I'd do classic moves such as press-ups, crunches and dips - as many as 300 of each in a session because volume equals strength. I include variations so my body never gets used to my workouts because shocking your muscles keeps forcing them to get stronger."

But boxing isn't only about strength. "Most training days include some cardio, such as skipping, hill climbs, six-mile runs - which I do in 35 minutes - and track sprints," Froch says. "As well as improving lower-body strength, these drills increase my anaerobic capacity so I can work intensely for 12 three-minute rounds."
This is one of the boxing training routines Froch used while in his prime. Get down the gym and start doing it today.
Press-up circuit
"All the press-up variations here work your deltoids and chest, so you can generate fast, powerful punches", says Froch. "The 'finger' one helps strengthen the ligaments in your hands, which can get damaged when you do a lot of punching."
"In light training I complete 50 of the first variation, then drop by ten for every subsequent one. I have 30 seconds' rest between each type of press-up but you can have 60."
Target Chest and arms
Wide press-up
Reps 30
Start with your hands slightly wider than shoulder-width apart.
Keep your body straight from head to toe, and look forwards as you perform the move.
Fist press-up
Reps 20
Keep the same wide grip as before.
Brace your core as you perform the move and stay on your toes.
Finger press-up
Reps 10
Do the move on a gym mat to reduce the load on the ligaments in your hands.
If you're struggling, do half the reps with your knees touching the floor.
Clap press-up
Reps 10
Keep the same wide grip as before.
Lower until your chest is just off the floor, then push up explosively, clap your hands and land with bent elbows.
Sit-up circuit
This no-frills bodyweight sit-up circuit will target all the muscles in your core to flex, stabilise, extend and rotate your torso. Because of the high reps and short rest periods, it'll also keep your pulse high enough to help burn off the belly fat that's hiding your abs.
"By doing all four moves you'll hit every part of your abs," says Froch. "This will build power and muscular strength endurance.
"During the intense part of a training camp I do each variation to failure. When I'm just keeping my fitness ticking over, I go from 50 down to ten. Again, I only take half a minute's rest between each variation but you should take a minute."
Ready to rumble? You'd better be. This is a difficult core circuit, befitting a boxing champion. Ensure you've got the basic movements nailed first and pre-activate the abdominal muscles to ensure you're ready for the challenge. This reduces the risk of injury and helps to maintain proper muscular contraction at all times. You could begin by slightly regressing the standard sit-up and locking down your legs. Have a training partner stand on your feet while you perform crunches, or alternatively use a decline bench where the legs are supported by pads. Take extra care to prepare your core muscles gradually with some gentle sit-ups and cobra stretches to mobilise the muscles. Your abs might not be as prone to injury as the hamstrings but going hectic too soon could lead to painful cramps or tears. And remember to focus on form. You can crane your neck and strain your hip flexors if you don't focus the movement on your abs. Your torso should move in a straight plane of motion at all times. Any bend in the back takes the stimulation away from the abs and places it on your joints and discs.
If you find that your abs are weak to begin with, start by crunching with your hands crossed over your chest. Placing your hands behind your head when you're struggling to engage the core can lead to excessive pulling on the neck muscles. Don't jerk your head forwards with each rep and slow the movements down so you take a full second up and down each time. Exhale on the way up and inhale on the way down.
Additional reporting by Cherrelle Jefferson (@cherrelleJj)
Target Abs and core
Sit-up
Reps 40
Keep your hands touching your head throughout the move.
Keep your head off the floor throughout.
Cross-arm crunch
Reps 30
Keep your head off the floor and cross your arms in front of your chest with your fists above your pecs.
Only come up half as far as you do for the sit-up.
Bicycle crunch
Reps 15 each side
Turn your entire upper body as you twist to either side.
Bend your knee on the side you're twisting towards and try to keep the other one straight.
Half sit-up
Reps 10
You need to start this as if you're halfway through the rising part of the move.
Keep your upper back off the floor throughout the move.
Pull-up
"Pull-ups build the strength and endurance that are crucial to throwing powerful shots," says Froch. "In an intense session I'll go to failure in each set. Do four sets of 25 reps. I always have a 60-second break between sets as you would between rounds in the ring. You should do the same."
Sets 4 Reps 10
Start each pull-up with your arms fully extended.
Raise your chin above the bar and keep your legs crossed to avoid swinging.
Dip
"I do two versions of dips during a workout - a normal dip and a leaning one," says Froch. "The normal one isolates the triceps, while the leaning one brings my chest into play. Both are geared towards helping me increase upper-body strength."
"In heavy training I go to failure in each set, and in light workouts I'll do four sets of 25 reps. During both I take a minute's break between sets. You should do four sets of 15 with a minute's rest in between."
Target Chest and triceps
Dip
Sets 2 Reps 15
Drop down until the bar is next to your lower ribs.
Keep your legs straight for balance.
Leaning dip
Sets 2 Reps 15
Lean forward so your upper body is at 40˚.
Cross your legs and raise them behind you (knees bent at 90˚) to ensure your upper body keeps working hard.
Sign up for workout ideas, training advice, reviews of the latest gear and more.
Coach is a health and fitness title. This byline is used for posting sponsored content, book extracts and the like. It is also used as a placeholder for articles published a long time ago when the original author is unclear. You can find out more about this publication and find the contact details of the editorial team on the About Us page.