The Official Conan Workout
Jason Momoa, star of the new Conan The Barbarian, built his medieval body with high-rep lifts and a super-strict diet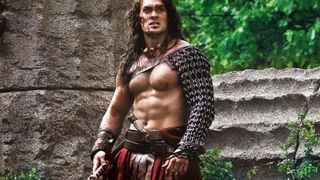 (Image credit: unknown)
He may be reprising the role that first propelled Arnold Schwarzenegger to international stardom but actor Jason Momoa isn't your stereotypical tough guy. In fact, he's not even watched the classic 1982 fantasy film than began Arnie's career. "No, I haven't seen the original," he says. "Both my parents were painters in Iowa. I grew into this big action guy but I still feel like an artist."

Not that anybody would know from looking at him. As the lead in Conan The Barbarian, a new movie take on the Robert E Howard character, Momoa is the perfect barbarian. His 1.93m frame is packed with over 100kg of lean, hard muscle.

For his larger-than-life role as Conan, Momoa worked with personal trainer Eric Laciste, who has trained clients at Los Angeles's 87eleven gym for more than a decade. It's the facility that helped to get stuntmen ripped for action movies such as 300 and Fight Club.

As such, it's about as far away from a typical commercial gym as you can get. "It's this huge warehouse and just a bunch of fucking bad-asses crushing weights," says Momoa, who gained about 9kg of pure muscle during his time with Laciste, a feat all the more impressive considering he had already built an intimidating physique to play the warlord Khal Drogo in HBO's Game of Thrones.
Lean times
Laciste's workout plan was designed to allow Momoa to get stronger while staying lean. To achieve this the star trained six days a week, sometimes twice a day, using Laciste's AR7 programme, which is built on high-rep sets and active rest (see how to achieve similar results below).

"We worked out six hours a day," says Momoa. "It was pretty intense. I'd never trained at that level before, but it was really cool to transform my body." To support his workouts, he adopted a super-high-protein diet, eating boiled chicken breasts regularly at two-hour intervals. Momoa quickly fell into the routine. "At a certain point, you become a robot," he says. "It just became fuel."

He definitely needed the extra muscle. Momoa did just about all his own stunts in Conan, most while carrying around as much as 18kg of gear. He broke a rib on the set and was nearly trampled to death during one scene. "I got bucked off a horse and almost died," he says. "I slid down his neck, and he went over my head. His ass almost crushed me."

Next year Momoa will share the screen with Sylvester Stallone in the crime thriller Bullet To The Head. "I'm just a kid from Iowa, and now I'm playing Conan The Barbarian and fighting fucking Rocky!" he says. "It's a trip."
Building Conan
To get in warrior shape for his role as Conan, Momoa used the AR7 programme built around high reps and active rest, which had him holding the bar between sets. He completed 110 reps of each exercise, 330 reps in total, in about 30 minutes. Here's a sample of what his leg workout looked like.
How you do it
For the deadlift and squat, select a weight that's roughly 60% of your one-rep max. Complete a set of seven reps of the deadlift, then rest while holding the bar for seven seconds before doing seven more reps. Rest seven more seconds, and so on until all seven sets are completed. Then move to six-rep sets, then five-rep sets. Then move to the next exercise and repeat.

Part 1 Sets 7 Reps 7
Rest 7sec after each set, 90sec after completing all seven sets
Part 2 Sets 6 Reps 6
Rest 6sec after each set, 60sec after completing all six sets
Part 3 Sets 5 Reps 5
Rest 5sec after each set

Sign up for workout ideas, training advice, reviews of the latest gear and more.