Dracula Untold star Luke Evans on training to be a vampire
We caught up with action star Luke Evans to talk training, vampires and how he nearly lost an eye on set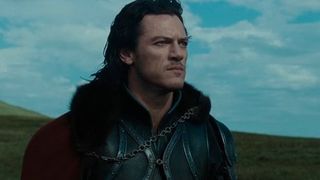 (Image credit: unknown)
Sign up for workout ideas, training advice, reviews of the latest gear and more.
Matt joined Men's Fitness in April 2014 as features writer after spending several years writing for a luxury lifestyle magazine, swapping champagne and canapés for cardio and leg days.
Matt is a keen Thai boxer and his interest in fitness took off when he made the decision to compete semi-professionally and had to get in shape. Training aside, he says the worst thing about fighting is resisting the urge to apologise all the time.
Oh, and he's still on the look out for a decent fight nickname after being told 'The Best' was reaching a little bit…
Favourite move: Any kind of squat variation
Favourite sport: MMA and Muay Thai kickboxing
Personal best: Competing in a semi-pro K1 bout
Targets: Sub-1hr 40m half marathon and winning a fight by KO
Scariest MF moment: Writing about myself in the third-person for this profile
Favourite MF website story: Spider-Man workout
Favourite trainer quote: 'Hands up, chin down' – every striking coach ever
Biggest gym crime: Avoiding the weights and sticking to the treadmill