Hang Clean: Instructions, Form Tips and Variations
This exercise works your body from top to toe in a dynamic, powerful movement.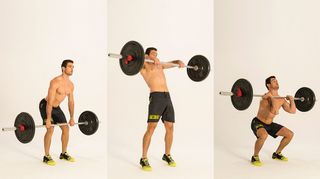 (Image credit: Unknown)
In This Series
Cleans – of some sort – should be a part of any self-respecting man's workout. They build explosiveness, teach full-body coordination, increase your jumping power and because they use so many muscles flood you with delicious growth hormone, meaning you'll get better results when you go back to biceps curls. Finally, they're so metabolically demanding that you'll burn fat for hours after a session, with none of that tedious treadmill cardio you've been doing.
Full power cleans (the sort you see in Olympic weightlifting) are one option, but starting the clean from a hang position makes it ideal for beginner lifters, or as part of a fat-burning barbell complex (where you do multiple different barbell moves back-to-back in a circuit to send your heart rate soaring). Experienced lifters will also use this variation to build explosiveness.
Hang Clean Instructions
Start by holding the bar with a shoulder-width grip in front of your thighs. Squat down slightly, then
 drive through your heels to explode upwards, using the momentum to help pull it up to chest height and catching it on your chest. Pause for a second, then lower the bar back to the start position. Keep your core muscles braced throughout.
Hang Clean Form Tips
Think jumping
You'll start with the bar already in your hands – deadlift it off the floor, then do a quarter-squat before driving off the floor as powerfully as you can, almost as if you're jumping. The bar should fly up – now all you have to do is catch it.
Hang Clean Variations
Snatch
Duck under the bar to 'catch' it overhead. This requires excellent co-ordination and shoulder flexibility, so try it with a light bar to begin with.
Start in a deadlift position with the bar off the floor.
Lift the bar powerfully.
Duck beneath the bar to "catch" it with straight arms. Keep a natural arch in your back.
Stand up straight.
One-arm dumbbell snatch
Work each side of your body independently. This is especially useful for sports conditioning.
Hold one dumbbell between your legs, keeping your shoulders square.
Lift the weight powerfully in front of you.
Squat beneath the weight to catch it.
Stand up straight.
Clean and jerk
This exercise targets so many muscle groups it's a workout in itself. Make sure you use perfect form throughout.
Start in the deadlift position.
Lift the bar powerfully.
Drop beneath the bar for the catch.
Stand up straight and steady yourself.
Drop into a lunge and press the bar overhead simultaneously.
Stand up straight.
Sign up for workout ideas, training advice, reviews of the latest gear and more.
From 2008 to 2018, Joel worked for Men's Fitness, which predated, and then shared a website with, Coach. Though he spent years running the hills of Bath, he's since ditched his trainers for a succession of Converse high-tops, since they're better suited to his love of pulling vans, lifting cars, and hefting logs in a succession of strongman competitions.