P90X Review: Does it Really Work?
It's sold millions of copies and has dozens of celebrity followers - but does P90X really work?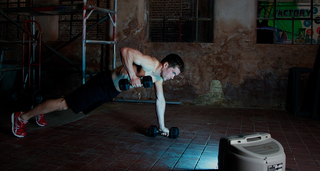 (Image credit: Unknown)
P90X Review: The Short Version
It's understandable why people would often be sceptical about these "magic" fitness DVDs because many of them are rather faddish, often not explaining exactly what is required to reach the promised goal. P90X claims to be different in that all its principles are based on sound scientific research. Alongside this, its main selling point is the fact that P90X is the only workout DVD that focuses specifically on individuals. The programme is created with your own body type in mind, and dependent on your own specific circumstances. So it will tell you what and how much to eat, when to eat and what to avoid.
You begin by figuring out exactly how many calories you need to be consuming to keep your body adequately fuelled for optimal performance whilst still keeping your metabolism boosted for maximum fat loss.
How does it work?
P90X is the brainchild of celebrity trainer Tony Horton and it combines a wide variety of exercises and moves that include:
Cardio
Stretching
Yoga
Plyometrics
Kenpo Karate
P90X is far more varied in terms of the different training methods that it puts you through, but this is understandable as it does take up more of your time. With each workout coming in at around 75 minutes, six days a week for a total of 90 days, it's as full-on as they come, but it'll have you working your entire body effectively. Certain bits of equipment such as a yoga mat, pull-up bar, resistance bands and dumbbells are recommended, but it's possible to do it without any of these as long as you have enough space to do press-ups. However, we'd suggest having resistance bands would let you get the most out of the programme.
P90X will take you through a variety of training methods, each aimed at improving your overall strength, stabilising your core and burning fat. Each week the focus will change, so it's never feels repetitive and your body gets a chance to recover and grow while you work other muscles.
What comes in the box?
P90X nutrition plan (three-phase approach to eating with the aim of helping you burn fat while feeding your muscles
A fitness guide
A calendar to track your progress
12 DVDs that demonstrate the correct form for each move
For each move, the P90X DVDs show a beginner and an advanced version of it so you can tailor the workouts to your level of experience and push yourself harder if required.
P90X Review: The Long Version
Eight-minute abs. Seven-minute biceps. Movie-star pecs in a weekend. If you've ever channel-surfed late at night, you've seen infomercials that promise to sculpt you into shape in ever-decreasing increments of time, all pitched by bronzed, grinning men and women with washboard stomachs. Most rely on gadgets or gimmicks, and nearly all promise a pain-free experience. P90X, a 90-day blitz of dumbbell moves, plyometrics and martial arts moves, sounds like more of the same. It isn't.
"I honestly think anyone can do it, but you have to be dedicated," says Bill Young, a 41-year-old business owner who's done the full programme three times. "You can't just go in half-hearted – you'll never finish. If you go in with the mindset that it is possible to get through and you want to change your body for the better, then you'll go through the fire to achieve it. I tell people who ask me about it, 'If you haven't been working out for at least six months, don't try it. Don't even watch the DVD, you'll just be intimidated.'"
He's right: it's not intended for beginners. Power 90X, to give the regime its full title, is an evolution of the Power 90 series first introduced by fitness company BeachBody in the late 1990s. When company CEO Carl Daikeler noticed a gap in the market for DVDs aimed at reasonably fit people wanting to shed those last percentage points of body fat, he asked trainer Tony Horton to create something to fill that void.
X Machine
A couple of years later, in 2002, P90X was unleashed. Horton, who's trained everyone from Bruce Springsteen to Usher, fronted the programme using a combination of perfect hair, chiselled arms and boundless enthusiasm to grab viewers' attention. It wasn't an instant success – BeachBody went through a reported 14 versions of its hard-sell infomercial before sales started to take off. Since then, Horton has become a familiar staple of late-night TV infomercials and a celebrity in his own right, with his own One-To-One workout range.
The enthusiastic sell, which now splices in glowing testimonials harvested from the hundreds on YouTube, is part of the appeal – so much so that P90X isn't stocked in shops. "One of our secrets is that we don't put the product at retail," Daikeler told business channel CNBC in a rare interview. "It wouldn't sell well on the shelf because part of our appeal is that inspiration that comes along with people seeing how it works on television."
Thanks to the ad bombardment and word of mouth – including reports that celebrities such as Ewan McGregor, Ben Stiller and Ashton Kutcher were fans, as well as sportsmen such as American football player Ray Lewis – P90X has sold more than three million copies. It has brought in a total of £270 million, or roughly half of BeachBody's entire revenue.
Those convinced by the pitch get 12 workouts on DVD, ranging from typical chest and back workouts to the less conventional "Ab Ripper X" and "X Stretch". A big selling point is "muscle confusion" – the idea that by constantly bombarding your biceps and triceps with different moves and rep ranges they'll be shocked into growth.
For most moves you're encouraged to get as many reps as possible, meaning that you can hit the workouts at your own pace, and – in theory – get better results if you're more committed. There's also a nutrition plan, which emphasises high protein and low carbs to begin with and gradually increases carbs throughout, so trainees can attack the later, tougher workouts with more energy.
X Tested
Make no mistake: if you tackle the programme at full intensity, it is tough. The first three weeks emphasise beating your bests on the same moves rather than constantly changing workouts, so your progress is largely down to how hard you can push yourself while working out alone.
But the real question is: does it all work? Those who've toughed out the full programme are pretty convinced it does. "The benefits for me were loads of energy throughout the day, weight loss, body fat loss, a better outlook on life and less sickness," says Young.
"I fell in love with it immediately," says Ed McLaughlin, who took up the programme to lose weight after an ankle injury kept him out of the gym for months. "I noticed I was more clearly defined, I lost 4in [10cm] from my waist. I actually have abs now, I have great endurance and if I wanted to I could absolutely go out and run a 10K tomorrow. I could probably run a half-marathon if I really wanted to."
Nate Evans is especially outspoken. "I started P90X in April 2010 when I weighed in at a gross 253lb [115kg] at 6ft 2in [1.88m]. I followed the nutrition plan and pushed hard in the workout every day. After 90 days I was down to 184lb [84kg] – I lost 69lb and got in the best shape of my life. I continued with the eating plan, as it had become a habit, and am maintaining 7% body fat. This programme did so much more than change my body – it changed my life. I am so much more confident and got such a feeling of accomplishment from it. I feel like I can do anything! I quit my dead-end job, and I'm following my dreams and am self-employed now."
Like many converts, Evans was so impressed that he became a BeachBody 'coach'. Everyone who buys the programme is assigned one of these online mentors, who offer support and advice throughout the programme. In exchange, they get the chance to make money by selling on supplements – such as the Shakeology drink, a supplement specifically designed for P90X users – and other BeachBody products via their own personalised website. There's a one-off 'administration' fee, but they aren't expected to keep their own stock of products – just use their experience, enthusiasm, and hopefully ripped 'after' pictures to create new converts.
X Offenders
Not everyone is a fan. CrossFit, the training regime that emphasises Olympic lifting, bodyweight moves and short, timed workouts with a daily (free) workout posted on flagship site crossfit.com, is often compared to P90X because it promises similarly intense workouts and fat loss. However, CrossFit founder Greg Glassman – who, incidentally, doesn't have a Horton-style six-pack – took exception and challenged P90X users to compete at the annual CrossFit Games in 2011, promising that he'd "save them a chair".
Those who've tried both systems tend to gravitate to one or another depending on their goals – P90X appeals to those trying to get lean quick, while CrossFit finds its following among people who want to build athletic skills across a range of disciplines. P90X isn't averse to throwing in bodybuilding movements, such as the classic biceps curl and triceps kickback, while CrossFit sticks to big barbell moves such as the clean, deadlift and squat. Both incorporate timed intervals, and encourage trainees to push themselves as hard as physically possible.
"They're both better than 95% of the other stuff out there," says Mark Sisson, author of The Primal Blueprint and founder of marksdailyapple.com. "They both include high-intensity interval training, full-body resistance work, endurance development, and mobility. They're clearly laid out for trainees who need structure to make progress. Buy the DVDs and you get the full P90X package; log on to CrossFit every day and you get access to the daily workouts free of charge."
But Sisson, although he's friends with Horton and helped to create the Shakeology recovery drink, isn't entirely sold on the system. "As it's actually practised, I think P90X is probably too much to do as a lifelong programme," he says. "It isn't advertised as such, to Tony's credit. It's billed as a crash programme designed to get you lean in 90 days, which it does well. But committing to over an hour a day, six days a week? I just don't think I'd have the stomach for that for very long."
X Squared
And now there's P90X2. Released in December 2011, the sequel pitches itself as performance and athleticism-based, a claim that has already angered CrossFit evangelists. Where the original programme's big selling point was muscle confusion, part two's is 'post-activation potentiation' – essentially, the idea that doing heavy lifting just before explosive movements will let you fire more high-threshold motor units, letting you run faster, jump higher or lift more weight. There's a lot more jumping with some pretty tricky plyometrics moves, a new nutrition plan, a DVD devoted to yoga, and dozens of moves with names such as 'Rocket Launcher Preacher Curl'. Horton stresses that he thinks this sort of variety is necessary for athletes in every discipline, whether it's to improve performance or prevent injury.
The programme is certainly tougher, and in places weirder – one move sees you doing press-ups across three or four medicine balls, which would require a pretty spectacular home gym set-up. It's still open to criticisms levelled at the original programme, which largely focused on the inclusion of 'gimmick' moves at the expense of basics like heavy squats. But it's also a solid programme that mixes fitness with entertainment, and is simple to follow, if not easy to do. "I think anyone can do the programme," says McLaughlin. "With one condition. If you commit to it, if you 'do your best and forget the rest', as Tony Horton preaches, then you will see results. The key is consistency." And having some pretty tolerant downstairs neighbours
This article first appeared in Men's Fitness in 2014
P90X: The Sequels
Since P90X was unleashed into your living room via those unrelenting infomercials, the P90 machine has spawned several reincarnations. Some are more docile, some are more ruthless. Here they are, in Horton's own words.
For the "average man" – P90X but less X-rated.
"Legendary trainer Tony Horton has now created shorter workouts that are simple, doable, and less extreme than his others, but still just as effective. After 30 days of P90, you're leaner and more solid; after 60 days, you're seeing muscles you've never noticed before, and by Day 90 you finally have that lean, strong body you could once only dream about."
A quicker yet not less aggressive approach.
"P90X3 combines a highly structured, plateau-busting schedule with an unprecedented variety of moves that keep every muscle challenged every day for 30 minutes of full-throttle intensity that leaves any other workout in the dust."
Also from Beach Body, but more unhinged.
"You work flat out in 3 to 5-minute blocks, and take breaks only long enough to gulp some air and get right back to work. It's called Max Interval Training, because it keeps your body working at maximum capacity through your entire workout. You keep pushing your limits – so your body has to adapt. That's how you get in such insane shape in just 60 days."
RECOMMENDED: Insanity Workout DVD Review
Sign up for workout ideas, training advice, reviews of the latest gear and more.
From 2008 to 2018, Joel worked for Men's Fitness, which predated, and then shared a website with, Coach. Though he spent years running the hills of Bath, he's since ditched his trainers for a succession of Converse high-tops, since they're better suited to his love of pulling vans, lifting cars, and hefting logs in a succession of strongman competitions.