The Best Dumbbells For Your Home Gym
Free weights are the ideal bit of home kit. These are the ones worth buying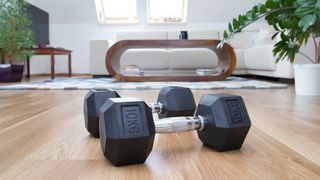 (Image credit: Shutterstock)
We all dream of a fully-equipped home gym, complete with several types of cardio machine and more bells—barbells, kettlebells, dumbbells—than a campanologist convention, but for most of us a lack of space makes such an enterprise an impossible fantasy. So it's best to get real and prioritise, and at the top of your list should be dumbbells—the obvious choice of fitness equipment for home workouts. They're small, they're relatively inexpensive, and unless you opt for a fixed set you can adjust the weight on them so they're appropriate for all kinds of exercises.
Convinced? Of course you are, so now what you need is a selection of the best dumbbells available. We've rounded up our top picks below, divided up into fixed and adjustable dumbbells, with the latter proving increasingly popular as a space-saving solution for home gyms. After that you'll find our dumbbells buyer's guide.
Best Adjustable Dumbbells
Best adjustable dumbbells
Specifications
Weight range:
5-52.5lb / 2-24kg (adjustable)
Reasons to buy
+
Smooth, intuitive plate-changing mechanism
+
Plates feel secure and don't rattle
+
15 weight options and small weight increases
Reasons to avoid
-
Expensive
-
Awkward shape for some lifts
Sturdy, secure and simple, the Bowflex SelectTech 552i is everything an adjustable dumbbell set should be. Clearly labeled dials on either end allow you to flick between an impressive 15 weight options (from 5lb-52.5lb) in seconds, and the smaller 2.5lb increments give them an edge over rivals on the progressive overload front.
When training with them, I found there was no rattling and minimal movement of the plates. The rubber handle offered good grip, even during sweaty workouts, and the robust design meant they showed no signs of wear or damage despite consistent use.
I'm not a fan of the overall look, with their plastic-coated plates and docking tray that don't live up to this dumbbell's considerable price—a pair retails at $429. They are on the larger side, too, with long bars and wide plates that bashed my hips during exercises like biceps curls. But, for the vast majority of muscle-building moves, this adjustable set won't be beaten on practicality and performance.—Harry Bullmore
Read more in my Bowflex SelectTech 552i review
---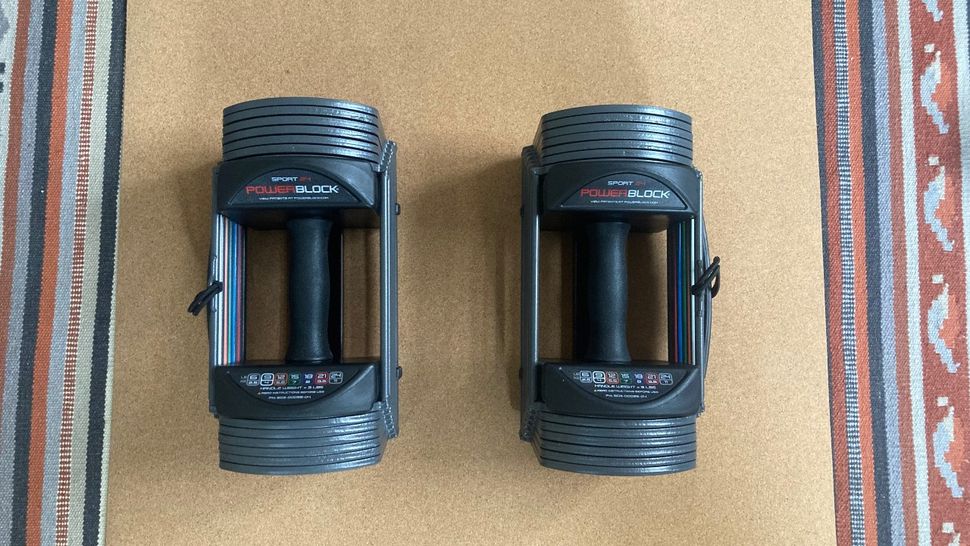 Best entry-level adjustable dumbbells
Specifications
Weight range:
3-24lb / 1.8-14.5kg (adjustable)
Reasons to buy
+
Affordable for a set of two
+
Smaller than most adjustable weights
Reasons to avoid
-
Heaviest weight is only 14.5kg
Beginners, and even those with a bit of training experience, may find they never need to look at a 50lb weight, let alone lift one. Powerblock makes a range of adjustable dumbbells, including ones which can take expansion packs to break through that 50lb ceiling, but we like this affordable starter set. It's decidedly low-tech with a plastic clip used to add and remove nested weight plates, but very secure. We've used them during fast-paced dumbbell workouts, which included lowering them towards and whirling them around our head, without any hint that a plate would come loose. The caged design limits movement of the wrist in certain exercises and people with large hands may find the handle on the small side, but these are minor complaints given the great value and low starting price the Sport 24s offer.—Jonathan Shannon
Read more in my Powerblock Sport 24 review
---
Best adjustable dumbbells for changing weight easily
Specifications
Weight range:
5-50lb / 2-22.6kg (adjustable/selectorized)
Reasons to buy
+
Quick, clever weight-changing mechanism
+
Sturdy design
+
Cheaper than some competitors
Reasons to avoid
-
Tight fit means dumbbells can get stuck in rack
-
Confusing labels for changing weights
Bowflex and Powerblock tend to dominate the adjustable dumbbell space, but this pair from Core Home Fitness is definitely among the best of the rest (alongside the JAXJOX DumbbellConnect). This set is also a little cheaper than its more renowned rivals, which is always a bonus.
The Core Home Fitness Adjustable Dumbbell has a clever weight-changing mechanism integrated into the grip. Just pop it in the dock and twist the handle to knock the load up or down by 5lb.
The dumbbells' sturdy design and compact shape meant they also handled all bodybuilding exercises I tried with ease, and without any unnerving clinking of plates during pressing exercises.
However, where the smart weight-changing mechanism saved me seconds during supersets, the dumbbell's tight fit in its holding dock wasted valuable training time. I found that, particularly at heavier weight settings, the dumbbell would stick in the dock and I'd have to place my foot on one side before I was able to prise it out.
Another reason you might consider splashing on one of the pricier rivals is the limited number of weight options. There are 10 per dumbbell, climbing from 5lb to 50lb in 5lb increments, compared with the Bowflex's 15. The Bowflex dumbbell also has smaller 2.5lb jumps between most settings, meaning it lends itself better to the progressive overload principle.
All in all, these are solid adjustable dumbbells that haven't let me down during more than a year of consistent use. They have their flaws, but if you're after a slightly more affordable set then this could be the one for you.—HB
Read more in my Core Home Fitness Adjustable Dumbbells review
---
Best digital dumbbells
Specifications
Weight range:
8-50lb / 3.6kg-22.6kg (adjustable)
Reasons to buy
+
Secure weight plates
+
Smaller and more manoeuvrable than others
+
Sleek design
Reasons to avoid
-
Relatively expensive
-
Need to be charged up to work
A digital dumbbell might strike you as pointless newfangled nonsense, but there's no denying JAXJOX offers the simplest method of adding or subtracting weight plates. Simply place them in the docking station and use the up or down buttons.
The plate-switching system needs to be charged to work, but a full battery charge lasts upwards of five days. They felt secure even at their heaviest and the smaller plates meant I found them more maneuverable for exercises like biceps curls, bent-over rows and goblet squats. I also think they're the best-looking adjustable pair.—HB
Read more in my JAXJOX DumbbellConnect review
---
5. Decathlon Adjustable Dumbbells
Best cheap adjustable dumbbells
Specifications
Weight range:
4.4-22lb / 2-10kg
Reasons to buy
+
Durable cast-iron weights
+
Range of plates to adjust weight
Reasons to avoid
-
Circular plates less stable than hex
This durable set of cast-iron weights from big-box sports retailer Decathlon is an absolute bargain. You have to remove the spin lock to add or remove weight plates, but that's a minor inconvenience given how much cheaper they are than other adjustable dumbbells. There's 20kg in total in the set, including the bars, but if 10kg per dumbbell fails to pose a challenge after a while, you can pile all the weight plates on one dumbbell or buy and add extra cast-iron plates.
Best Fixed Dumbbells
BLK BOX Rubber Hex Dumbbell
Best fixed rubber hex dumbbell
Reasons to buy
+
Good value considering the quality
+
Widest range of weights we've found
Reasons to avoid
-
Only 2.5kg increments offered
You can't move for manufacturers offering rubber hex dumbbells, but we consider these the best option. BLK BOX supplies kit to national gym chains and pro sports teams so you can be assured you're getting top-quality gear and the design is on point. The body of the dumbbell is one piece with vulcanised rubber covers on the heads and a knurled chrome handle. The price for a pair of 20kg dumbbells also matches up against other hex dumbbells from tried-and-trusted brands like Decathlon, DKN and JTX that we assumed would have been cheaper.
---
Eleiko XF
Top-notch weights for serious lifters
Reasons to buy
+
Floor-friendly rubber ends
+
Hex shape stops them rolling away
+
Weight range of 1kg-40kg
Hexagonal dumbbells are our favourite type of dumbbells, since the rubber ends are floor-friendly and provide a stable base for renegade rows and the like (plus they don't roll away when you put them down). For casual home training we'd normally recommend a more affordable retailer than Eleiko, which makes barbells for serious powerlifting and Olympic lifting, but if you're looking for top-quality weights from a respected name, you'll find them here. The weight range is also the widest we've come across, starting at 1kg and topping out at an incredible 40kg.
---
Wolverson Rubber Hex Dumbbell
Best dumbbell for functional fitness workouts
Reasons to buy
+
Robust design
+
Rubber-coating protects floors
+
Hex design for exercises like renegade rows
Reasons to avoid
-
Not adjustable
-
Only 2.5kg increments offered
Adjustable dumbbells are excellent for bodybuilding exercises, but you don't really want to be chucking one overhead on repeat when cycling snatches or clean and jerks. That's where rubber-coated hex dumbbells come into their own.
There's not a CrossFit box in the world that won't have a healthy stack of these six-sided strength-builders against one wall. Their compact shape and robust design lends itself perfectly to functional fitness training.
I used this Wolverson pair for a series of home workouts, including several high-intensity sessions from the FIIT app, and they did a sterling job.
The flat sides of the dumbbell heads can be rested on for exercises like renegade rows, while also stopping the weights rolling away between sets. I liked the knurled rubber handles, which helped me get a grip during sweaty workouts, although I do still favor a metal handle.
The rubber coating makes them more robust and protects the floor from damage—and your neighbors from noise—if you drop them. It also makes them resistant to rust, unlike metal ones.—HB
---
Amazon Basics Neoprene Dumbbell
Best lightweight dumbbells
Specifications
Weight range:
1-20lb / 1-10kg
Reasons to buy
+
Affordable
+
Neoprene coating is pleasant to handle
Reasons to avoid
-
Low top weight of 20lb/10kg
These simple neoprene dumbbells are fine for those who are happy with lighter weights, whether they're rehabbing or need them for a Pilates or spin class at home. They're small, soft, and just the job.
Dumbbell Buyer's Guide
Buying dumbbells is not that complicated, especially as we've tried to take the hassle out of choosing with our selection above, but here's a brief explanation of the types of dumbbell available as well as some of the finer points of the design. The main dividing line between dumbbells is whether they are fixed-weight or adjustable, so we'll break this guide into two using those categories.
Fixed-weight dumbbells explained
The classic as-seen-in-the-gym dumbbell that's set at an unchangeable weight. A single pair of fixed-weight dumbbells is the cheapest option, but you will need a few pairs since no matter how experienced you are, your shoulders can't handle the same weight as your legs.
Rubber hex dumbbells are best suited to functional training styles such as CrossFit since the rubber protects the floor (and the dumbbell) in dynamic movements like the snatch or the clean and jerk where the dumbbell makes contact with the floor each rep – and you're more likely to drop it. The hex design also makes this style of dumbbell more stable when performing renegade rows.
Light fixed-weight dumbbells are also used in Pilates or spin classes. While you are unlikely to build large amounts of muscle using light weights, they increase the challenge in Pilates exercises, while a spin instructor will use them to build muscular endurance.
Adjustable dumbbells explained
A bar that can hold weight plates: if it works for barbells, it can work for dumbbells too. Adjustable dumbbells have one limitation, however – they are not as suitable for dynamic, functional exercises because dropping an adjustable dumbbell may damage the mechanism. Adjustable dumbbells are, however, just right for controlled bodybuilding-style movements – the type you'll find in our dumbbell workout plan – so if you're buying dumbbells to build muscle, adjustable dumbbells are your best bet.
There are two types of adjustable dumbbells: spinlock and selectorised.
Spinlock dumbbells are the original adjustable dumbbells. This dependable, low-tech option uses spinlock collars to secure weight plates. These are the cheapest option, but we recommend paying more for a model you can buy extra weight plates for so you don't outgrow them too soon. The main downside is that changing the weight is more time-consuming than with other types of adjustable dumbbell.
Selectorised dumbbells use a mechanism to attach or detach weight plates in a more rapid fashion. Some use docking trays with dials on the end of each dumbbell (Bowflex) or a twist of the handle (BLK BOX and NÜOBELL), while others use a movable pin (PowerBlock). The JAXJOX DumbbellConnect, uniquely, is a digital selectorised dumbbell so just a press of a button changes the weight.
Sign up for workout ideas, training advice, reviews of the latest gear and more.