Maximuscle 30-Day New Body Challenge blog 1
MF's Jason Calder-McLaren wants to shed weight fast, so he's taking on Maximuscle's 30-Day New Body Challenge.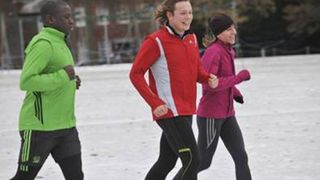 (Image credit: Unknown)
Jason Calder-McLaren is a 41-year-old ex-semi-professional footballer whose career was cut short by injury. Since then, in a story familiar to many men, he's put on some excess weight. Come 2012 he decided enough was enough and pledged to take on the Maximuscle 30-Day New Body Challenge (opens in new tab) in an attempt to stop the slide and get back in shape. Here's how he's getting on…
Week one
I'd always been fit and active and never really thought that much about being in shape – I just was. Over the past five years, though, I have found myself putting on weight at an unbearable rate. I now weigh 92kg. My target is to get my weight down to 84kg in the next 12 weeks. My diet is not the best – I'm a lazy eater – so I'm hoping that not only will following the nutrition and exercise advice in this programme help me lose the weight, but it'll also help me stick to a healthy diet in the future.
What provoked this? Well, mainly the fact that an old team-mate uploaded a picture from my playing days, back in 1994, to the web recently. My facial features have not changed too much but I can see the difference – there's a healthy glow in my eyes. I'm convinced I will be able to get the youthful body back with some hard work.
So I'm starting the 30-day challenge at a weight of 92kg. My ultimate goal is to drop 8-10kg over the next 12 weeks, but for now the Maximuscle New Body Challenge is the first of my tasks.
With the help of sport scientist Gareth Nicholas I am now successfully up and running. My training schedule and nutrition plan are available online and I've linked them with my diary, which means I receive alerts when I have to take my supplements for this challenge, which are Promax Diet shakes and bars and Thermobol fat loss formula.
Week one includes three gym sessions and a kettlebell workout at home with a DVD supplied by Kettlebell Seminars (opens in new tab). Over the next 30 days my training partners who will include MF's digital chief Nick Hutchings (opens in new tab), trainer and motivational expert Rajko Dragan and Maximuscle trainer Shaun Lerwill.
Want to read how MF's marathon training is going? Then read Nick Hutchings's blog.
Sign up for workout ideas, training advice, the latest gear and more.