Everything You Need To Know About The London Marathon Ballot
Features
Contributions from
last updated
The London Marathon ballot for 2024's event is closed, with entrants nervously awaiting the results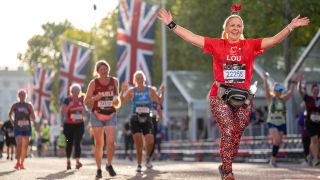 (Image credit: Jon Buckle for London Marathon Events)
The London Marathon is one of the best marathons in the world, offering a winning combination of a quick course and truly exceptional sideline support. As a result, competition to get one of the more than 40,000 spots available in the race is always fierce. Everyone wants to run the London Marathon.
Unless you've chalked up a particularly quick marathon time in the past year, the easiest way to get a place is through the ballot, which is open for around a week each year. Since 2022 the ballot for the following year's race has opened the day before the current year's race.
Everything You Need To Know About The London Marathon Ballot
What is the London Marathon ballot?
The London Marathon ballot allocates paid-for places in the mass-participation race.
You enter your application along with thousands of other hopefuls. After the entry window closes, a number of people are randomly chosen and will receive a place in the London Marathon.
If you are successful, you will be given a limited amount of time to pay and secure your place in the race.
When is the London Marathon ballot?
The ballot for the 2024 race opens at 9am BST on Saturday 22nd April 2023. It runs until 9pm BST on Friday 28th April.
When is the 2024 London Marathon?
The TCS London Marathon 2024 will take place on Sunday 21st April.
When are the results of the London Marathon ballot 2024 announced?
Organizers initially said the results would be announced in late June, but on 21st June confirmed that the results would be emailed to entrants on Thursday 6th July.
How much does the London Marathon ballot cost?
A London Marathon ballot place costs £69.99, or £67 for club-affiliated runners.
You don't have to pay the entry fee when you enter the ballot, but you can choose to pay a non-refundable entry fee upfront. The advantages of doing this are that the entry fee is reduced to £49.99 and that if you are unsuccessful in the ballot you are automatically placed in a second draw. If you strike out in both ballots, the money is donated to the London Marathon Foundation and you receive a training top worth £60.
Although the price has risen for general entry (unless you pay the lower price when entering the ballot), a London Marathon place is relatively cheap. The New York Marathon, for example, costs $358 (£293) for foreigners and $295 (£241) for US residents, and there are even a few 10K and half marathon races in London that cost more than this prestigious marathon.
There is an international ballot for the London Marathon 2024. If you get a place through that, it costs £120 plus a £26 carbon offset fee to take into account extra travel for international participants.
What are the chances of getting a ballot place in the London Marathon?
The London Marathon doesn't give the exact number of places that are allocated by the ballot, but it's believed to be around 17,000-20,000 of the 40,000+ total spots.
A record 578,374 people entered the 2023 ballot, so you can see straight away the odds aren't in your favor.
However, it's a completely random draw so you have just as good a chance as anyone else—there is no preferential treatment for, say, those who have entered the ballot unsuccessfully in the past. In addition, it's likely that more than 20,000 people are actually successful in the ballot initially, because the organizers will account for the many people who drop out or defer after getting a place.
You can also choose to donate your entry fee even if unsuccessful in the ballot and if you do you are entered into a second ballot. The London Marathon organizers say that taking this approach doubles your chances of getting a place in the race.
Can I defer a London Marathon place?
Whether you can defer your London Marathon place, and how long for, depends on a number of factors. However, most entrants can defer their place for at least one year.
If you enter via the ballot or through your running club then you can defer your entry for a year using the online participant dashboard. You'll still need to pay for your place in the following year's race to secure a spot, and can't defer for more than one year (with the exception of if you are pregnant or postpartum). International entrants can also defer their place for one year.
Whether you can defer a charity place is up to the charity involved, so you will have to discuss it with them. You can't defer the place via the London Marathon system.
If you had a place in the London Marathon via Good For Age or Championship entry, which is based on running a qualifying time, you cannot defer your place, unless you are pregnant or postpartum.
The London Marathon made some welcome changes to deferrals for pregnant and postpartum people in 2022. You can now defer for up to three years in this situation, and this goes for those who have a Good For Age or Championship place as well, so you don't have to run the qualifying time again.
Other Ways Of Securing A London Marathon Place
How can you apply for a charity place?
If you strike out in the ballot or miss the window to enter, consider trying to get a charity place for the race. The London Marathon website has a list of charities that have guaranteed spots for the event. Once you find one you'd like to raise money for, head to the charity's own website to apply for one of its places.
How can you qualify for Good For Age entry?
Speedy runners can also get into the race via Good For Age entry. Since 2020 this entry method has provided 6,000 total spots divided evenly between men and women who achieve the age-graded qualifying times. Bear in mind that Good For Age places are allocated on a fastest-first basis so if you've just squeaked under the qualifying time it's worth looking into a charity spot too. Our guide lists the current London Marathon Good For Age qualifying times.
How can you qualify for a Championship place?
Championship places for the 2023 race closed on Friday 6th January. Male applicants had to log a sub-2hr 40min marathon time while female applicants had to log a sub-3hr 14min time. Further stipulations, such as being a member of a running club, can be found in our guide to London Marathon Championship entry.
Sign up for workout ideas, training advice, reviews of the latest gear and more.