How To Get A Good For Age London Marathon Place
If you can log one of these qualifying times you can bag a London Marathon spot without relying on the ballot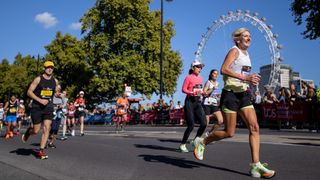 (Image credit: Chloe Knott for London Marathon Events)
The London Marathon is one of the most popular running events in the world, and every year more people than not are left disappointed when they apply for a place through the London Marathon ballot, because the odds are stacked against you.
Earning a Good For Age (GFA) place is one way to turn the odds in your favor, but it's not the easy option. Running one of the qualifying times involves months of dedicated marathon training, and you have to run the time at an official event with a certified course within the qualifying period. The times are adjusted for age and gender, so everyone gets a fair shot.
Even if you do run the GFA qualifying time, it's worth noting that this doesn't guarantee you a place in the London Marathon. There are a maximum of 6,000 GFA places allocated, 3,000 for men and 3,000 for women, and they are awarded on a fastest-first basis (relative to the qualifying time required for age and gender).
The London Marathon organizers recommend that if you are within 10 minutes of the qualifying time you still apply for the London Marathon ballot as well, because your GFA time might not be quick enough to secure your spot.
What is a Good For Age time for the London Marathon?
You can find the GFA qualification times for the London Marathon 2024 below. The qualifying period to log your time opened on 3rd October 2022 and will close on 30th September 2023, and your required time is based on your age when you run your qualifying event, not the London Marathon 2024 date.
Swipe to scroll horizontally
| Age | Men's qualifying time | Women's qualifying time |
| --- | --- | --- |
| 18-39 | sub-3hr | sub-3hr 45min |
| 40-44 | sub-3hr 5min | sub-3hr 50min |
| 45-49 | sub-3hr 10min | sub-3hr 53min |
| 50-54 | sub-3hr 15min | sub-4hr |
| 55-59 | sub-3hr 20min | sub-4hr 5min |
| 60-64 | sub-3hr 45min | sub-4hr 30min |
| 65-69 | sub-4hr | sub-5hr |
| 70-74 | sub 5hr | sub 6hr |
| 75-79 | sub 5hr 15min | sub 6hr 20min |
| 80-84 | sub 5hr 30min | sub 6hr 40min |
| 85+ | sub 6hr 10min | sub 7hr 10min |
GFA entry is open only to UK residents and you will have to provide proof of your result when you apply. You'll have to link to the results of the event where you logged your time and prove your age with an official document, as well as proving that you are a UK resident.
The only virtual event you can use to qualify for a GFA place is the virtual London Marathon 2023, and you will need to back up this result with an in-person result from a half marathon during the qualifying period.
You can find the required half marathon qualifying times on the London Marathon website. They start at sub-1hr 23min 37sec for men aged 18-39 and sub-1hr 44min 23min for women aged 18-39 and then rise with age.
If you run a GFA time and enter the London Marathon 2024, note that you cannot then defer your place in the race. The exception to this is for pregnant and postpartum women, who can defer their place for up to three years.
Finally, if the times above seem like a snip, then you might be fast enough to earn a London Marathon Championship place. These spots are guaranteed to men who have run a sub-2hr 40min marathon and women who have run a sub-3hr 14min marathon in the qualifying period. You can also qualify with a sub-1hr 12min 30sec half marathon (men) or sub-1hr 28min half marathon (women).
Sign up for workout ideas, training advice, reviews of the latest gear and more.