London Marathon Deferral: How To Defer Your Place In The 2023 Race
If you can no longer run the 2023 London Marathon you can defer your spot to the 2024 race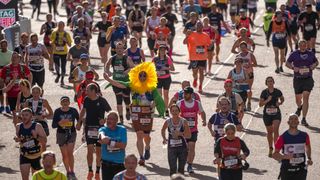 (Image credit: Jon Buckle for London Marathon Events)
Things don't always go to plan in marathon training, so if you've been preparing for the 2023 London Marathon but now think that you can't run in the race, it is wise to defer your place to another year.
Whether it's because you've succumbed to one of the most common running injuries, or you haven't had the time to train, it's far better to run another year rather than limp your way around the London Marathon route without getting satisfaction from it.
The event has a generous deferral policy, which is great news given how hard it is to get a place in the race through the London Marathon ballot. Here's what you need to know about deferring your place.
Can You Defer Your London Marathon Entry?
If you have a place in the London Marathon 2023 via the ballot then you can defer it to the 2024 race. You will need to pay the entry fee for 2024 to secure your deferred place. To withdraw your entry for 2023 go to your participant dashboard, which you can access via the registration email sent on Friday 24th February. You can withdraw from the race until 11.59pm on Saturday 22nd April, the day before the race.
Any runner who was successful in the 2023 ballot is able to defer their place, but if you have a spot through other means the process is more complicated. If you deferred from the 2022 race to 2023, you cannot defer again, and you can't defer a charity place in the race.
If you got in by qualifying with a Good For Age or Championship time you can't defer that either, with the exception of runners who are pregnant or postpartum. If you are pregnant or postpartum then you may defer a Good For Age or Championship place to 2024, 2025 or 2026 without having to run the qualifying time again.
Do You Get A Refund If You Withdraw From The London Marathon?
You do not get a refund if you withdraw from the London Marathon, so it is best to defer your place if possible.
Can You Give Your London Marathon Place To Someone Else?
Some races allow the transfer of your place to another person if you can't run, but this isn't possible with the London Marathon. If you run under someone else's name and are caught you will be banned from future events organized by London Marathon Events.
Sign up for workout ideas, training advice, reviews of the latest gear and more.