How To Get London Marathon Championship Entry
If you're an especially speedy runner you can get a guaranteed spot in the London Marathon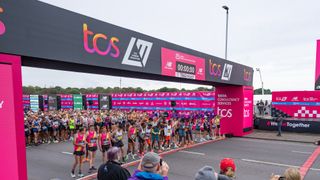 (Image credit: Andrew Baker for London Marathon Events)
The London Marathon is a notoriously difficult event to get a spot in, such is its popularity. The London Marathon ballot is always heavily oversubscribed and there's fierce competition to get a London Marathon charity place as well. There is, however, another route to the start line, which is to be really fast.
There are two entry options for speedy runners at the event. One is to get a London Marathon Good For Age place, which involves running a qualifying time based on your age and gender. There are 6,000 Good For Age places in the race, and they are allocated to 3,000 men and 3,000 women on a fastest-first basis (weighted by age and gender), so getting the required time doesn't actually guarantee your place if you're only a couple of minutes under.
In contrast, if you can run the qualifying time for a London Marathon Championship place, you are guaranteed a spot in the race. The catch is the qualifying times are pretty daunting. Men have to run a sub-2hr 40min marathon or sub-1hr 12min 30sec half marathon, and women have to run a sub-3hr 14min marathon or sub-1hr 28min half marathon.
There are a few other conditions you have to meet to qualify for a London Marathon Championship place as well. One is that you have to be a member of an official running club and registered with your governing body—England Athletics, Scotland Athletics, Welsh Athletics or Athletics Northern Ireland. You will also have to wear your club vest on the day of the race (no fancy dress).
The other condition is that you have to run the qualifying time within a certain period at an in-person official event with a certified course. For the London Marathon 2023 the qualifying period was 1st January 2022 to 31st December 2022. The only virtual event you can use to qualify for a place is the virtual London Marathon, and even then you have to back up that time with a qualifying time at an in-person half marathon.
Once you've run your time, wait for Championship entry to open—this is usually long after the ballot and Good For Age entry open—and then you submit proof of time and UK Athletics membership.
You still have to pay for your place in the London Marathon as a Championship runner, but there are many benefits to it along with the guaranteed entry. Championship runners start ahead of the main field, just behind the elite athletes, and have a dedicated start zone where the queues for the toilets are not as long as in other start zones.
I've run from the Championship start three times at London, as well as the Good For Age and Red starts, and it's a less stressful and crowded experience at the Championship start for sure. I'd say the mere fact of having a shorter toilet queue is worth all the extra marathon training you'll need to do to bag that qualifying time.
Sign up for workout ideas, training advice, reviews of the latest gear and more.