Jason Calder-McLaren's Maximuscle Challenge blog 2
This week Jason cracks his eating problems and gets to do some gorilla pull-ups.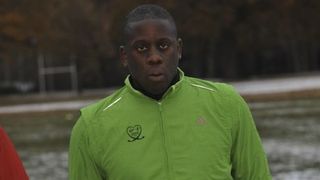 (Image credit: Unknown)
Jason Calder-McLaren is a 41-year-old ex-semi-professional footballer whose career was cut short by injury. Since then, in a story familiar to many men, he's put on some excess weight. Come 2012 he decided enough was enough and pledged to take on the Maximuscle 30-Day New Body Challenge (opens in new tab) in an attempt to stop the slide and get back in shape. Here's how he's getting on…

Week two
Poor eating has been the biggest obstacle in my attempt to maintain the lean, ripped physique I had in my 20s. Now, though, I finally feel as if I'm starting to get on top of good nutrition. Following the Maximuscle eating plan, I am now tucking into a healthy breakfast of porridge, a piece of fruit, a Promax Diet shake and water before 9am every day to give my body a good supply of slow-release energy. This means I don't have the urge to fill up with junk food when I get into work. I do miss the chocolate though!

My mid-morning snack is another piece of fruit and a diet shake, and I have a protein bar for my afternoon snack – right after my workout to help my muscles grow and repair.

I'm also planning my evening meals in advance – they're all high in protein and low in flab-inducing carbs, such as stir-fry chicken with greens. I used to eat fish and chips four times a week so this is a big improvement. The only problem with this healthy eating lark is my limited repertoire of dishes – I am getting a bit bored of variations of chicken and broccoli so I'm going to hunt around the MF site for some better recipes.
Workout-wise, I'm trying a new functional weight loss training programme courtesy of MF's Nick Hutchings. The programme comprises three sessions a week, focused on different areas of the body. Last week we did legs and back on Monday, chest and abs on Wednesday and legs and back again on Friday. During each workout we did six reps of a main move, 12 reps of a secondary move and 24 reps of a third much easier move.

These are volume workouts, targeting what Nick calls 'hypertrophy' – that's muscle growth to you and me. Monday was the worst/best thanks to the evil gorilla pull-ups we did as the main move. That's where you do a pull-up and lift your legs above the bar at the top of the rep. Yes, it's as painful as it sounds.

My lats were killing me on Tuesday but I've already lost a kilo after just a week and my back is starting to look a damn sight mightier too, so all the training and healthy eating definitely feels worthwhile.

For more weight-loss exercise and diet tips, get the magazine, subscribe now and we'll give you five issues for £5 (opens in new tab).
Sign up for workout ideas, training advice, reviews of the latest gear and more.