Nick Hutchings's marathon blog 4
Four weeks into his London Marathon preparation and Nick finally starts training properly. Kind of.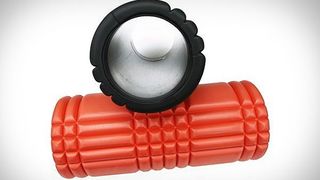 (Image credit: Unknown)
I feel as if I'm finally making headway with my marathon training. This week I managed to put in two 10Ks in the week and a 22.5km run on Sunday.

The first two were a joy – I ran around Hyde Park and Regent's Park with the watery winter sun shining down and the temperature hovering around 5˚C. I love those conditions because you don't overheat but the sun gives off just enough heat to ensure you're only chilly for the first 500m.

After a week of not running I felt fast, strong and full of beans so I threw a few dance moves at every traffic island I had to stop at to get to the park. I love the look on the faces of drivers that go past you wondering why there's a man in DayGlo Lycra at traffic lights dancing – it makes me feel like a character from a Dom Joly sketch when he was actually funny.

The weekend run was fucking terrible, largely due to environmental factors. There has been loads of snow where I live in Oxfordshire and the ground was too slippery and snow-covered to run outside safely so I had to do 22.5km on a treadmill. Words can't express how boring running on a treadmill for just under two hours is. Also, because I'm a bit scared of coming off the back of it, I tend to adopt a strange posture as I run – I lean forward a lot and run right next to the controls. I'm sure this makes me more likely to injure myself because it feels as if it's putting more strain on my hips and lower back.
When I ran the Brighton Marathon in 2010 I did loads of long runs on treadmills. I'm not sure how because after this 22.5km run I have resolved never to do another one again. Even with the new Lana Del Rey album and Sherdog Radio Network's Beatdown podcast (it's a show about MMA) to keep me company, I had to fight the urge to get off after every 5km. Once I got past 12.5km, the run wasn't too bad because I knew I'd broken the back of it, but when you've only got through 2.5km and know you've got another 20km to go with nothing but a wall to look at, it feels as if you're going to be on the damn thing forever.

Apparently it's going to be warmer this week, which is good because I'll lose my mind if I have to run indoors again. I'm hoping to put in a 10K interval run at my 10K pace (about 40min), a Kenyan hills session – which differs from a common hills session in that you don't use the downhill as a recovery jog but go just as hard as when you run uphill – and one monstrously long run on the weekend of about 25km. In my book that's running in the trenches: pain, tiredness, boredom and then extreme hunger are your rewards during these distances. But it has to be done and at least (fingers crossed), I'll have a view this time.

For more training insights and London Marathon related stories, get the magazine, subscribe now and get five issues for £5. (opens in new tab)
Sign up for workout ideas, training advice, reviews of the latest gear and more.
Nick Hutchings worked for Men's Fitness UK, which predated, and then shared a website with, Coach. Nick worked as digital editor from 2008 to 2011, head of content until 2014, and finally editor-in-chief until 2015.