Team Men's Fitness Training Blog
While Darren and Nick train for the rigours of the Jungle Marathon, Alex puts in an exhausting shift in a boat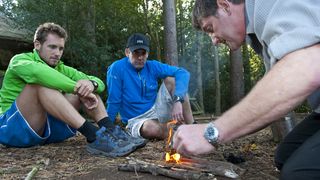 (Image credit: Unknown)
Darren
Nick and I spent the weekend with Colin Towell, the survival expert. His job: to get us up to speed on surviving in the jungle.

To say Colin is qualified is an understatement. He's trained the SAS, Navy SEALs, Delta Force, Marine Commandos and pilots - and on top of that, he's put Richard Branson through his paces and worked alongside Ray Mears. Despite all that, Colin comes across as a normal, switched-on bloke, and he's very easy to get on with – although he does have that 'I've been through some shit' look in his eye.

We spent the first hour sitting around a well-established fire, introducing ourselves and talking about Jungle Marathon safety. Then we learned four fantastic knots - this was so damned good, I swear a little bit of wee came out in the excitement.

Once these were mastered, we could move on to making camp ('camp admin' as it's known) and hammock erection. The hammocks in question are made by Hennessy and, with their integrated fly sheet and mosquito net, they are the choice of the Forces. Before long we had successfully put a hammock up and dismantled it – a key skill for the Jungle Marathon.

Following that we ran through dangerous creatures and what to do if you encounter them ('panic' is not really an option) and then did some medical drills to keep our bodies – especially the feet – out of danger.

It was a fantastic day. Colin was brilliant, and I wish we'd had more time with him – I'm sure we could learn a huge amount. I just hope we can carry out our new found skills as well as he taught them to us. Bring on the jungle.

Colin Towell is the author of The Survival Handbook (opens in new tab) published in association with the Royal Marines. All proceeds from its sale go to Help For Heroes.
Nick
There is now only a week to go before we fly to the Amazon. My feelings on it have gone from 'shitting myself' through to feeling totally up for it - thanks mainly to the training weekend Darren and I had with Colin Towell. Given that he's the guy who trains the SAS and the Navy Seals in jungle situations I listened hard!

For me the biggest thing I came out of it with is the training on how to deal with the sleeping element of the race. If you get that wrong you are in for a tough time - sleep deprivation and ultra-marathons don't mix very well. I really enjoyed the hammock drills. It's the kind of thing I enviously watched Ben Fogle and James Cracknell do on TV when preparing for their epic Arctic race. Now here I was being trained by one of the best guys in the world.

It was also drilled into us that it's your admin skills that will make or break you in this jungle race. When you eat, what you eat, how you look after your feet, how you break the journey into stages - all the pieces matter. And as Colin so eloquently put it, 'Do not fuck with the jungle or it will fuck with you!'
Alex
While the others were tying knots and sleeping in hammocks, I was breaking my back rowing 160km rowing race around Lake Geneva to raise money for Help for Heroes (opens in new tab). It took 16 solid hours of solid rowing and we finally crossed the line at 1.10am. Aside from the physical pain - those tiny rowing seats that feel as if they are burning holes in your backside - mentally it was one of the toughest races I have ever done.

As we rowed on through the darkness I reminded myself that in less than two weeks I would be flying out to the Amazon for one of the hardest races of my life. This next challenge would be even more physically and mentally demanding - a daunting prospect, but one that made me pull harder as I told myself to toughen the hell up.

On the way back to London I attracted a few curious looks since I was forced to walk like a supermodel through the airport as my glutes protested against the unfamiliar movement. The aches and pains have worn off now, and fortunately my legs still feel relatively fresh. I managed a few light runs this week, which have felt good, and I'm going for a BUPA health check to make sure I am in full working order.

I feel optimistic about our chances in the Jungle Marathon. We're a cohesive team and, ignoring the uncontrollable variables such as snakebites and panther attacks, we stand a chance of getting the right result. Credit to Darren, whose preparation and organisation of the team has been impeccable.

All that remains is to rest up, eat well and mentally prepare ourselves for the inevitably tough challenge ahead.
Sign up for workout ideas, training advice, reviews of the latest gear and more.
Nick Hutchings worked for Men's Fitness UK, which predated, and then shared a website with, Coach. Nick worked as digital editor from 2008 to 2011, head of content until 2014, and finally editor-in-chief until 2015.