Nick Hutchings's marathon blog 10
Another tale from the dark and painful side of marathon training, with some anecdotal kit advice sprinkled on top.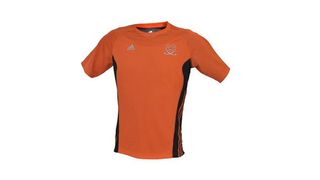 (Image credit: Unknown)
I don't know how you keep up a five-times-a-week running plan when training for a marathon. My body is having a hard enough time not falling apart with the two to three runs I'm doing every week.
Today my hamstring pain has come back with a vengeance after running a weekend half marathon at race pace. The pain took a while to kick in after the run but when it did it was goddamn awful. I spent the next few hours reading pre-race hamstring horror stories on the internet in the hope that I'd come across accounts of dudes who'd run PBs while injured. I couldn't find any, which didn't put me in the best state of mind.
I'm hoping the soreness will ease after a couple of days' rest, some foam rolling and another session with physio Lucy MacDonald and her magic hands. She managed to put me together again after my 34km run using some well-placed acupuncture needles and excruciating deep tissue massage techniques.
Looking back at my blogs I realise I haven't said much about my kit. I mentioned that I'm running in Adidas AdiZero Tempos but I haven't mentioned my other training clobber, all of which is important to performing well during training and on race day.
Today I'll talk about my race T-shirt. While training I've been wearing an official Adidas Virgin London Marathon one - the Supernova Men's High Energy short sleeve, which is the world's purest source of the colour orange. This is an advantage because I've spent a lot of time running on twisty country roads, and in this T-shirt there's no danger of not being seen by approaching drivers.
The fabric, as you'd expect, wicks sweat way from your body so you don't get any painful chaffing during long runs, and it's soft enough that it doesn't separate the top layer of nipple skin from your chest, which is something I've had a problem with in the past.
This week I'm off on the last snowboarding trip of the season – a heli-skiing jaunt in Chamonix and Courmayer (weather permitting) so I have to fit my hill session and another mid-length run around that. It all depends on my hamstring getting better though so send me some positive healing energy, would you? Ta.
To sponsor Nick, go to his JustGiving page.
If you're looking for some new clobber to help you achieve a PB, get your hands on some of the Adidas Virgin London Marathon kit I've been using. You can buy it at virginlondonmarathon.com/shop.
Sign up for workout ideas, training advice, reviews of the latest gear and more.
Nick Hutchings worked for Men's Fitness UK, which predated, and then shared a website with, Coach. Nick worked as digital editor from 2008 to 2011, head of content until 2014, and finally editor-in-chief until 2015.