MF trains for open water swimming
MF's Nick Hutchings discovers that the best way to prepare for the swim leg of a triathlon is to replicate the open water conditions.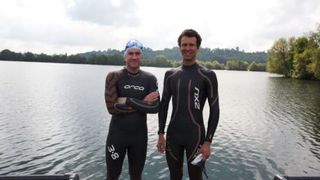 (Image credit: Unknown)
Swimming in a straight line in open water is not easy. I realised this at last year's Men's Fitness Rough Track Triathlon (my first triathlon), when after the first 100m of the swim stage I found myself swimming at a 90˚ angle to everyone else in my heat. The result, rather unsurprisingly, was that I was one of the last out of the water and then had to almost kill myself to finish in a respectable position.

In August this year, I'm entering the London Triathlon and am desperate not repeat this costly cock-up so I've been seeking professional advice about how to improve my aquatic performance. Triathlon books, including MF's Complete Guide To Running, Cycling and Swimming, have been useful but I always find the most helpful advice is hands-on coaching. So when I was invited to an open water swim and bike media session with former world champion triathlete Richard Stannard last week, which was being put on by Nokia to celebrate their upcoming Outdoor Series (The Windsor Triathlon, Thames Swim, Coast to Coast Challenge and the Royal Parks Half Marathon), I leapt at the chance.

I met Stannard at Westhorpe Watersports Centre, near Little Marlow in Buckinghamshire, where he runs regular open water swimming coaching sessions. The man-made lakes here are clean and scenic and, crucially, big enough to do an Olympic tri distance lap (1,500m). And because Stannard had hired it we didn't have to share it with the wakeboarders or jetskiers who also use the lake – just a few bemused geese.
At 20˚C the water wasn't cold, although that's cold enough to have a bit of bite, but to replicate what we'd do during a race we swam in tri suits. Stannard started the session by getting me to swim out to a buoy 100m from the lake's jetty so he could appraise my form. I sometimes forget that swimming uses your muscles in a different way than almost any other kind of exercise and although I started powerfully, 20 strokes in I was moving at the same pace as a doggy-paddling toddler. However, speed wasn't my main problem – if I interrupted my stroke to look ahead of me, I could swim in the right direction, but it slowed me down further. Worse still, I ended up swallowing mouthfuls of lake water as I struggled to breathe and look at the same time, which made me feel as if I was going to sink. If I concentrated on my stroke and tried to guess the direction I veered off-course. So what could I do to fix it?

'You need to sight or look forward after every second stroke,' Stannard told me when I eventually arrived back at the jetty. 'And do it in a way that doesn't cause you to start moving like a dying fish.' He dived into the lake to show me how. 'When you pull your head out of the water, lift it up first to see what's ahead of you, then to the side to take a breath.' I watched him do it, his eyes barely breaking the surface as he looked forward, then turned his head to the left to breathe. It's seamless – if you weren't looking out for his sighting, you wouldn't notice it.

'Push your hands out behind you more at the end of each stroke,' he added. 'It's free power: you'll really notice a difference in the speed you start to move at and distance you cover with each stroke.'
I took on board what he said and set off for another buoy, this time one that was 200m away. Worried that altering my stroke and my sighting was going to be too much for me to cope with in one hit, I started by following Stannard's sighting pointers. It was an immediate success. I didn't even have to get a good look at what's ahead of me to stay on target – blurs and shapes were enough. 'All you have to do is pick something big that sticks out against the skyline – seeing the details doesn't matter a bit,' Stannard explained as he paddled along next to me.

Next I tried altering my paddling, pushing my hands behind me for that 'free power'. It was another instant win. I felt more streamlined and powerful and that I was covering a extra metre or so with each stroke. As I reached the buoy and got ready to turn back, I tried to put both techniques into practice. It was a disaster. If I concentrated on stroking properly, my sighting went haywire. If I focused on sighting I only pushed my hands halfway down my body before pulling them out for the next stroke.

'There isn't an instant fix for doing them together – you just need to practise,' explained Stannard. 'At the start of the season I'm a bit ropey too. When I'm in the thick of race season, my stroke is powerful and I'm only sighting every ten or so strokes because my spatial awareness in the water becomes so good.'
After only one session I'm already twice the swimmer I was before – but I'm still a long way off being happy with my technique. But given that Stannard runs training sessions at Westhorpe and at Datchet in Slough several times a week, there's no reason I can't transform into a open water beast by the time the klaxon sounds at the London Triathlon.
To find out more about and sign-up for some of the events in the Nokia Outdoor Series, check out nokiaoutdoorseries.co.uk.
For loads more triathlon training tips and gear guides, subscribe to the Men's Fitness. We'll give you five issues for £5.
Sign up for workout ideas, training advice, reviews of the latest gear and more.
Coach is a health and fitness title. This byline is used for posting sponsored content, book extracts and the like. It is also used as a placeholder for articles published a long time ago when the original author is unclear. You can find out more about this publication and find the contact details of the editorial team on the About Us page.