Tim Don's tips on how to eliminate training mistakes
2006 ITU trialthon world champion Tim Don, explains how to reduce your training mistakes.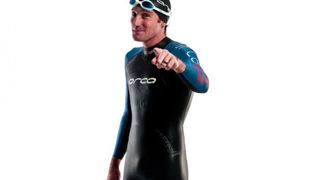 (Image credit: Unknown)
'Sometimes when I'm training I can't help but throw my arms up in the air,' says triathlete Tim Don. 'But it's not part of some fancy exercise – it's in despair. That's because I see so many guys who make the effort to go to the track or pool, only to then spend their precious training time doing things that won't result in an improved performance. I reckon most people I see are doing at least one thing inefficiently, and it can turn a training session into a total waste of time. Eliminating simple errors can result in dramatic increases in performance for less effort. It's a no-brainer!'

Poor swimming stroke
The problem
I see it in the pool all the time: people thrashing about amid a blur of arms and legs. If your stroke isn't efficient then you'll waste time and energy – not only when you train, but also when you race.

The solution
With swimming, technique is everything. The best way to fix your stroke is to get some one-on-one coaching, otherwise you may only swap one error for another. Just a few sessions can make you a better swimmer overnight.

Training until you're out of gas
The problem
Do you finish every training session dead on your feet? That's not smart. You should feel as though you are able to do it all again if someone held a gun to your head. If you couldn't, you've trained too hard and you won't have time to recover before your next session.

The solution
Make your programme more realistic. You need to train hard to get better, but not to the extent that it leads to injury or overtraining. Remember, there are no medals to be won in training, only in races.
Not knowing when to stop
The problem
You end the session feeling good, so you decide to do a bit more. This is a common problem among every level of athlete, from beginner to elite.

The solution
If you've stuck to your session goals and feel good at the end, it's all right to call it a day. This shows that you're getting fitter and that your programme is working. Don't jeopardise your success by then pushing yourself too hard.
Wearing baggy shorts in the pool
The problem
You're doing a serious number of laps in baggy shorts.

The solution
Buy the proper kit. You wouldn't do a 10K run in your work shoes, would you? Drag shorts are great for specific sessions, but you shouldn't do every single lap with added resistance.
Starting like a sprinter
The problem
It's frustrating to see someone start a session too fast, only to have to stop halfway through. Pacing is a huge challenge for athletes, and there's nothing worse than having a storming start, only for rival after rival to overtake you towards the end.
The solution
A heart rate monitor will keep you at the right level of intensity – I use a Garmin (opens in new tab). Training at 80 per cent of your maximum heart rate feels fine, but how long can you sustain it? Working at 60 per cent may feel too easy at first, but it will allow you to work harder for longer.
Not tapering
The problem
If you've ever continued training right up to race day to try to get that little bit fitter, then you're not alone – but you are decreasing your chances of achieving your goal.

The solution
Even if you feel you haven't done enough preparation, don't go overboard in the final weeks to try to make it up. All you'll do is deplete your energy stores and risk overtraining. Rest before your race, then load up on carbs and enjoy the big day.
For more top triathlon tips, subscribe to the magazine. We'll give you five issues for £5 (opens in new tab). You can download a digital version of the magazine here (opens in new tab).
Sign up for workout ideas, training advice, reviews of the latest gear and more.
Former editor of Men's Fitness UK
Joe Warner is a highly experienced journalist and editor who began working in fitness media in 2008. He has featured on the cover of Men's Fitness UK twice and has co-authored Amazon best-sellers including 12-Week Body Plan. He was the editor of Men's Fitness UK magazine between 2016 and 2019, when that title shared a website with Coach.