Cycling around the world
On 18th February, nine riders will set off on a cycle race around the world. MF investigates the tale of the men who've already done it.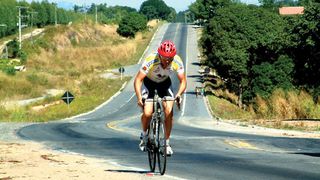 (Image credit: Unknown)
On 4th December 2009, 23-year-old London bike courier Julian Sayarer had just completed a physically unparalleled, record-breaking ride around the globe. He had covered 29,046km in just 169 days and he'd beaten the record belonging to Scotland's Mark Beaumont by more than three weeks.

But Sayarer's reaction to his own success was a strange one. Rather than thanking friends or sponsors, he wrote an entry on his blog, at thisisnotforcharity.com (opens in new tab). 'What I want to say concerns Mark Beaumont,' he typed, hours after his triumphant return. 'Completing that all-but meaningless record was motivated, more than anything, by earning my licence, having done exactly as he did, to say exactly what I thought of him.' In a tirade of articulate fury, Sayarer did just that. 'I have no respect for him,' he wrote. 'I regard him as a life form some way inferior to the dead skin that accumulates in the seat of my crotch after three weeks of cycling a desert without washing.' What was it about the journey made by these two apparently similar men – both politics graduates, both cyclists united by an extraordinary achievement – that had led not just to a lack of respect, but to hatred?

Global conflict
Circumnavigating the globe by bike is a peculiarly British pursuit. In August 2001 Alastair Humphreys set off from his front door in Yorkshire, before arriving home four years and 80,000km later. Humphreys's journey was one of adventure and exploration rather than speed – he always planned to take several years and, he remembers casually, when the US and UK-led invasion of Afghanistan blocked his original route he 'got to Turkey and turned right for Africa', admitting that from this point he was making up the rest as he went along.

Earlier, the first Guinness World Record holder for cycling circumnavigation was Nick Sanders, who in 1984 covered 20,920km in just 78 days. Then, in 2005, Devon-based Steve Strange set a new record under an updated set of regulations, hitting a starting target of 276 days.
Mark Beaumont became interested in the record while at university. He had two focuses, he says – completing major expeditions and becoming a film-maker by making documentaries about them. The world cycle struck him as an interesting possibility. 'I was amazed how few people had gone for the record,' he says. 'Almost nobody knew of it.'

Beaumont had been doing smaller rides through his teens and was confident his body was up to the task. He drew up a rough programme of 160km per day, which would become the gold standard for future attempts. 'I really looked at it in terms of a race,' he insists. 'It wasn't my chance to see the world – I was trying to go as fast as possible.'
No logos
While he felt physically prepared, Beaumont found it hard to organise sponsorship for the trip. 'It wasn't fantastic,' he admits. 'It took six months before anyone would back me.' His sponsors – including Orange and Lloyds TSB – would later play a part in Sayarer's views, although whether Beaumont was in a position to be selective is doubtful. His final route was based almost entirely on a series of practical considerations – 'prevailing wind directions, road conditions, border crossings, danger zones' – with one personal touch.
'I looked at what had been done before and nobody had drawn an unbroken line from the west coast of Europe to the to east coast of Asia,' he says. 'You can miss sections and make up the miles so long as you never go back on yourself – that's absolutely fine. But I wanted to be able to stand back at the end of it and look like I'd pedalled all the way around the world.'

It was a spark of adventurous ambition in an expedition Beaumont readily admits was otherwise carefully designed to kick-start a career, and it led to some of his greatest difficulties. 'It's why I ended up doing one of the hardest parts for me – through Pakistan,' he says. 'I knew it was going to be tough. Then when I was on the road in Iran, the British Embassy said that based on the 20 kidnappings there'd been in the previous month, they couldn't back me to go through.'

The BBC, who had given Beaumont several cameras for his proposed documentary on the trip, fell in line with the Foreign Office but, as he wasn't being paid to make the journey, he decided to go ahead anyway. 'I picked up an armed guard on the Pakistani border.' Not that it was plain sailing from there. 'I was driven through at a pace which I could barely sustain, locked in a police cell every night for my own security,' Beaumont explains. 'And the guards kept trying to put my bike in the back of the jeep. It was really hard to stay on the bike and get enough food to sustain myself.'

There were other ups and downs. Beaumont picks his lowest point as riding into an unrelenting headwind in the Australian Outback, crawling 5,600km in a month of ten-hour days. 'It was the only time in the ride where I ended up on the side of the road, cracking up slightly,' he says. But Beaumont also remembers some amazing highs. 'New Zealand was spectacular, California was spectacular. And the one that really sticks out for me is Iran, because I didn't know what it would be like. When I got there it was very, very friendly, with one of the best roads I've cycled on, and the people were so different to what I'd imagined. I was really charmed by Iran.'
Beaumont finished his ride in Paris on 15th February 2008, logging a time of 194 days. He was officially recognised as the world record holder and a four-part documentary about his experiences aired on BBC One.
Feud for thought
It was this documentary, along with Beaumont's appearance in Orange's 'I Am Everyone' campaign, that led to a rush of new world-record contenders. Julian Sayarer was one of them, and unique among the group in his motives. He regarded Beaumont, he says now, as a 'negative inspiration'.

'I thought, "Well, it's something I'd like to do, and I don't like the way that he's done it",' Sayarer says. His problems with Beaumont stemmed from the Scotsman's sponsors – from their character, rather than their presence. Sayarer has strong political views. He is, broadly, a radical liberal, wary of large corporations and their relationships with government, and with well-informed and pessimistic views about where society is heading. In person, he is charming and articulate, far removed from the anger that sometimes surfaces on his blog. Online, Sayarer picked one episode Beaumont recalled from the Australian outback in particular. 'It really made me sick to think that some chap gave him water, something presumably quite precious out there, to a stranger in need, and that that stranger then went on to sell the sanctity of that act to a bloody telephone company.'

Sayarer pursued a few like-minded sponsors for equipment but was almost entirely self-funded, and selected his route based on places he wanted to see. 'I went through Kazakhstan and China, countries I'd always had an interest in visiting,' he says.

Even so, Sayarer's journey was marked with similar moments of crisis and triumph. Perhaps surprisingly, one of his favourite places was the United States. 'There's a great humanity to America and we often just see the obnoxious patriotic side to it,' he says. 'At one point a guy told me he could fix my broken wheel, and when we rode back to his house he gave me $100. There's this really migratory spirit in America, and this idea of pursuing a dream. This heroic challenge – as they saw it – really appealed to them.'
Leader of the pack
By now, though, he wasn't the only one taking on the challenge. When Sayarer set off in June 2009, his fellow Londoner James Bowthorpe had already been on the road for three months. Bowthorpe's motivation was different again – he aimed to set a new world record of 150 days, at 190km per day, in order to raise funds for the charity What's Driving Parkinson's? 'It was something I've always wanted to do, since I was touring at 18,' he says.

Concerned that a glut of other riders would be setting out, he gave himself just seven months to prepare. The ride wasn't without problems. Bowthorpe suffered from severe food poisoning in India, and had to slog through the pain to escape what his medical team called the 'infection zone'.

'I was basically doing 200km a day just on breakfast, because I couldn't eat any more than that. I was sick all the time, and I lost about 15 kilos in two weeks.' Even with a five-day recovery stop in Bangkok, Bowthorpe's time of 174 days – which would have been closer to 160 once deductions for transit had been made – was comfortably low enough to topple Beaumont's record. Except, astonishingly, Bowthorpe didn't apply.

'I never actually finished doing that,' he says quietly. 'It was partly because – well, because of all the background stuff that was going on between Julian and Mark. I just didn't really want to get involved in any of that, really.'
Bowthorpe makes it clear that he's still very proud of his achievement, a pride not dependent on holding the record. 'I still could do it, and I'd be there in retrospect, but it's not really hugely important to me. There's a bit of a bitter taste after all that rigmarole.'
Happy trails
Two more attempts followed in 2010. First there was Vincent Cox, an experienced cyclo-cross rider based in Cornwall. He'd switched from mountain riding to touring and first came across the idea of cycling the world in Beaumont's documentary. 'I thought it was a great thing to do,' he says. 'The only thought I had about it, probably because of the way the film was edited, was it looked like he had a miserable time. I've spoken to Mark and I know that he didn't. But I set out to try to do something like he'd done, a bit faster, and to enjoy myself.'

Cox, 35, had no intention of selecting the fastest route. 'I looked at Mark's route, and I followed Julian and James on theirs, and simply wanted to do things as differently as I could,' he says. 'I tried to string together beautiful places to see. And it might sound a bit arrogant but I knew that I'd done tours through the Highlands of Scotland knocking out 100 miles [160km] a day no problem. If you can manage that in hilly terrain, I didn't see a reason why I wouldn't be able to maintain that pace.' He was right. Having set off in February 2010, Cox returned in August in a record 163 days.

The second rider in that year was Alan Bate, who stands apart from the other cyclists for several reasons. He is British, but he now lives in Thailand, and is a good deal older at 45. As Cox reached Thailand in March, Bate was just setting off, and the pair exchanged emails. But Bates' record attempt was to be very different to Cox's. 'I am from a racing background,' he says, 'which made me believe I could undertake the event from a different angle. No other rider had utilised the rules to make a truly competitive attempt to go as fast as possible. I wasn't interested in visiting anywhere, just getting round quickly and safely, then returning to a normal life.'

Bate's ride was controversial. He baffled onlookers by dedicating the record to the king of Thailand, and had the benefit of a support vehicle for large sections of the ride. He was going much faster than Cox, ploughing through one long day after another, and not everybody was happy about it. 'He provoked some bad feeling from some people who were supporting me,' says Cox. 'But in a way Alan helped me focus on the fact that I didn't want to do what he was doing. It wouldn't have interested me.'
All's fair
Bate finished his ride just three days after Cox, with a provisional time of 113 days. But if Cox's well-wishers weren't happy with Bate's use of a support vehicle, then strangely, neither was Bate himself. He comes across as open, earnest and, above all, respectful of the other cyclists' efforts. 'I am mostly proud to have ridden my last event successfully,' he says, aware that his competitive days are numbered. 'The record became insignificant to me.' He has asked Guinness to recognise his attempt in a separate, semi-supported category, and won't submit his evidence for ratification until he has a response. 'That's only fair to Vin Cox and the others in my view.'

Like Bate, Sayarer expresses respect for his rivals – except Beaumont. He describes himself as 'a big fan' of Bowthorpe ('He's working with a groundbreaking charity for Parkinson's disease') and is generous about Cox. 'I respect what he did to the route, especially the fact that he didn't necessarily go for the flattest possible ride.'

Behind the visible divisions, there is clearly a strong bond of mutual respect among this group of athletes. Beaumont tracked down Humphreys to ask the more experienced rider's advice about routes and kit before leaving to set the standard all the others would chase. When that record was broken, Beaumont contacted the riders in question to congratulate them (with the understandable exception of Sayarer). And when Sayarer completed his record-breaking journey and attacked Beaumont in the way he felt he'd earned, the consensus was that it was unsportsmanlike.

'I really enjoyed following his trip,' Humphreys says. 'He's quite a poetic guy on his blog. The piece he wrote, I have to say, I thought was very rude.' Cox's response was similar. 'I could see where he was coming from. I just think he can make a point as strongly as possible by doing it for his reasons and saying what they are, rather than criticising someone else's.'
If it was unsportsmanlike, perhaps that's because sportsmanship is not at the centre of Sayarer's moral compass. The outburst came from a set of ethics about which he is uncompromising. In contrast to Beaumont and his continued TV career, Sayarer's more modest aims are to 'make a living doing things that I enjoy and that don't compromise me'. What drove his attack on Beaumont was not the pair's differences but their similarities. 'We're the same age, we're both politics graduates,' Sayarer wrote in that blog entry. 'I feel no desire to make excuses for him that I would never make for myself.'
Global village
Despite the acrimony, what's most striking about the cyclists' recollections is hearing them talk about the unexpected friendliness they encountered. Humphreys talks about two churches – one Baptist, one Mormon – who banded together to buy him a new bike in Arizona. Beaumont recalls the woman who ran him down in New Orleans, took him home and had her son fix his bike. Cox remembers the frankness of the Australians he met crossing the Outback ('How the fuck d'you do this? It's so fucking boring out there') but also the man who stopped his van in the desolate Nullarbor plain to hand him a cold Coke. And Sayarer was humbled by the welcome he received almost everywhere. 'In New Zealand, people were amazingly friendly,' he says. 'I'd pull up at a farm and ask if I could camp, and by the time I'd got my tent out they'd be going, "Well, my wife can make you up a bed". In Kazakhstan, people would invite you for dinner.'

There were clearly bad times too – misunderstandings, intimidation, even robberies. But these are also shared experiences. 'The people who have ridden around the world have more in common than they do in difference,' says Cox. 'I'd rather focus on the kinship of our experiences, our motivation and determination. Everyone's got their own different ways of doing it. But I'm going to recognise the similarities first.'

Track the current crop of round-the-world racers at worldcycleracing.com
(opens in new tab)
To read more in-depth features like this one, get the magazine, subscribe now and we'll give you five issues for £5. (opens in new tab)
Sign up for workout ideas, training advice, reviews of the latest gear and more.